LMT's Tube | M203 in 37mm
Just when you thought there weren't any more accessories you just had to have, along comes Lewis Machine and Tool with their M203 style 37mm flare launcher.
Granted, it won't be the same as the halcyon days when you were slinging forty mike-mike at Ali Baba, but don't let that stop you from buying one.
As Brownells describes it:
The Lewis Machine & Tool (LMT) M203 37mm Flare Launcher features the same design and quality of the classic LMT M203 40mm Grenade Launchers used by militaries across the world. The 37mm variant installs and operates just like its 40mm brother. The LMT M203 Launcher features an aluminum construction with a matte black mil-spec anodized finish. Designed with a 12" barrel the 37mm variant is very similar to the most popular issued M203 variants found on M16 rifles and M4 carbines.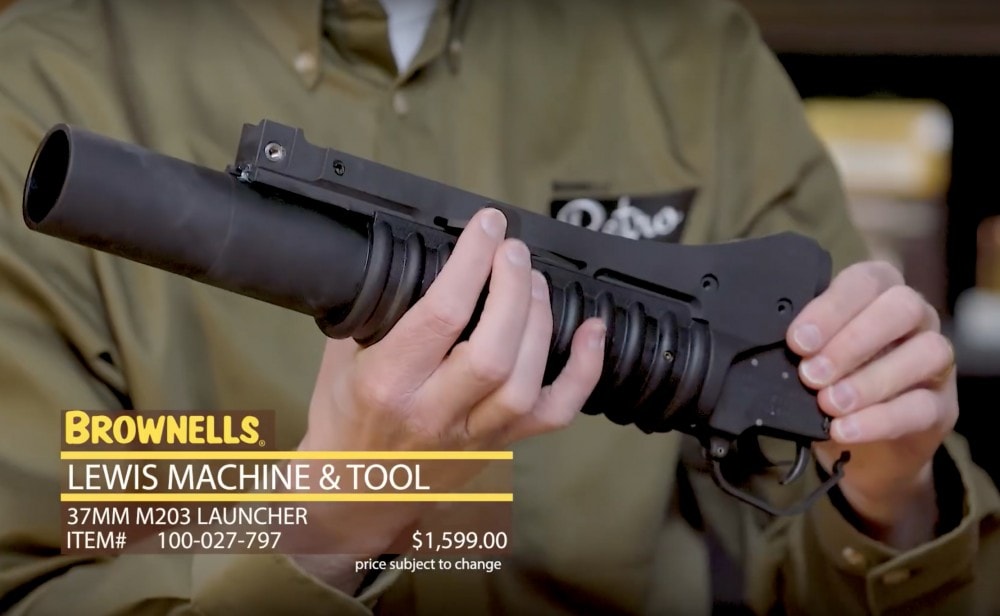 The M203 attaches to standard Government rifle and carbine length barrel assemblies with a 0.625" front barrel profile (cutout on M4 barrels) and a GI compatible barrel nut system at the rear (check your handguard manufacturer's information for compatibility). Mounting hardware sold separately.
If this doesn't suit you, Spike's Tactical has something similar — the Havoc Launcher, which can also be fitted directly to a Kaos Stock.
And now, a training film from back in Hernandez's day.
Is reading Breach-Bang-Clear worth at least $1 month to you? That's not even a lapdance! Consider backing us!
What is Patreon? It's a crowdfunding platform. Breach-Bang-Clear readers pledge from $1 to $50 a month to "House Morningwood" (our Game of Thrones house, complete with sigil!), to help us with expenses. We, in turn, give our supporters unique content, membership to a closed discussion group, and access to the "Morningwood Bazaar", which is basically helluva lot of unique discount codes (up to 60%) to numerous manufacturers and retailers. "Bend the knee" to House Morningwood and help us cover costs. Rise Before Dawn! 
If you wish to cite, syndicate, or curate our material, or if you're wondering about our please be so kind as to read our Terms, Conditions, and Disclosures.
Take heed! We have advertisers, sponsors, and affiliate relationships with some of the companies you will be reading about (particularly, but not limited to, archival posts). If you purchase one of those items, we will get a small commission from the sale at no additional cost to you. A lot of work goes into Breach-Bang-Clear; by making your purchase through one of our portals you'll be supporting our work. This will help us buy beer, bullets, and barbecue, and we won't have to put pop-up ads and other such stupid shit into our articles to pay our expenses.