The Law of Winkler: Law Tactical LT SURV
"My brother Mark bought me a SURV for my birthday — I kid you not, this is the best survival knife I've every used." Randolph "Randy" Bragg

"I don't know if I'd have made it without this knife." Arthur Jellison

"I kilt me a Tabeguache Ute and ate him by Curecanti Crick with mine!" Alferd Packer
The Law of Winkler: Law Tactical LT SURV
An installment of the 2017 Banging Gift Guide
David Reeder
The Law Tactical SURV fixed blade field knife is a collaborative, custom knife built in limited production runs by Daniel Winkler of Winkler Knives II. Their arrival has been at least a year in the making. There are just 25 per batch, and each is serialized. They're built of 80Crv2 Carbon Steel, with a 5 in. blade and Micarta handle, and each ships with a sheath crafted from the hide of a dead beast.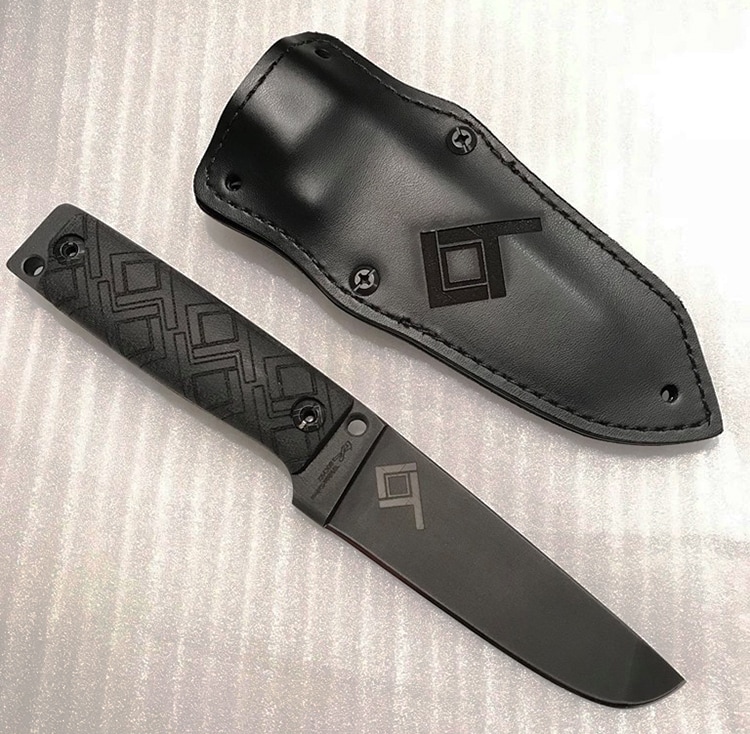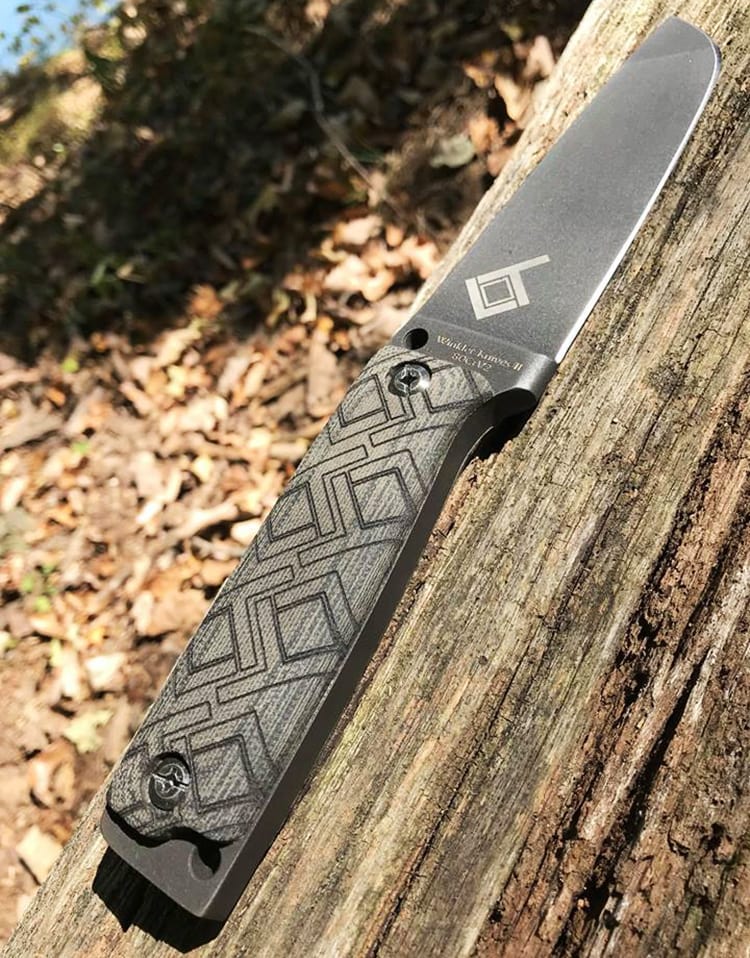 The chisel point, carbon steel blade is finished with a Caswell treatment for corrosion resistance and a dark, n0-glare black oxide finish. Removable grips are quarter inch thick canvas Micarta (full specs below), with a large storage compartment concealed below them in the tang.
Additional Features Include:
· Screwdriver tool for handle removal (Sheath clip can be used in the field)
· Leather covered multi wear sheath system (vertical, horizontal, right hand, left hand)
· Molle loops, steel spring clip, leather belt loop
· Law Tactical handle engraving for increased grip texture
· Skeletonized tang with large storage area
· Recess cut handle scales for increased storage space
· 2 Lanyard holes (can also be used to remove 5.56 bullet from case to access powder)
Specifications*:
· Blade Material: 80Crv2 Carbon Steel
· Blade thickness: .366 (aprox 3/8")
· Overall Length: 10 1/8"
· Weight: 10.7oz
· Blade Lengh: 5" with chisel point grind for light prying capabilities
· Finish: Black Oxide Castle
· Handle: ¼" thick Black Canvas Micarta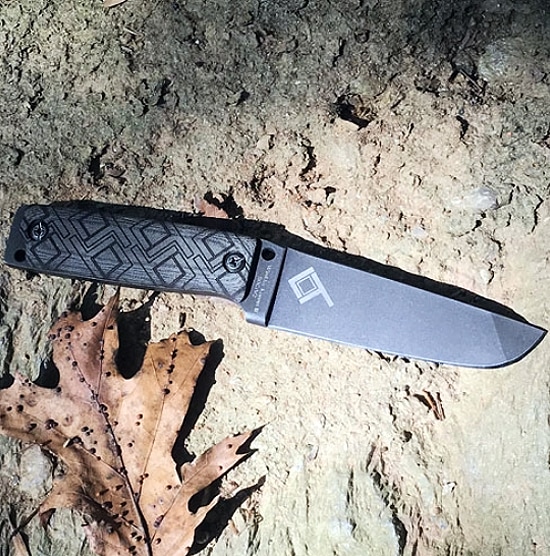 *Due to the nature of custom items, slight variations may occur.
Learn more or get yourself one by ordering online: http://www.lawtactical.com/surv_knife_p/ltsk2018.htm.
Note: Utilizing this tool to turn your rifle into a folder is not only ill-advised, it's moronic. That's a different Law product entirely.
Need more shoppin' help? Check out the full lineup of the Banging Gift Guide 2017.
Brought to you today in part by Armageddon Gear (@armageddongear), a part of JTF Awesome.

---
---
If you wish to share or repost, please so kind as to follow our terms and conditions.
Mad Duo, Breach-Bang& CLEAR!
Comms Plan
Primary: Subscribe to the Breach-Bang-Clear newsletter here; you can also support us on Patreon and find us on Pinterest.
Alternate: Join us on Facebook here or check us out on Instagram here.
Contingency: Exercise your inner perv with us on Tumblr here, follow us on Twitter here or connect on Google + here.
Emergency: Activate firefly, deploy green (or brown) star cluster, get your wank sock out of your ruck and stand by 'til we come get you.
T&C: All original material published by Breach-Bang-Clear is the copywritten property of Breach-Bang-Clear, Inc. If you wish to repost, republish, or otherwise share our content, feel free to reproduce an extract of up to 225 words and one complete, unaltered image, preceded by attribution crediting the source and author's name, to include a link to the Breach-Bang-Clear home page, with a link back to the full article on our website, BreachBangClear.com. You do not require our permission to do this. Please do not reproduce our content in its entirety without contacting us first. We do allow full syndication on a case by case basis (credited, and posted with a canonical link, as is common practice and in good form) but only when mutually agreed upon beforehand. If you wish to reproduce a complete article, please contact us for permission to publish first.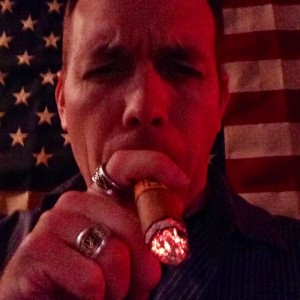 About the Author: It might not be too surprising that David Reeder, who never met a $50 word he didn't like, one of the "leaders" of the pedagogic and frequently obstreperous Breach Bang Clear team — insomuch as they have a leader (the terms orchestra conductor and rodeo clown are equally apropos). A former POG who tastes like chicken, Reeder cannot play the harmonica. He founded Breach-Bang-Clear quite accidentally at his young son's behest several years ago. He is the Mad Duo's Chief Wretched Flunky and Breach-Bang-Clear's HMFIC. A LEO for many years and former AF Security Forces SNCO, he was an O/C at the National Homeland Security Training Center for many years and a longtime MOUT instructor at the Bold Lighting UWS. Reeder has appeared on Fox News Business and written for a number of publications, from US News & World Report and Military.com to RECOIL Magazine and Soldier Systems Daily. All of that sounds way cooler than it actually is. You can read more about him here. Follow his banality on Instagram, @davidreederwrites.
"I have no taste for either poverty or honest labor, so writing is the only recourse left for me" Hunter S. Thompson

"Some editors are failed writers, but so are most writers." T.S. Elliot

"Either write something worth reading or do something worth writing." Benjamin Franklin