Keen Insight I – Folding Knives For Fun and Fighting

In this evening's installment of Monday Night Knife Fights we're gonna give you a look at an edgy threesome. Not MFM or MFF in porn parlance, but rather our own version of FFF…Folder, Folder, Folder. Here's some keen insight (see what we did there) about something new from Jake Hoback Knives, the Benchmade Presidio II and the latesst Kershaw Leek. You're welcome. Mad Duo
Monday Night Knife Fights: Keen Insight I – Folding Knives For Fun and Fighting
by Jake "Slim" Call and Richard Kilgore
---
1. Jake Hoback Knives MK ULtra Second Run
This isn't so much a new product announcement as a "Hey dude, do you want 'em to do these?"
Jake Hoback Knives recently did a limited run of MK Ultras in anodized aluminum with a natural finish. Right now they're trying to decide if anyone would be interested in another limited run, this time in William Gregor's Titanium. They're apparently looking at a variety of finishes, including DLC (Diamond Like Coating) Black Fallout, DLC Black, and Camo.
The MK Ultra in any material/color combo is JHK's smallest knife yet (you can see it in the picture compared to their Kwaiback). It has a Ti frame (.125 in. thick), with a blade that will be equally…well, thin. They type of steel to be used has yet to be decided. Overall length is 6.25 in., blade length is 2.5in., closed length is 3.6 in., and weight will likely be in the vicinity of 1.9 oz. You'll be able to carry it tip up, right- or wrong-handed.  It'll have pivot thrust bearings (*snicker*), hardened stainless bearing races, standard sized screws for ease of replacement, the Hoback lock insert, and 17-4 pivots and standoffs (which have a +.0002 tolerance, just like your mom).
Says Hoback,
"Experience gained through 12 years of knife-making guided me in building this knife. Everything was thought out and engineered to make it as strong as reliable as possible."
You can weigh in on the matter here or check out the video down below.
---
2. Benchmade Presidio II
Benchmade Knives tells us their new Presidio (the Presidio II, believe it or not) has a 150% strength increase over its predecessor, making it what they describe as one of their strongest Axis knives to date.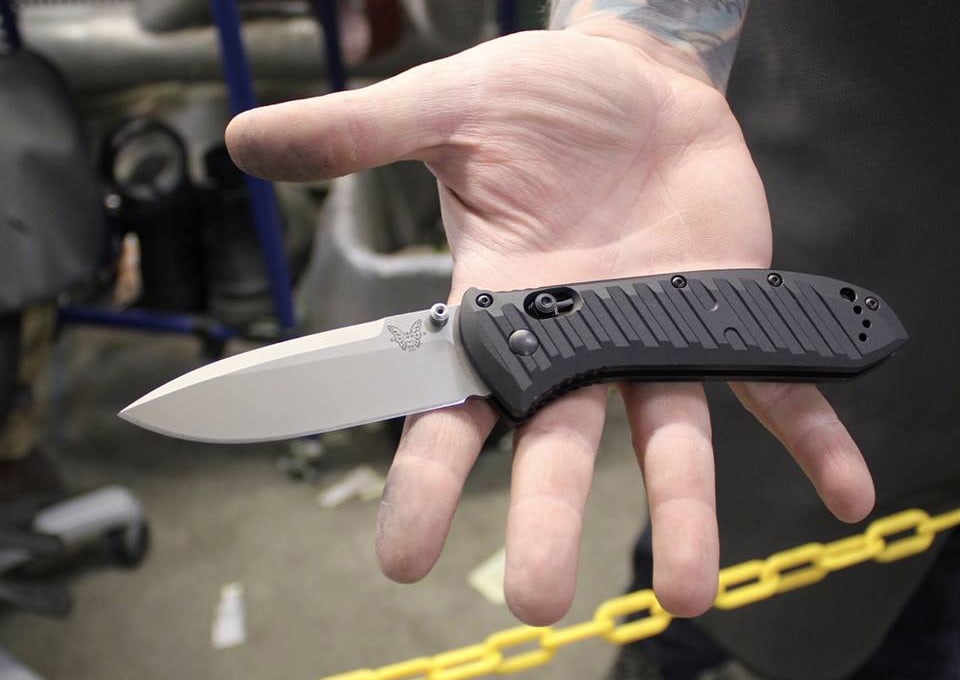 As Benchmade tells it, "While the original Presidio has ample lock strength and has been trusted and reliable tool of military and law enforcement for many years, we are pleased to say that the new 570 performed exceptionally well."
How they define that 150% increase we're unsure, but since the previous Presidio was a pretty nice edgy-stabby-carve 'em tool, we have high hopes for the II — unfortunately there aren't as yet any details on the Presidio II's specific page yet.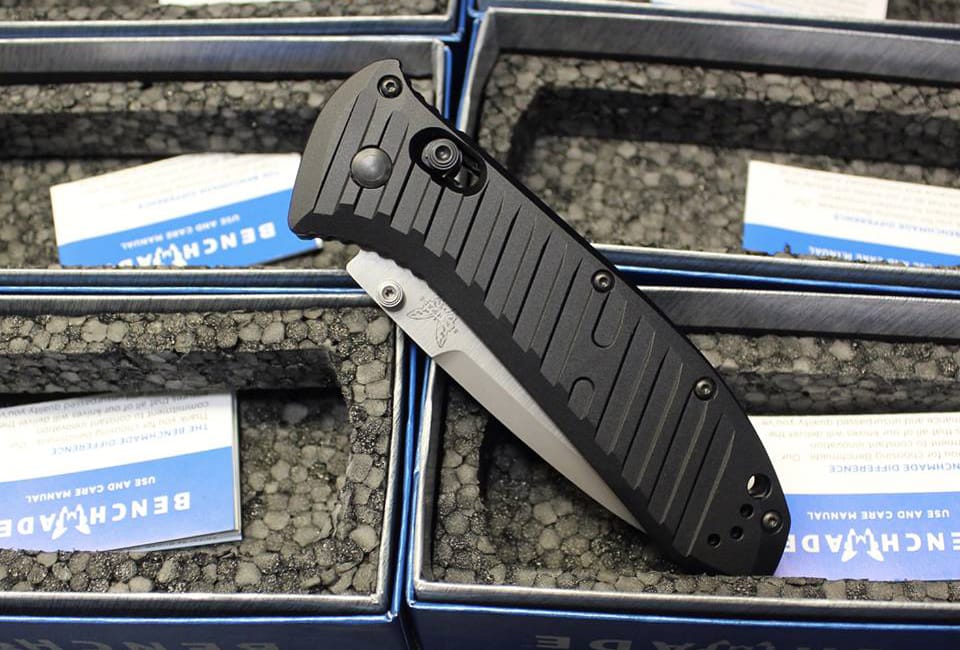 You can see the entire lineup of new Benchmade knives here online.
See the video below.
---
3. Kershaw Leek
Kershaw Knives actually has a couple different types of Leek, including the recently release camo and gray aluminum versions you'll see shortly.

The newest Leek available is all gussied up into a Sunday-go-to-meetin' outfit of carbon fiber (which also lightens it considerably, not that it was all that heavy to begin with). Some of you will remember the Leek from it selection as a "Best Buy" by Outdoor Gear Labs last year.
The Carbon Fiber Leek (Model 1660CF) has a blade of CPM 154 steel and a Tip-Lock slider to lock the blade closed when folded. The stonewashed finish blade tapers to a slim (just the) tip, which is great for detail work of going full sewing-needle on some recalcitrant child molester in a manjams and a pakol. Or the creepy dude with the screwed up eye in Legion.
Grunts: recalcitrant.
The Carbon Fiber Leek uses Kershaw's SpeedSafe ambi assisted-opening system and a pocket clip that allows tip-up or tip-down carry. There's also a lanyard hole for those of you who favor a dummy cord (as many of us do). Get in on some Kershaw Leek action right here.
Learn more about the Carbon Fiber Leek right here. Check out all their new knives here.

[The Kershaw Leek all cammied up]

[The Kershaw Leek Blackwash (with an L)]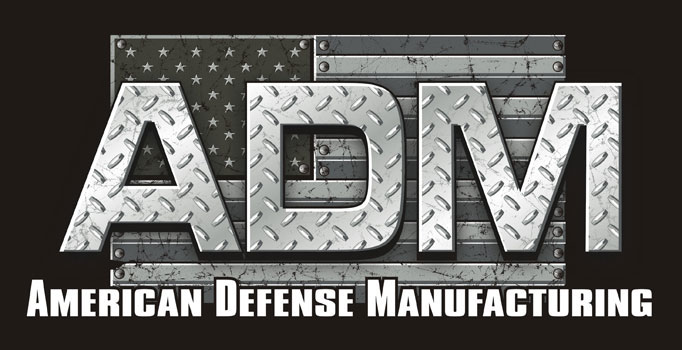 Video below.
---
---
---
Mad Duo, Breach-Bang& CLEAR!
Comms Plan
Primary: Subscribe to our newsletter here, get the RSS feed and support us on Patreon right here.
Alternate: Join us on Facebook here or check us out on Instagram here.
Contingency: Exercise your inner perv with us on Tumblr here, follow us on Twitter here or connect on Google + here.
Emergency: Activate firefly, deploy green (or brown) star cluster, get your wank sock out of your ruck and stand by 'til we come get you.