KE Arms Raffles KE15 Action Carbine for NCSO Benefit
KE Arms is running a benefit raffle that gives you the chance to win a KE15 Action Carbine.  All raffle proceeds go to Navajo County Sheriff's Office employee Clint Batson to help him with expenses as he focuses on medical recovery.  Get in on this.

Raffle Details
Only 500 tickets will be sold.  As of this publication 140 tickets are left.  The drawing will be held on October 6th, 2018 at the NCSO Top Shot Competition.
Ticket sales made after 8-21-2018 are eligible for the following
If you buy 1 Ticket you get an AR PMAG +5 Mag extension
Buy 5 Tickets, get a KE Arms Enhanced Charging Handle
Buy 25 Tickets, get a KE Arms DMR Trigger
About the KE15 Action Carbine
The KE15 Action Carbine is in service with NCSO, along with the SBR Variant of the KE-15 Commando.
KE Arms' Russell Phagan tells us,
"The Action Carbine was specced out to handle any shooting challenge from 0-400 yards equally well.  The Action Carbine's lightweight, enhanced ergonomics, and high-quality components make it ideal for the patrolman.  The Action Carbine also features the SLT trigger that allows the user to put the firearm on safe regardless of the position of the hammer; the shooter can always put the firearm on safe when transitioning for any reason, or when clearing any kind of malfunction."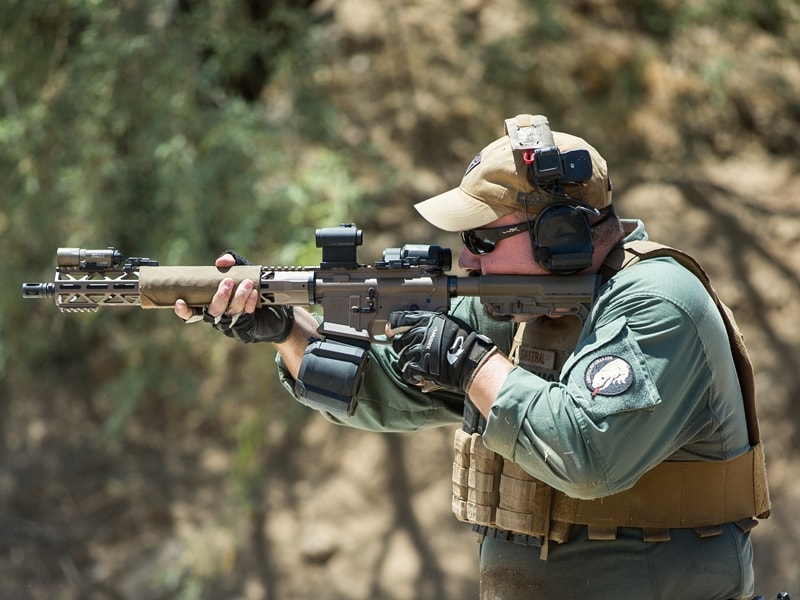 This is your chance to support a good cause, potentially win a bad-ass carbine, and at the very least get some KE Arms merch even if you don't win the firearm.   Here's that link again to purchase tickets online here.

 This article may contain affiliate links. If you make a purchase using such a link, we will earn a small commission from that sale at no additional cost to you. 
Like what you read on Breach-Bang-Clear? Consider joining our Tactical Buyers Club.
---
Read more Breach-Bang-Clear coverage of KE Arms.