IRHunter.com: more than just badass optics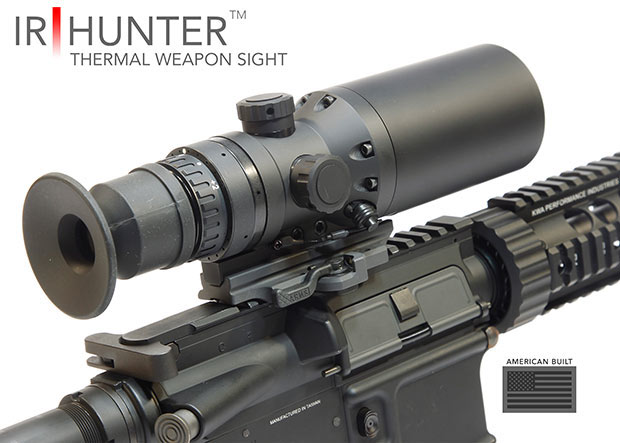 Before the next time we go out and lay waste to the feral hog population…err…, rather, "go hunt wild hogs", we plan on referencing the new website www.IRHunter.com. IRHunter.com was created by IR Defense Corp. According to its description, the website "highlights the features and benefits of using the cost-competitive, all American-made, IR Hunter™ Thermal Weapon Sight for varmint, feral hog and outlaw hunting."
With their thermal imaging simulator, www.IRHunter.com is a new resource to educate on technical and practical aspects of night vision and thermal imaging. Visit the website and you can learn about a lot of cool stuff pertaining to shooting shit at night. Things such as the visible differences between thermal imaging and image intensified (traditional) night vision,  as well as the more in depth  facts, as in the visible difference between the images produced by a 160×120, 320×240 and 640×488 FLIR Tau 2microbolometer(thermal sensor) systems.
We have no idea what all that means, but it sounds pretty fucking cool.  For you optic nerds out there, this site about sights is chock full of fun facts and learning points.  Can you chuckleheads tell us the  visible difference between images rendered using a 19mm, a 35mm and a 50mm lens? Damn right you can, now that you checked out the website!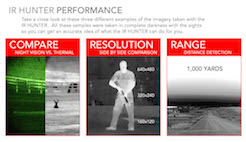 Additionally, you can learn about new technological features such as how their Enhanced Target Recognition (ETR) software makes images "pop" and how the IRHunter (DFC) Digital Focus Control can easily sharpen or soften the image you are viewing.  FYI the company is also making some pretty sweet firearm optics, apparently full of those features hunters want but generally are only found on military grade hardware.
The " E-Zoom" feature seems extremely useful, as it electronically brings distant objects into range. This can be an issue when transitioning from near to far targets quickly.  The "Maxpol rapid polarity control" the company touts allows the user to quickly identify the polarity/color setting most useful for identifying the shooter's target. Moreover, the readers of the www.IRHunter.com website will learn about the 3 Intelligent Reticle Options available in the IR Hunter™ Thermal Weapon Sight, specifically the TSR Thermal Subtension Reticle, TDR Thermal Dot Reticle and the TCR Thermal Combat Reticle. We were impressed with the technology and website, and we think you guys will be too. Go check it out, and let us know what you think.
Just don't ask us to explain all the science they're dropping.