Introducing the Faxon FX5500 Ultralight AR15
Faxon Firearms says they put "thousands of rounds of testing" into their FX5500 and want you to know about it. Faxon Firearms will be displaying at TRIGGRcon, Booth #207, across from Vaultek and FrogLube.
Here's what they have to say.
Upper Receiver:
5.56 Nato 14.5″ Pencil Barrel w/ Pinned & Welded 3-Port Brake – meets NFA 16″ minimum barrel length requirement
Faxon Enhanced Forged Upper Receiver
Faxon 13″ Carbon Fiber M-LOK Handguard
Faxon Gunner Lightweight Bolt Carrier Group
Superlative Arms Adjustable Bleed-Off Gas Block
Radian Weapons Raptor LT Ambi Charging Handle

Lower Receiver:
Faxon Enhanced Forged Lower Receiver w/ Tensioning Screw
Radian Weapons Talon 45/90 Degree Ambi Safety Selector
HiperFire EDT3 Trigger
MFT Minimalist Stock
Magpul MOE Grip
Lancer Magazine
Faxon Enhanced Forged Lower Receiver w/ Tensioning Screw

Complete Rifle Weight: 4.99lbs
Faxon Firearms can be found on the Brownells website or at Rainier Arms. Connect with them on Instagram, @faxonfirearms.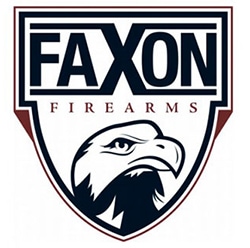 ---
Declare for Morning Wood!
Why become a patron? Not for the dick pics. So you can access the Morningwood Bazaar, obviously.
Exclusive discounts up to 60% off all kinds of guns and gear. 
Plus, unrivaled camaraderie where we only make fun of you most of the time.
Access to Nancy's Squat & Gobble, our closed Facebook discussion group.
If you wish to cite, syndicate, or curate our material, or if you're wondering about our please be so kind as to read our

Terms, Conditions, and Disclosure

s.
Take heed! We have advertisers, sponsors, and affiliate relationships with some of the companies you will be reading about (particularly, but not limited to, archival posts). If you purchase one of those items, we will get a small commission from the sale at no additional cost to you. A lot of work goes into Breach-Bang-Clear; by making your purchase through one of our portals you'll be supporting our work. This will help us buy beer, bullets, and barbecue, and we won't have to put pop-up ads and other such stupid shit into our articles to pay our expenses.