Integrally Suppressed ARs – the Blasters of the Future?
This article originally appeared here on the SHWAT website.  It appears here in its entirety and with permission. Mad Duo
Integrally Suppressed ARs – the Blasters of the Future?
Jonathan Owen, SHWAT.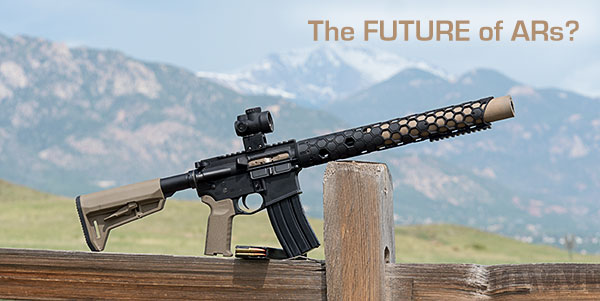 Ice hockey legend Wayne Gretzky has often been quoted as saying, "Skate to where the puck is going, not where it has been" to secure future success. I recently spent the morning shooting Witt Machine integrally suppressed AR-15 rifle uppers and I'm here to tell you the integrally suppressed rifle (ISR) is the future – hopefully! And, the future could be closer than you think.
Within the last thirty-six hours, news that that the language removing silencers from the control of the NFA (National Firearms Act) has been integrated by Rep. Jeff Duncan (R-S.C.) into the draft Sportsmen Heritage and Recreational Enhancement (SHARE) Act. The benefit would be that silencers/suppressors would no longer be subject to the current restrictions and regulations imposed by the NFA but could be purchased with an instant background check just like firearms. The same goal has been sought with the Hearing Protection Act (HPA), but that has lacked traction recently. If the SHARE Act passes with the free-the-silencers language, we'll all go shopping for integrally suppressed uppers and ARs.
When I got into the case of Witt Machine goodness at the range, the first thing I noticed was the look of the integrally suppressed uppers. Each was equipped with a fifteen-inch hexagon patterned handguard covering an obvious suppressor underneath. Witt also sells its suppressed AR uppers with an M-LOK rail, but I've not had the chance to run one. To me, the HexGuard looks awesome and begs for a Hexmag to be added to the kit.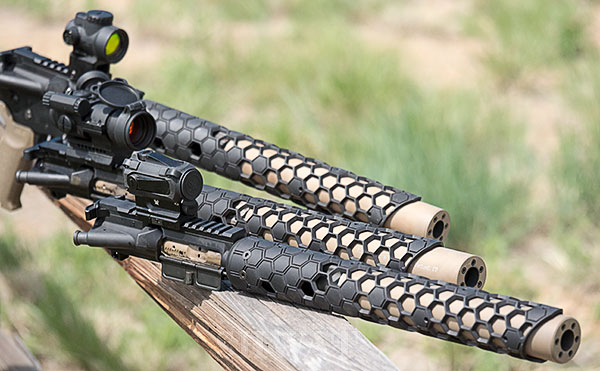 We had three Witt Machine integrally suppressed uppers to play with: 5.56, 300 Blackout and .458 SOCOM. If you've followed SHWAT™ long, you know I love and have successfully hunted with all three of these. Suppressing your hunting gun is an obvious win, the only practical downside being the added length of the silencer making the gun longer and unwieldy. The solution is the integral suppressor design.
It's a one-tax-stamp design featuring an eight-and-a-half-inch barrel with a pinned/welded eight-inch stainless steel suppressor monocore. That adds up to just over the minimum sixteen-inch barrel required to keep a rifle "normal," free from the NFA restrictions on SBRs (Short Barreled Rifles). A titanium oversleeve covers the barrel/monocore assembly, secured to the rifle just in front of a Witt purpose-designed two-piece adjustable gas block and at the muzzle. The oversleeve stretches rearward beyond the barrel's muzzle threads reaching the gas block, covering that part of the barrel. A rear titanium sealing cap confines the gasses to the can. This is called an "over the barrel" design which gives the suppression system more internal volume resulting in less blowback like traditional suppressed or SBR combos. The tension created by securing the sleeve at both ends keeps the steel barrel/moncore assembly rigid and the point of impact consistent even with consumer level servicing (yes, that means the suppressor is user serviceable). If the barrel is ever shot out, it is easily replaceable through gunsmithing services at Witt Machine.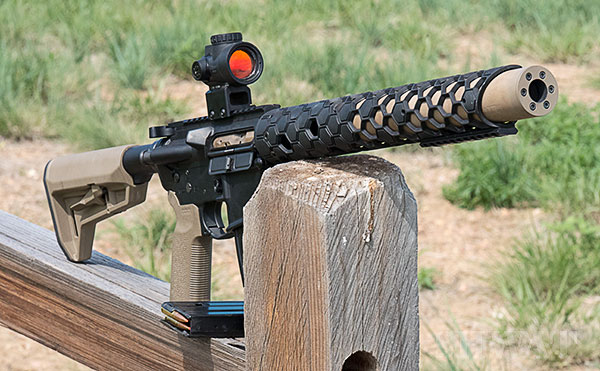 The only issue I have with the Witt Machine uppers equipped with the HexGuard handguard is heat. Those large hexagonal openings that look so cool create an opening for your skin to touch the suppressor, which can get quite hot. This wouldn't impact you at all if you shoot slowly, but sometimes I shoot a lot! Get a field full of wild hogs and the goal becomes "How many can I down?" That can turn into a rapidly heated-up barrel/suppressor. I frequently hunt wearing gloves, which would largely mitigate the heat issue. If you like vertical grips on your upper, that would alleviate the situation as well.
What about swapping handguards? The Witt Machine suppressor component is 1 5/8th inches in diameter. To swap handguards you'd need to find a handguard that would fit over it. There are several contenders available, but it's something you'd want to pay close attention to when looking for an alternative handguard.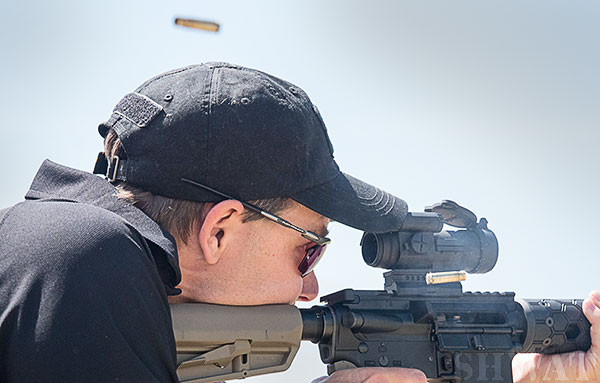 That detail aside, shooting with the Witt Machine integrally suppressed uppers was a blast! The "normal" length rifle balanced well with each of the uppers and the guns ran without a hiccup. Neither I nor the law enforcement guys who joined us noticed any gas blowback common to suppressed AR-15s. Brass was uniformly piled about 4 o'clock. Grins were ear to ear. I seriously want to take one of these hog hunting!
So, back to the future… If via the SHARE Act, the HPA or some other piece of legislation silencers are freed from NFA handcuffs, I believe integrally suppressed ARs will become commonplace. They are practical, reliable, and much quieter than a normal sixteen-inch gun. Witt sells the 5.56 and 300 Blackout uppers for $1499 while the .458 SOCOM sells for $2399. Are you ready for an integrally suppressed AR-15? Tell what you think in the comments below (no login required!).
Find SHWAT (Special Hunting Weapons And Tactics) online at http://shwat.com/; follow 'em on Instagram, @shwatteam, or via Facebook, /shwatteam/.  
5.11 Tactical (@511tactical) is a member of JTF Awesome.
---
---
This article was lovingly prepared for you by the Breach-Bang-Clear News Team.
If you wish to share or repost, please so kind as to follow our terms and conditions.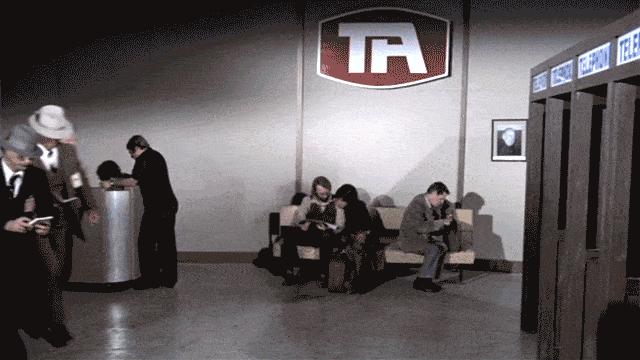 Mad Duo, Breach-Bang& CLEAR!
Comms Plan
Primary: Subscribe to the Breach-Bang-Clear newsletter here; you can also support us on Patreon and find us on Pinterest.
Alternate: Join us on Facebook here or check us out on Instagram here.
Contingency: Exercise your inner perv with us on Tumblr here, follow us on Twitter here or connect on Google + here.
Emergency: Activate firefly, deploy green (or brown) star cluster, get your wank sock out of your ruck and stand by 'til we come get you.
T&C: All original material published by Breach-Bang-Clear is the copywritten property of Breach-Bang-Clear, Inc. If you wish to repost, republish, or otherwise share our content, feel free to reproduce an extract of up to 225 words and one complete, unaltered image, preceded by attribution crediting the source and author's name, to include a link to the Breach-Bang-Clear home page, with a link back to the full article on our website, BreachBangClear.com. You do not require our permission to do this. Please do not reproduce our content in its entirety without contacting us first. We do allow full syndication on a case by case basis (credited, and posted with a canonical link, as is common practice and in good form) but only when mutually agreed upon beforehand. If you wish to reproduce a complete article, please contact us for permission to publish first.