Infantry Brotherhood Hoody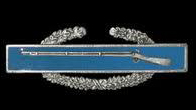 The Infantry Brotherhood hoody is not NOW available (dumbass typist) from 11 Bravos. Spread the word to your fellow grunts (and feel free to use small words). They also offer this design in a tee-shirt now.
Order yours at 11 Bravos.
Check them out on Facebook and let 'em know the Mad Duo of Breach-Bang-Clear sent ya.
Mad Duo Clear!