1,000,000th Henry Rifle Named 2018's SHOT Show Auction Rifle

It's hard to think of a lever action rifle without thinking of the Henry Rifle. Since 1860, the Henry Rifle name has echoed through the annals of the American firearms industry. This year, it takes center stage as the 1,000,000th Henry H001 .22 Lever Action has been selected as the 2018 SHOT Show Auction rifle.

Hitting 1,000,000 units is a big deal for any arms manufacturer, and these rifles are usually donated to a museum or added to the collection of a company executive. That will not be the case with this special rifle. Serial Number 1,000,000 of  Henry's H001 .22 lever action will be featured in the special month-long SHOT Show auction on www.GunBroker.com, providing thousands of Henry enthusiasts and firearms collectors an opportunity to view and perhaps own this historic rifle.
Bidding started at a paltry $500 and is now approaching $30,000.
Designed by Benjamin Tyler Henry in 1860, the original Henry was produced through 1866 in the United States by the New Haven Arms Company. It was adopted in small quantities by the Union in the Civil War, favored for its greater firepower than the standard issue carbine. Many later found their way West, notably in the hands of the Sioux and Cheyenne in their obliteration of Custer's U.S. Cavalry troops in June 1876.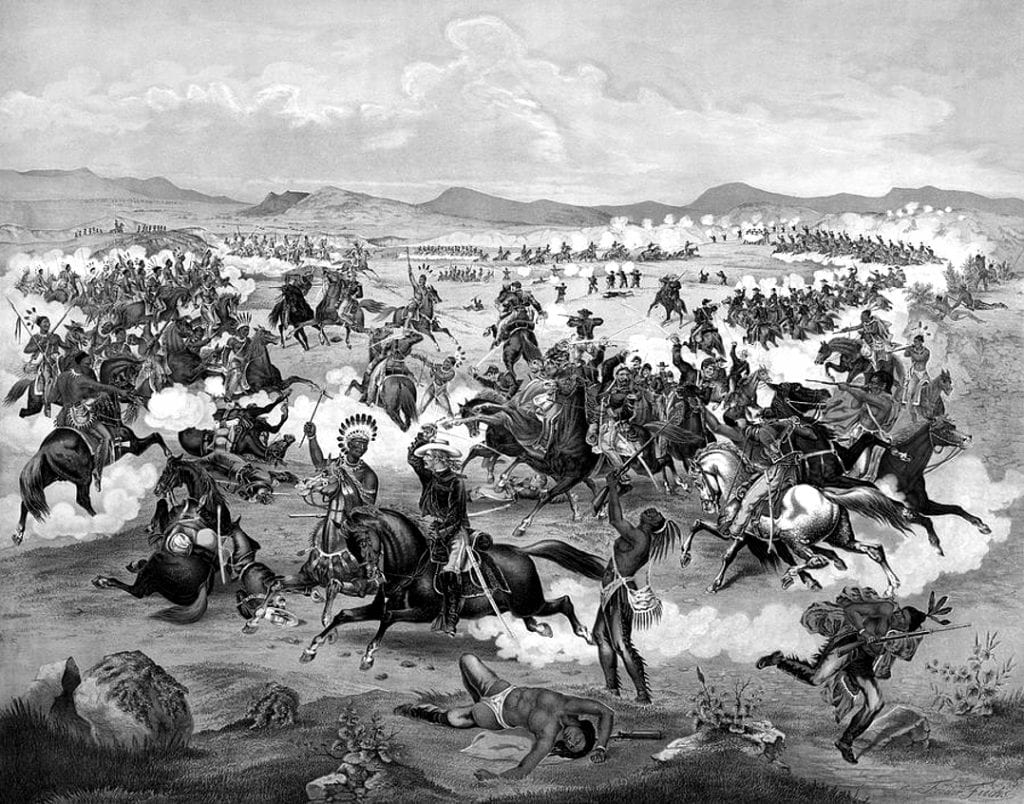 Ownership of an original Henry Rifle was a point of pride for many US soldiers who often purchased them with their reenlistment bonuses in 1864. These were 16-shot tube fed rifles that could be "loaded on Sunday and shot all week," as opposed to the Confederates armed with single-shot muskets.
They were never truly a standard issue rifle and most were fielded by scouts, skirmishers, flank guards and raiding parties rather than in regular infantry formations. This had to do with the limitations of what was essentially a rimfire pistol round and the fragility of the rifles themselves. In time, the Henry rifle evolved into the famous Winchester Model 1866 lever-action rifle, and soon afterward the New Haven Arms Company was renamed the Winchester Repeating Arms Company.
However, the current incarnation of Henry Repeating Arms is a completely separate entity.
Henry Repeating Arms is the leading US lever action manufacturer and one of the top five long gun manufacturers in the country. A family-owned business, its company motto is "Made in America, or Not Made At All". Read the roll mark on the barrel of any Henry and it's going to say "Made in the USA." Henry has over 400 employees and builds over 300,000 Henry rifles annually.
"We at Henry Repeating Arms could not be more pleased with the selection of Serial Number 1,000,000 of the H001 as the 2018 SHOT Show auction rifle where it can be viewed and bid on by Henry enthusiasts nationwide," commented  Anthony Imperato, Henry President. "And not only will the auction on GunBroker.com provide Henry supporters with an opportunity to view and bid on this special firearm, the fact that proceeds will support our hunting and shooting sports heritage for future generations makes the program all the more special for Henry Repeating Arms and our employees."
The 1,000,000th H001 22 lever action was hand engraved by the artisans at Baron Engraving of Trumbull, CT. No engravers have embellished more SHOT Show Auction guns than the professionals at Baron Engraving.

The first 999,999 Henry .22 lever actions featured blued receivers. This Serial Number 1,000,000 features a silver-finished receiver with exquisite full-coverage hand engraving.
The right side of the receiver features the Henry logo in 24 carat gold. "Short on funds during our first months in business, I traded an early production H001 to a young college-kid graphic designer to create our logo – a cowboy in chaps with lever action and revolver in a circle. Little did we know that the logo would be used millions of times over and become so widely recognized," Imperato said. "It is highly fitting that the logo is prominently featured on the 1,000,000th Henry Lever Action".
The serial number "1,000,000" and small game and plinking target drawings are also featured in 24 carat gold inlay, representing the broad appeal of the .22 lever action.
The left side of the receiver features a prominent "Henry" and the popular Henry slogan "Made in America or Not Made at All" in 24 carat gold.

Scroll engraving also highlights the silver-finished barrel band, rear of the barrel and top of the receiver.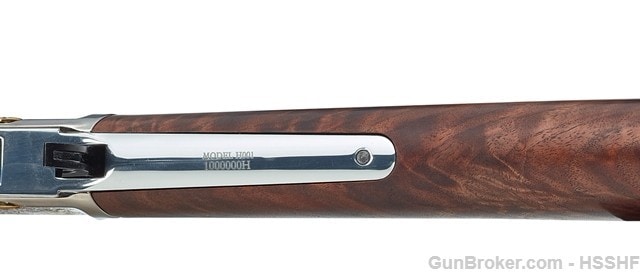 Traditional gold bands adorn the muzzle and rear of the barrel.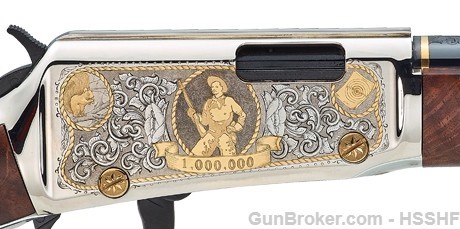 The stock features AAA Grade American walnut, which, according to Henry Repeating Arms President Anthony Imperato, is "…one of the finest examples of American Walnut ever to leave our factory."
All proceeds from the auction will benefit programs to further America's hunting and shooting sports heritage. In keeping with SHOT Show auction tradition, this 2018 SHOT Show Auction rifle will be auctioned exclusively at www.GunBroker.com beginning on December 17, 2017, and concluding on the final day of the 2018 SHOT Show, Friday, Jan 26, 2018.
The SHOT Show auction is administered by the Hunting Heritage Trust for the National Shooting Sports Foundation (NSSF).
---
---
If you wish to share or repost, please so kind as to follow our terms and conditions.
Mad Duo, Breach-Bang& CLEAR!
Comms Plan
Primary: Subscribe to the Breach-Bang-Clear newsletter here; you can also support us on Patreon and find us on Pinterest.
Alternate: Join us on Facebook here or check us out on Instagram here.
Contingency: Exercise your inner perv with us on Tumblr here, follow us on Twitter here or connect on Google + here.
Emergency: Activate firefly, deploy green (or brown) star cluster, get your wank sock out of your ruck and stand by 'til we come get you.
T&C: All original material published by Breach-Bang-Clear is the copywritten property of Breach-Bang-Clear, Inc. If you wish to repost, republish, or otherwise share our content, feel free to reproduce an extract of up to 225 words and one complete, unaltered image, preceded by attribution crediting the source and author's name, to include a link to the Breach-Bang-Clear home page, with a link back to the full article on our website, BreachBangClear.com. You do not require our permission to do this. Please do not reproduce our content in its entirety without contacting us first. We do allow full syndication on a case by case basis (credited, and posted with a canonical link, as is common practice and in good form) but only when mutually agreed upon beforehand. If you wish to reproduce a complete article, please contact us for permission to publish first.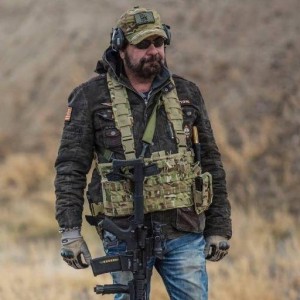 About the Author: Mike "the Mook" Searson is a veteran writer who began his career in firearms at the Camp Pendleton School for Destructive Boys at age 17. He has worked in the firearms industry his entire life, writing about guns and knives for numerous publications and consulting with the film industry on weapons while at the same time working as gunsmith and ballistician. Though seemingly a surly curmudgeon shy a few chromosomes at first meeting, Searson is actually far less of a dick and at least a little smarter than most of the Mad Duo's minions. He is rightfully considered to be not just good company, but actually fit for polite company as well (though he has never forgotten his roots as a rifleman trained to kill people and break things, and if you look closely you'll see his knuckles are still quite scabbed over from dragging the ground). You can learn more about him on his website or follow him on Twitter, @MikeSearson.