Haus of Guns on Armordillo Concealment
Haus of Guns recently published a review of Armordillo Concealment custom kydex holsters.
"I've got some simple expectations for all holsters I carry and test…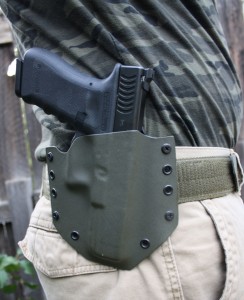 They need to be durable, providing years of use to justify the cost.

They should not look ridiculous.
I want good retention with a perfect fit for whatever pistol I've chosen to stuff in it. Leather, kydex, plastic, whatever.
SKINNY, SKINNY, SKINNY. IWB or OWB I need to be able to hide it well.
COMFORTABLE. Carrying a gun in a holster all day, any type of holster, is an uncomfortable gig. We get used to it after a while, but there's no need for further and especially unnecessary discomfort.
My Armordillo Concealment holsters for both my Kahr CW9 and my Glock 22 RTF 2 come with the highest level of craftsmanship someone working with kydex has to offer. The molding is a perfect fit and looks good to boot. All of the edges inside out are smooth and the shape is perfect with great and attractive lines.
The belt loops provided are fully adjustable for height allowing the shooter to determine how high or low he wants to carry his weapon. Also included are straps with threaded rivet nuts & screws for you to convert your OWB Armordillo holster into an IWB. Changing the screws out took a little bit of coaxing but I was eventually able to get it without destroying anything.
My preference has been to carry the Armordillo Concealment holsters OWB (outside the waistband) as IWB (inside the waistband) for a holster this skinny and concealable under average fitting garments is easier than one might think. There was no issue with the holsters keeping their shape for reholstering during IWB, I guess my druthers just lie with carrying OWB whenever possible, and even though I used the AC holsters to carry off and on all summer, with fall and winter approaching they should really fall into their niche perfectly…"