Harry's Holsters Introduces Revolutionary New Product: The Insider
Harry's Holsters Introduces Revolutionary New Product: The Insider
News Desk
Harry's Holsters was founded by a 23-year old who wanted to serve a niche market. He says he didn't grow up in a gun family but is a "firm believer in protecting yourself and your loved ones."
When Harry discovered folks were having to buy several holsters, he endeavored to create one that would be adaptable, simply by changing the attachments. Harry says his goal is to provide customers with a product which will allow them to "tastefully [conceal] a gun when wearing tailored, tucked in shirt(s)."
He called it The Insider.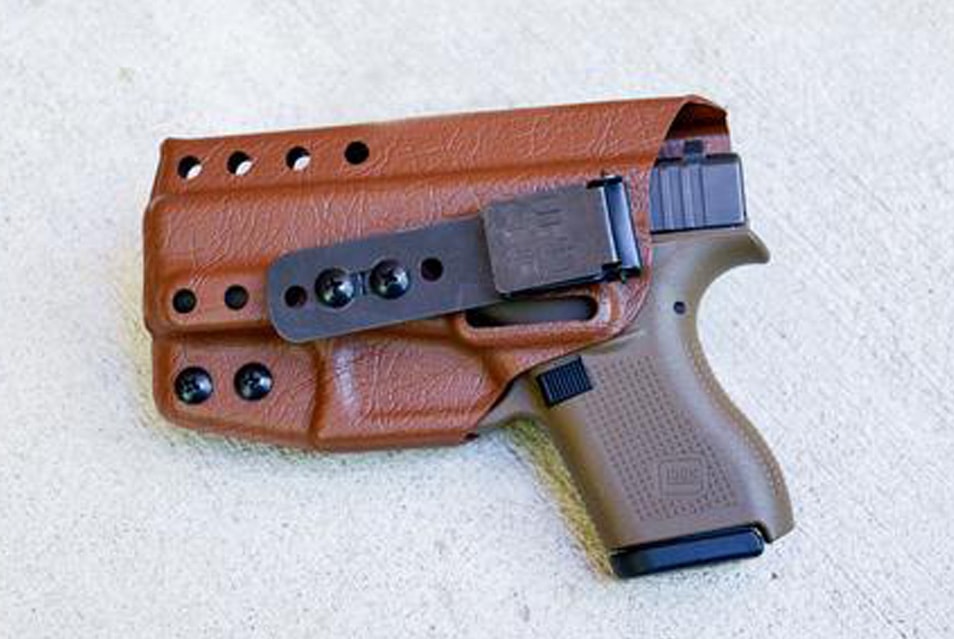 Here's what Harry's has to say about it:
The new updated inside the waistband holsters are now available for an even greater number of popular firearms.

Harry's Holsters has introduced an updated version of their Insider line and greatly expanded the number of firearms the Insider is available for.

The Insider is an inside the waistband (IWB) taco style holster that can be configured for Appendix Inside the Waistband (AIWB), 3-5 o'clock carry and other non-traditional positions based on hardware configuration. The Insider is perfect for those who don't want their box of holsters to continue to grow. The Insider is a versatile holster platform that accepts a variety of standard holster hardware which is also offered by Harry's Holsters.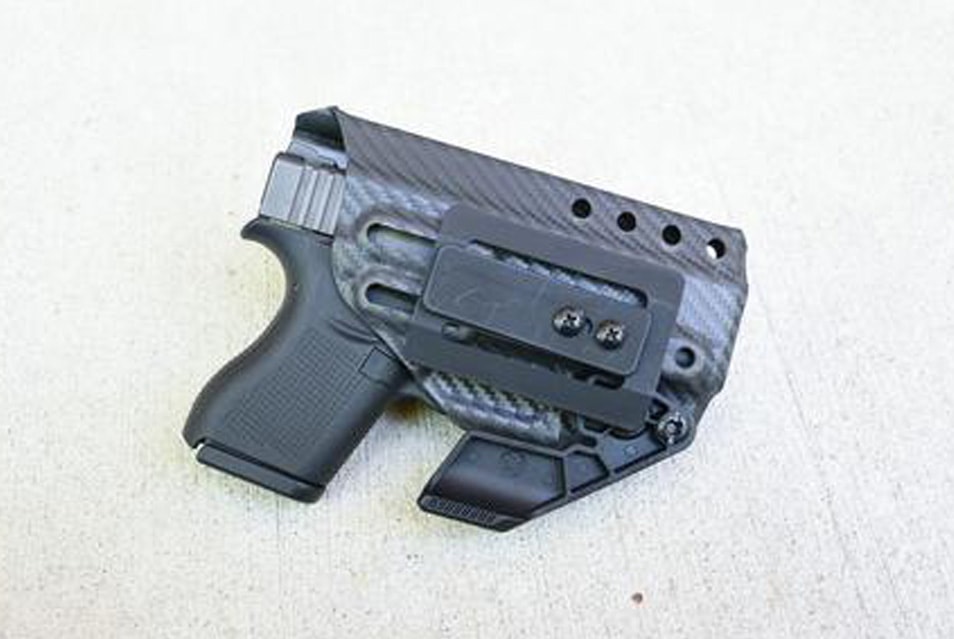 Key Features:

Multiple Hardware Mounting Points (Maximum Ride Height and Cant Adjustment)
Accepts Threaded Barrels
Accepts Suppressor Height Sights
Adjustable Retention
Full Sweat Shield and Rear Sight Coverage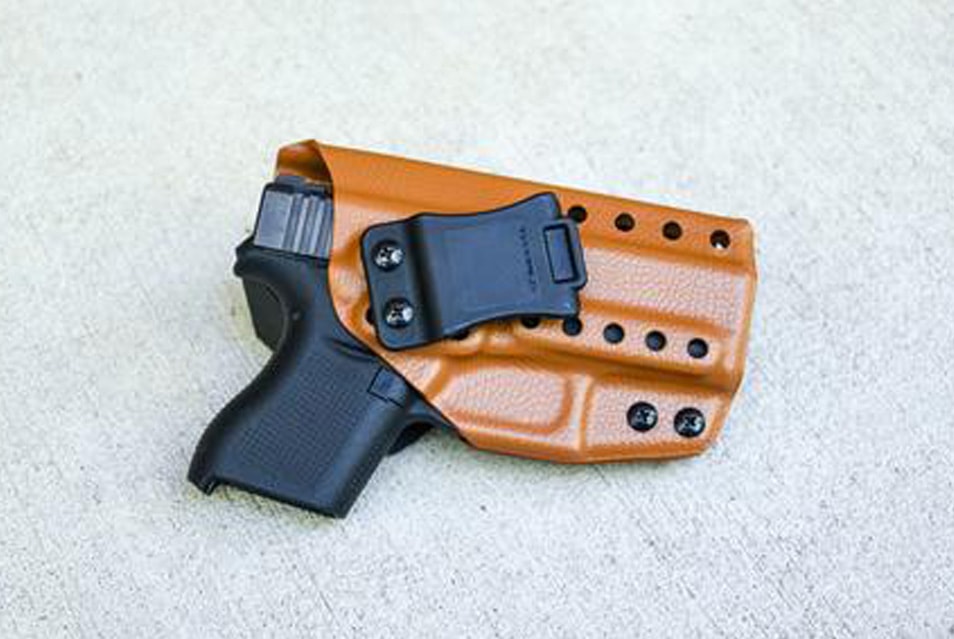 In addition to the wide variety of holsters already available, the newly added custom designed holsters for The Insider include the following firearms:

CZ P10c
HK VP9
HK VP9sk
Ruger LC9/LC9s
Sig P320 Subcompact (Fits Standard and Railed Frame)
Sig P320 Compact/Carry (Cross Compatible Subcompact and X series Frames)
Sig P320 (Cross Compatible Subcompact and X series Frames)
Smith & Wesson M&P 3.5 inch
Smith & Wesson M&P 4 inch (2.0 Cross Compatible)
Smith & Wesson M&P 4.25 inch (2.0 Cross Compatible)
Smith & Wesson M&P 5 inch (2.0 Cross Compatible)
Springfield XDm 3.8
Springfield XDm 4.5
Taurus PT111 G2
Walther PPQ
Walther PPS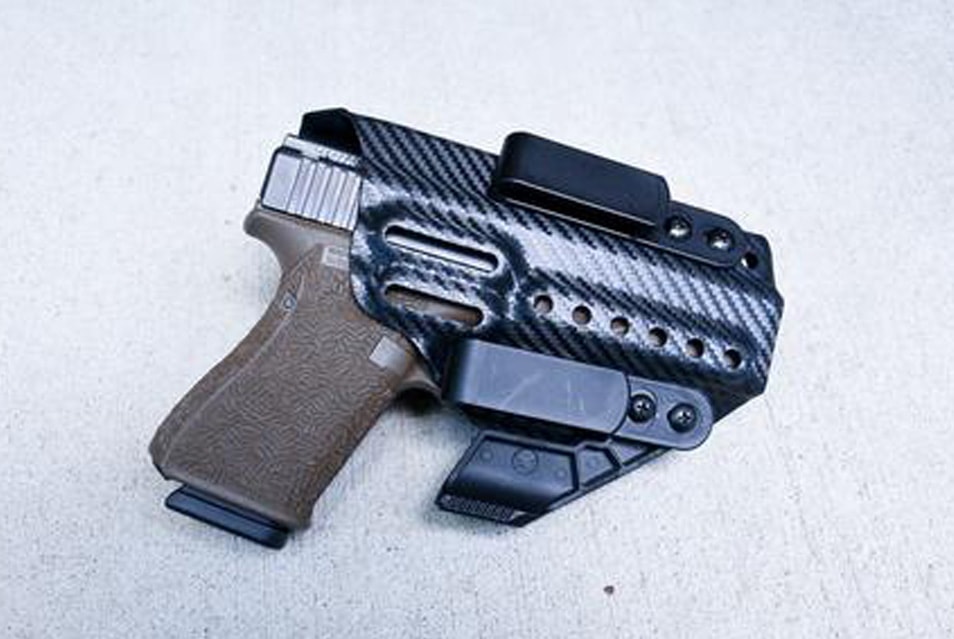 Harry's Holsters stocks a large selection of Ready To Ship holsters that ship in 1-3 business days, as well as custom holsters that can be shipped in as little as two weeks. They offer a 45 Day return period on Ready to Ship Holsters.

Configurations Include:

Contender
Defender
Executive
Infiltrator
KIS (Keep It Simple)
Overlord

Harry's Holsters, based in North Carolina, designs and manufactures concealment holsters that reduce the need to dress around the firearm. Harry's Holsters are proudly manufactured in the United States, using vacuumed formed from molds, machined in house and then trimmed using our CNC machines.
Harry's Holsters is online and on Facebook, Instagram and You Tube.
5.11 Tactical (@511tactical) is a member of JTF Awesome.
---
---
This article was lovingly prepared for you by the Breach-Bang-Clear News Team.
If you wish to share or repost, please so kind as to follow our terms and conditions.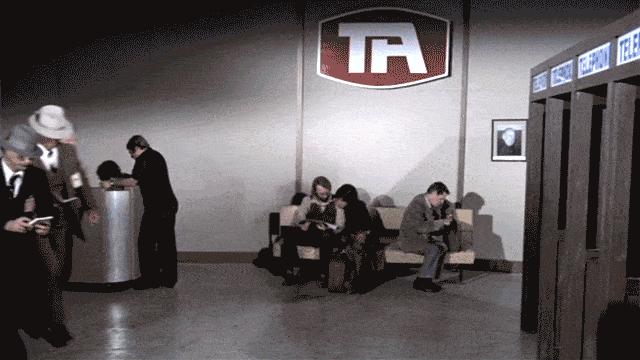 Mad Duo, Breach-Bang& CLEAR!
Comms Plan
Primary: Subscribe to the Breach-Bang-Clear newsletter here; you can also support us on Patreon and find us on Pinterest.
Alternate: Join us on Facebook here or check us out on Instagram here.
Contingency: Exercise your inner perv with us on Tumblr here, follow us on Twitter here or connect on Google + here.
Emergency: Activate firefly, deploy green (or brown) star cluster, get your wank sock out of your ruck and stand by 'til we come get you.
T&C: All original material published by Breach-Bang-Clear is the copywritten property of Breach-Bang-Clear, Inc. If you wish to repost, republish, or otherwise share our content, feel free to reproduce an extract of up to 225 words and one complete, unaltered image, preceded by attribution crediting the source and author's name, to include a link to the Breach-Bang-Clear home page, with a link back to the full article on our website, BreachBangClear.com. You do not require our permission to do this. Please do not reproduce our content in its entirety without contacting us first. We do allow full syndication on a case by case basis (credited, and posted with a canonical link, as is common practice and in good form) but only when mutually agreed upon beforehand. If you wish to reproduce a complete article, please contact us for permission to publish first.