Report: The Grey Ghost Range Bag

Grey Ghost Range Bag
Dave "Norseman" Williams
Some time ago I received a Grey Ghost range bag for review. I set it aside and figured I would be at the range sooner rather than later to give the bag my full attention.
That was a mistake.
See, I live in the middle of Ida-nowhere and more often than not when I go shoot, I go no farther than my back door. I have no need to pack my gear into a bag just to shuttle to my back yard.
A couple times a year I head up to the mountain for some long range practice but again, I usually just drag a box of gear, tools, optics and camping equipment in my truck. So my dilemma was, what could I do with this bag that could justify its use and still provide good eyes-on for a thorough review? Then it occurred to me that I SHOOT a LOT of photographs, all over the world, and if this bag can protect my expensive camera equipment in TSA hell, then it would surely protect guns, optics and gear.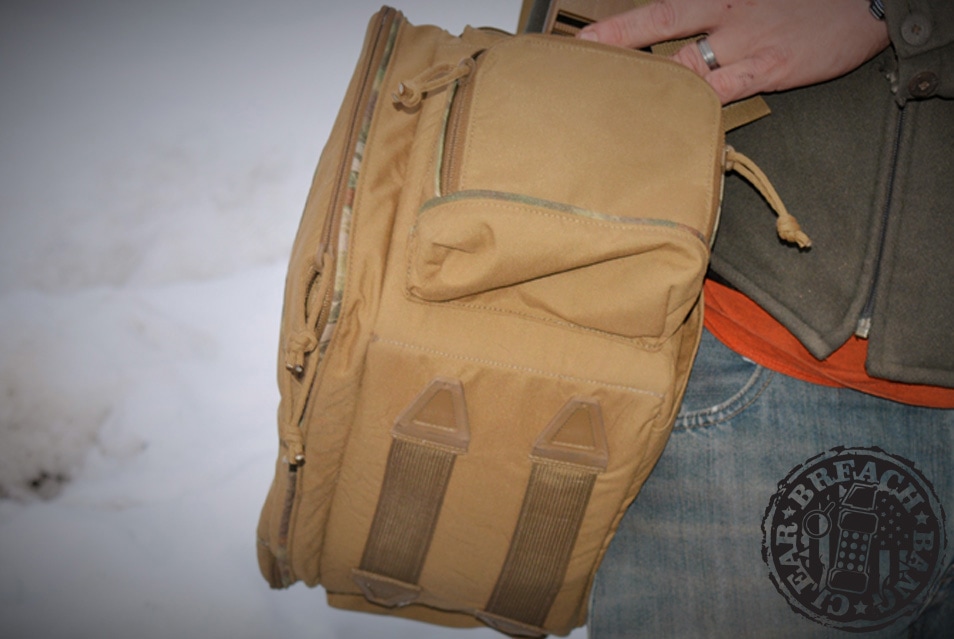 So here is my impression of the Grey Ghost Camera, err, Range Bag.
The example you see here is in coyote brown cordura nylon with a subtle addition of Kryptex camouflage trim. At first look it seems to be a simple little bag that's light on features and heavy on padding. While the latter part is true, the former is a little deceptive. The bottom of the bag is stitched with two 1.5" wide webbing straps that terminate into heavy duty rubber non-slip feet. There are two 1" tubular nylon carry straps sewn securely into the top of the bag seams. The bag has a total of five major pockets that each hide a couple specific features of their own.
Main compartment.
The basic measurements for the main pocket are 7 in. wide x 14 in. long x 9 in. deep for 882 CI. The main compartment is lined with four, 4 in. wide Velcro strips, which can be used to attach Velcro-backed gear or to insert the included removable divider. The divider contains a single elastic strip on each side. This elastic is bar tacked into three magazine loops that are capable of holding a single double stack Glock .45 magazine each. At each end of the main compartment is a heavy duty mesh pocket with elastic draw string closure.
These pockets can hold all the little odd shaped items that don't really have a place elsewhere. As a camera bag, each divided section is large enough to hold a complete DSLR camera with the lens held securely in the mesh pocket. The lid to the main compartment has a double zipper closure and the zippers are tethered so it is both open, or both closed. This opens to a very large top for easy access on the shooting bench. The top flap also contains two flat mesh zippered pockets for other smaller items like range passes and ID badges. I have found that they also hold DSLR camera batteries very neatly and easy to access. Brilliant!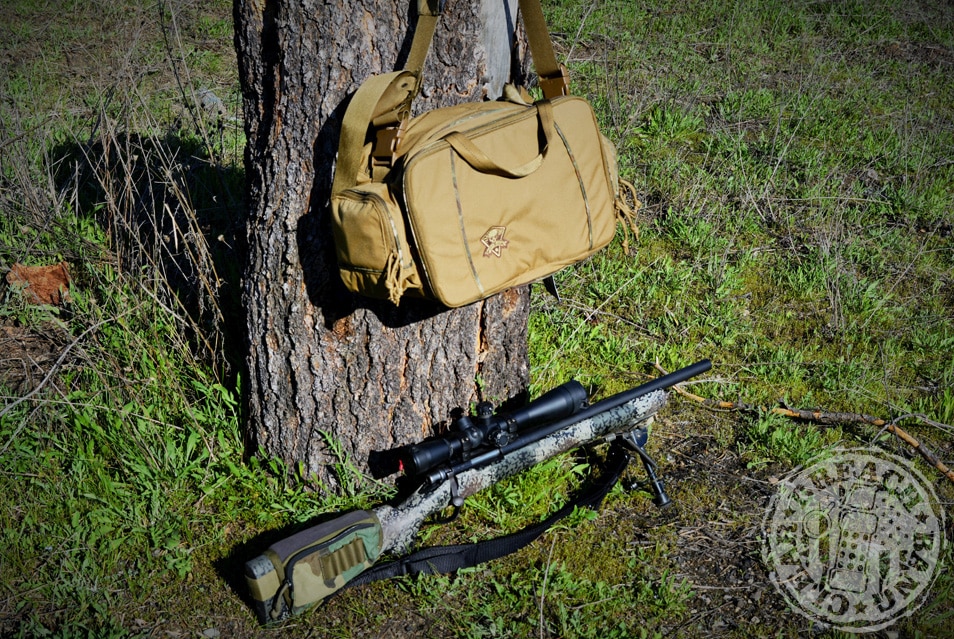 Two end compartments.
Each of the two end compartments are 6 in. x 6 in. x 2 in. for another 144 CI of capacity. Each has a full double zipper closure with 550 cord zipper pulls. Inside each is also a flat mesh pocket with a Velcro flap closure on the top flap.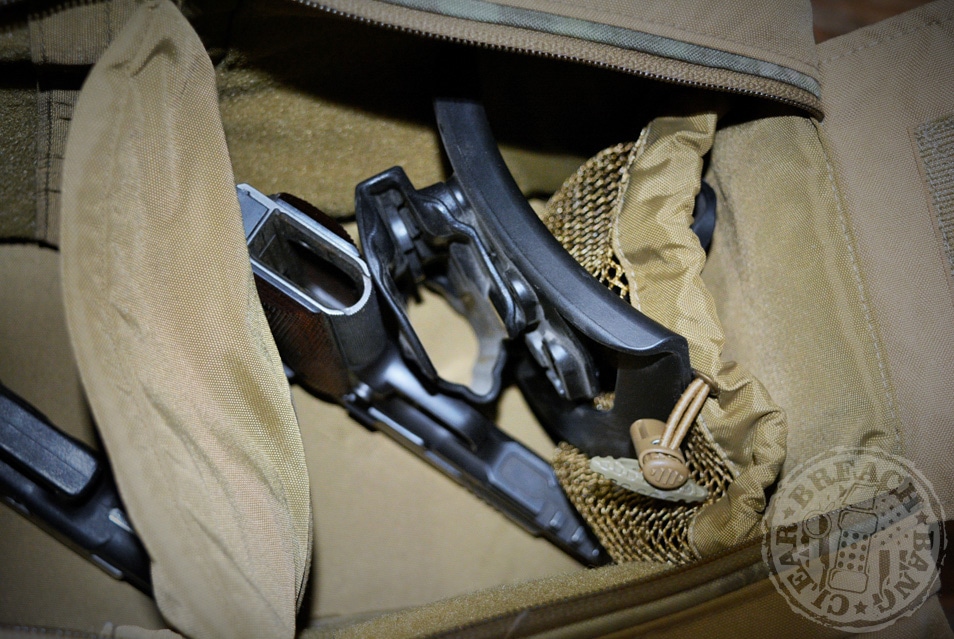 Front side compartment.
It's 13 in. x 9 in. x 1.5 in., adding another 175.5 CI to the overall capacity. This pocket has a double zippered flap that unzips all the way to lay flat in the table. The surface of the flap is a chemical resistant cleaning mat and there is a rare earth magnet attached between the layers in the center of the flap. The magnet is set in the middle to attract small metal parts like grip screws and takedown pins. The inside wall of this pocket is covered with Velcro and a single strip of heavy duty elastic that is bar tacked into seven magazine retention loops.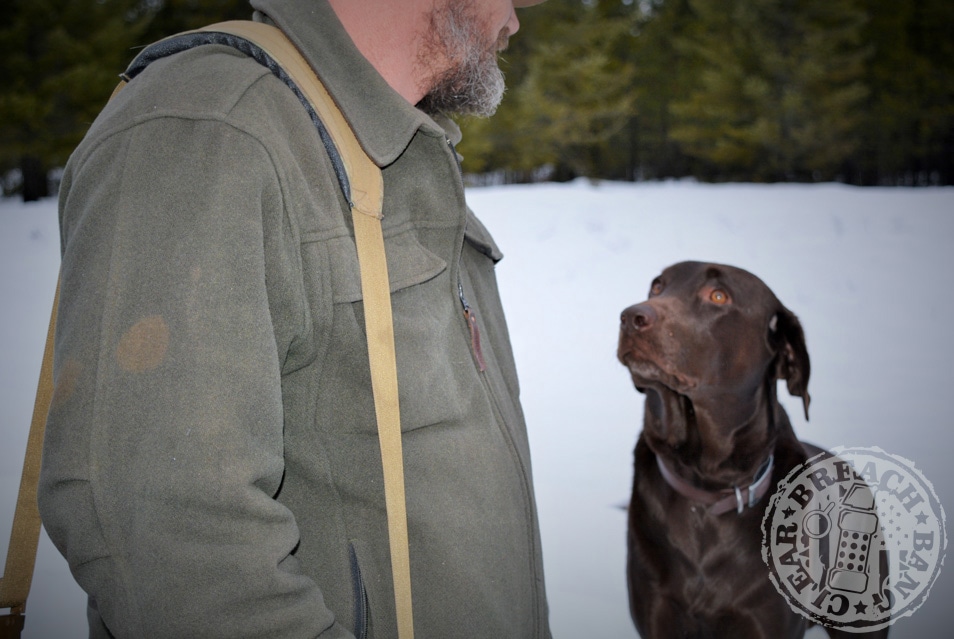 Back side compartment.
This pocket is 7.5 in. x 13 in. x 2 in. for an additional 195 CI. It's gusseted with a full-length Velcro top closure, perfect for gloves or a roll up shooting mat or even a hard shell pistol case. There are no features inside this pocket, which makes it very functional as a catch all dump pocket. Spent brass, live ammo, cleaning gear, range snacks or single mother toys, will all find this pocket to be a safe space.
Carry strap.
The strap is relatively simple, it's a very long piece of 2 in. wide webbing secured by an equally large fastex buckle on each end. In the middle of the strap is a 12 in. long padded section with a gentle ergonomic curve to it. The inside of this section has a non-slip surface and the outside is finished with the same material and trim features as the main bag. This strap can easily be attached for either right or left side carry.
The one drawback I found is that this strap has no strap keepers on it. It bothers me personally to walk around without the excess strapping rolled up and secured neatly. I have in fact added some elastic keepers to my bag, but it would be a good factory addition in my opinion.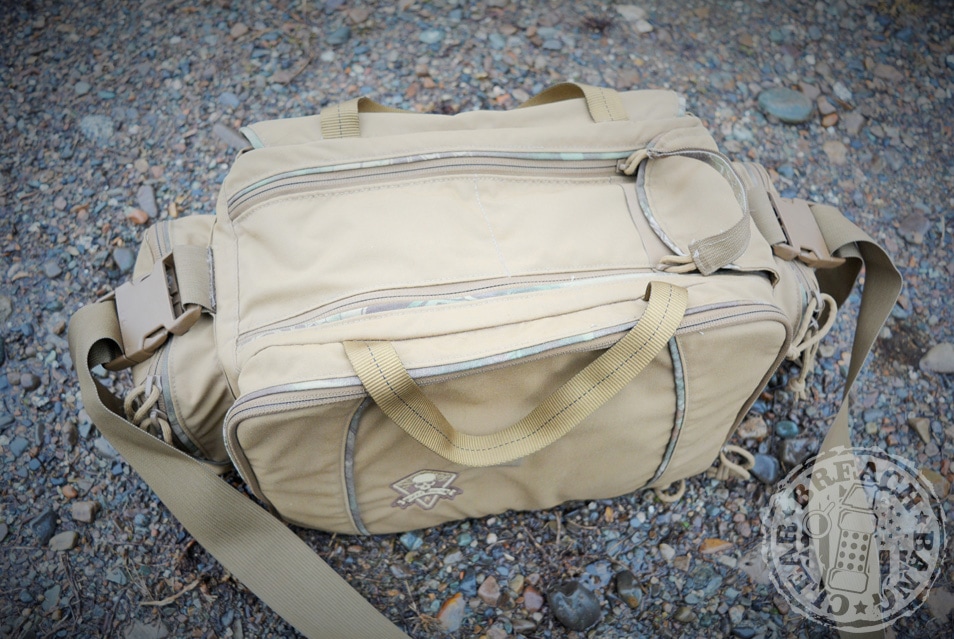 Product code is 6020 and the MSRP is $171.00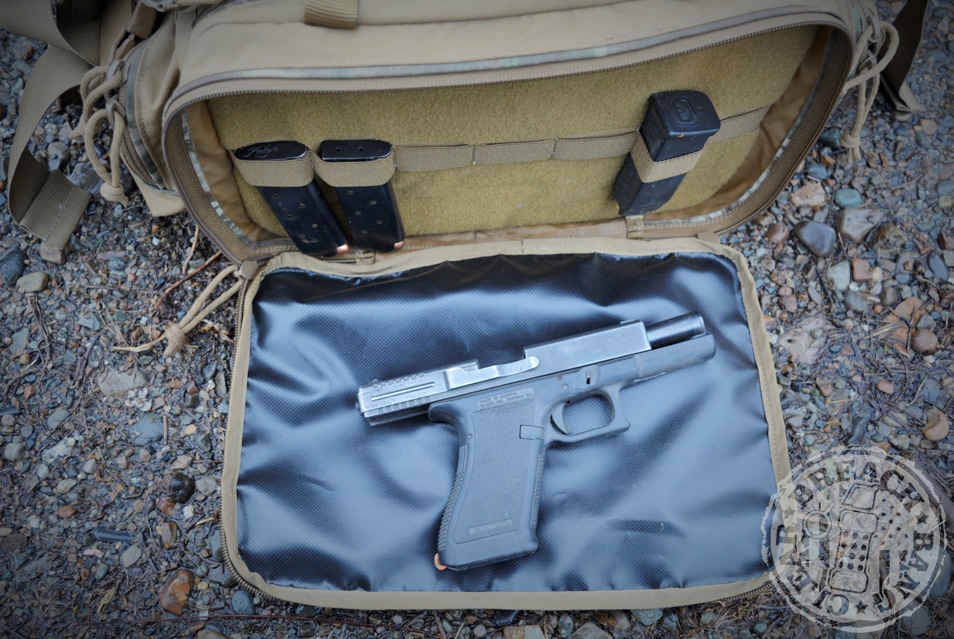 Overall this is a great bag for your "shooting" gear, however you define that term. With a total capacity of 1400-ish CI, there is ample space to tote your mission essential gear and maybe a lunch to the range and back. The package is subtle with no outside visibility as to the secrets that it contains. I think it would make a great general purpose tote for practically any application from rage day, to a photo shoot hidden in the mountains, to a mommy and me class at the local community center. Whatever your mission essential gear is comprised of, this Grey Ghost range bag will get your kit to the area of operation and back safely, securely, and discretely.
– Norseman
GEMTECH is a member of JTF Awesome.

---
---
Mad Duo, Breach-Bang& CLEAR!
Comms Plan
Primary: Subscribe to the Breach-Bang-Clear newsletter here; you can also support us on Patreon and find us on Pinterest.
Alternate: Join us on Facebook here or check us out on Instagram here.
Contingency: Exercise your inner perv with us on Tumblr here, follow us on Twitter here or connect on Google + here.
Emergency: Activate firefly, deploy green (or brown) star cluster, get your wank sock out of your ruck and stand by 'til we come get you.
About the Author: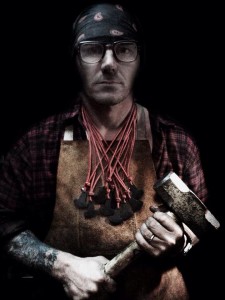 Gunny "Norseman" Williams enlisted in the Marine Corps in 1993 and deployed to Mogadishu, Somalia in 1995 as a grunt. He was one of only two SLUGs out of fifteen to make it through Sniper Indoc and attend the USMC Scout Sniper School, graduating on his first attempt and later attending Urban Sniper, Urban R&S, Advanced Sniper, Sniper Employment Officer and the Mountain Sniper/High Angle Shooting Course. As you might expect, after some time ramrodding a Sniper Platoon in the FMF he attended the Formal Schools Instructors Course and was selected as a Scout Sniper Instructor for the First Marine Division. There he was the primary instructor for the survival and .50 SASR portions, specializing in fieldcraft and combat tracking. (Note: it was there at Horno that David Reeder, our editor, met both Williams and Freddy Osuna; they instructed a class together — it was the start of a long and improbable  tale.) Not too much later he received orders to the Mountain Warfare Training Center at Bridgeport. Since retiring he has continued to contribute tot he survival community as a Brother of Bushcraft and is also the HFBIC (Head Fucking Blacksmith In Charge) of the forge at Survival Hardware.