God of War Mission Timer | Ares Watch Co. Diver-1
There are few men in the tactical community who have the gravitas of Matt Graham — especially when he wears pants. Apparently, he's retired from that full-time gig and has launched a watch company named, appropriately enough, for the God of War.
Join us at Nancy's Squat & Gobble! (It's our double dog secret, members-only discussion group.)

ARES WATCH CO. launched their first timepiece, the Diver-1, a couple weeks ago at the NYC Wind Up Watch Convention. The Diver-1 is an American-made "mission timer" style watch built, Graham says, "…to withstand the rigors of any conceivable operation." Graham, who spent the last 12 years working for the Central Intelligence Agency, enlisted specialists from the Watch Technology Institute of Seattle (founded by Rolex USA) to ensure a quality design and build.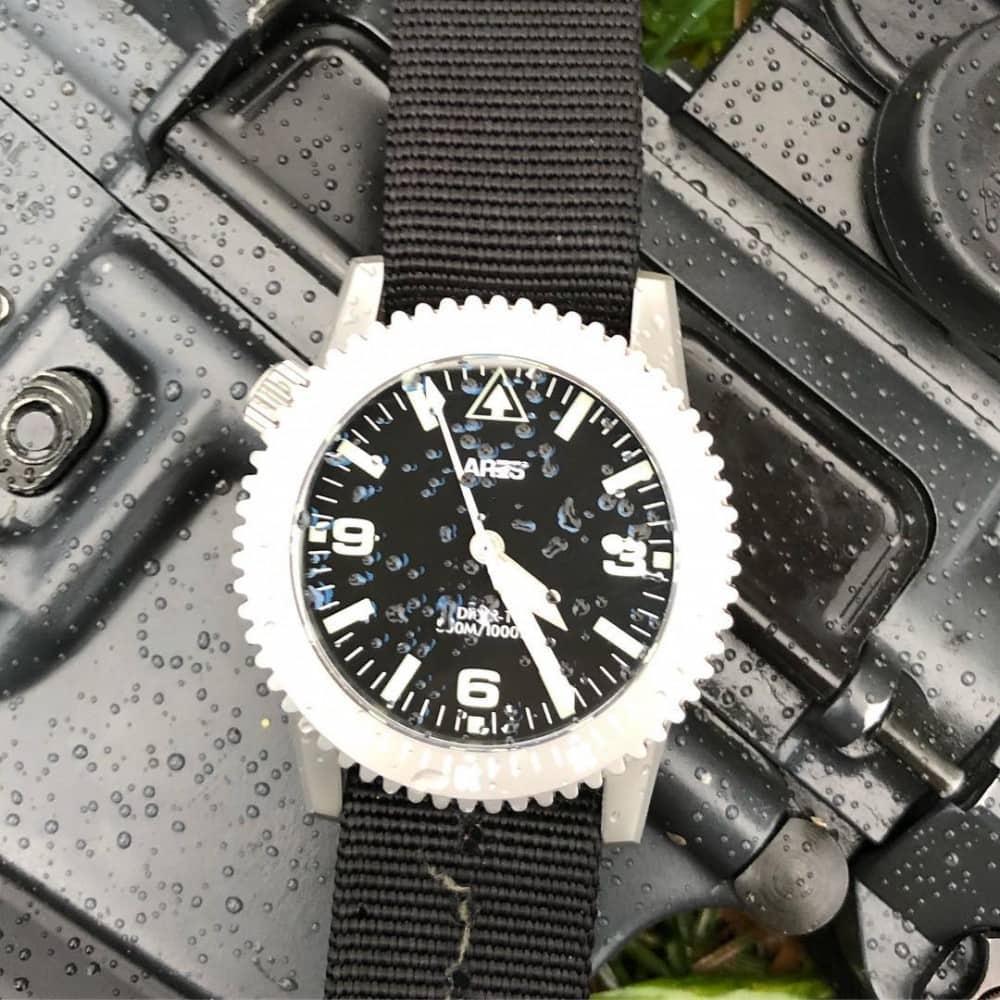 Graham is doing much more than building a watch. As he explains,
"I am building a watch company, not just a watch. This is a very important distinction for me, as I am putting all of the pieces in place to build a company that has both longevity and growth. I am fortunate enough to be in the Pacific Northwest, which is a hotbed for tech and fabrication, and I am taking advantage of that fully. It is my goal to —eventually — produce all of the components of our watches in-house. I can facilitate this goal because I have the two things critical for success: watchmakers and machinists. Early on in the development of ARES as a company, I was able to partner with North Seattle College's Watch Technology Institute. WTI was originally created by Rolex USA as a two-year technical certification school for watchmakers. Nick, the owner of Orion, is a recent graduate of the program. The program produces some of the finest skilled watchmakers in the world. I have hired directly from that program and have also committed to a portion of our proceeds of each ARES sale to a scholarship program to the Institute. In addition, I have sourced machinists from both the aerospace and defense industry. These two factors will set a foundation for our future success. With watchmakers and machinists, I can build anything."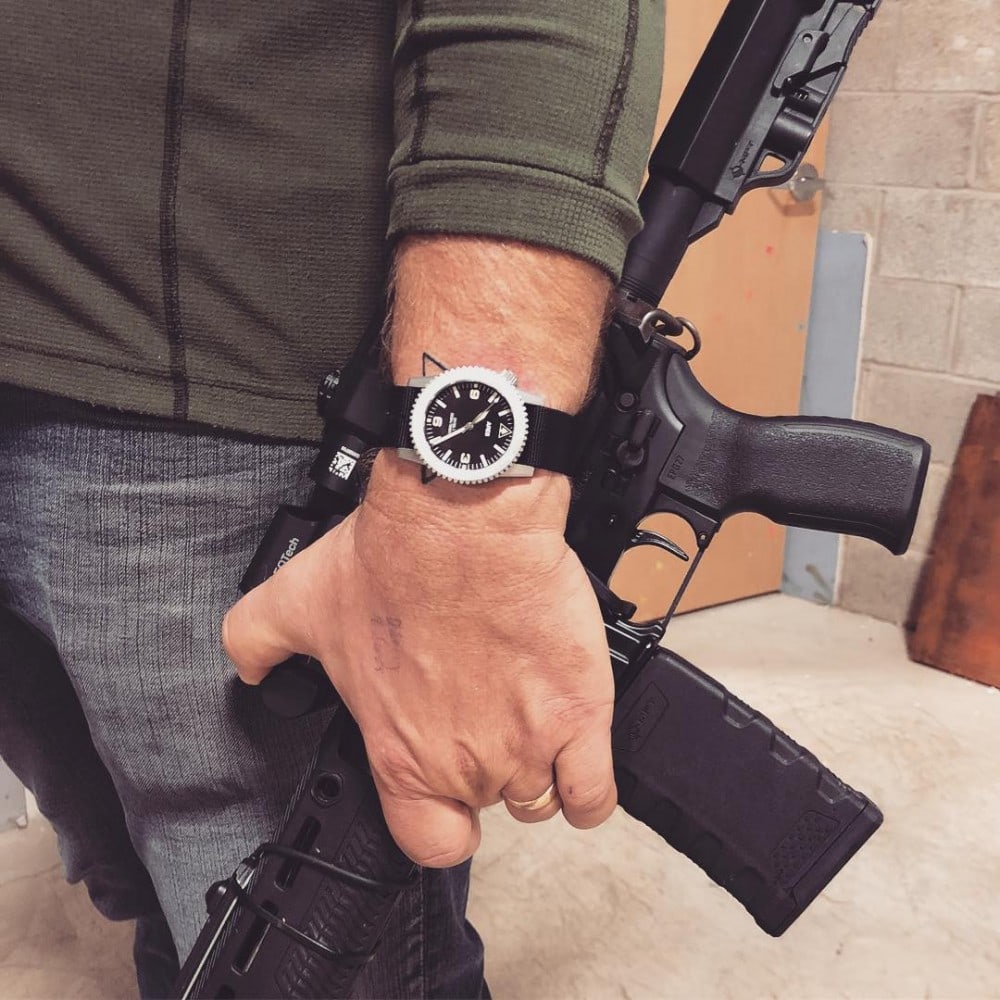 He goes on to say that the Diver-1 is the watch he'd always wished he'd had.
 "The DIVER-1 represents everything I have wanted in an operational dive watch. The specifications are mine and meet my needs for an operational diver. DIVER-1 was designed by me – drawn and sketched by hand in books and journals – over the years. To meet the manufacturing requirements DIVER-1 will be manufactured in Hong Kong – at the same design and fulfillment house numerous successful micro brands currently use – as well as here in the US and Switzerland. As we grow over time it is my intention and plan to bring more and more components in-house for manufacturing fulfillment. The biggest problem is: Americans have lost the art of watch machining and watchmaking. And those that have the art aren't too open to sourcing. The biggest reality is: if you want professional watches made to professional standards you'd be hard pressed to find finer craftsmanship and quality than some of the Asian manufacturing houses. I am not ashamed to let the best people do the best job, but I am striving to build that process here at home. All DIVER-1 watches will be hand finished, assembled, quality assured, and serviced here in Seattle. We build them and then we send them out the door."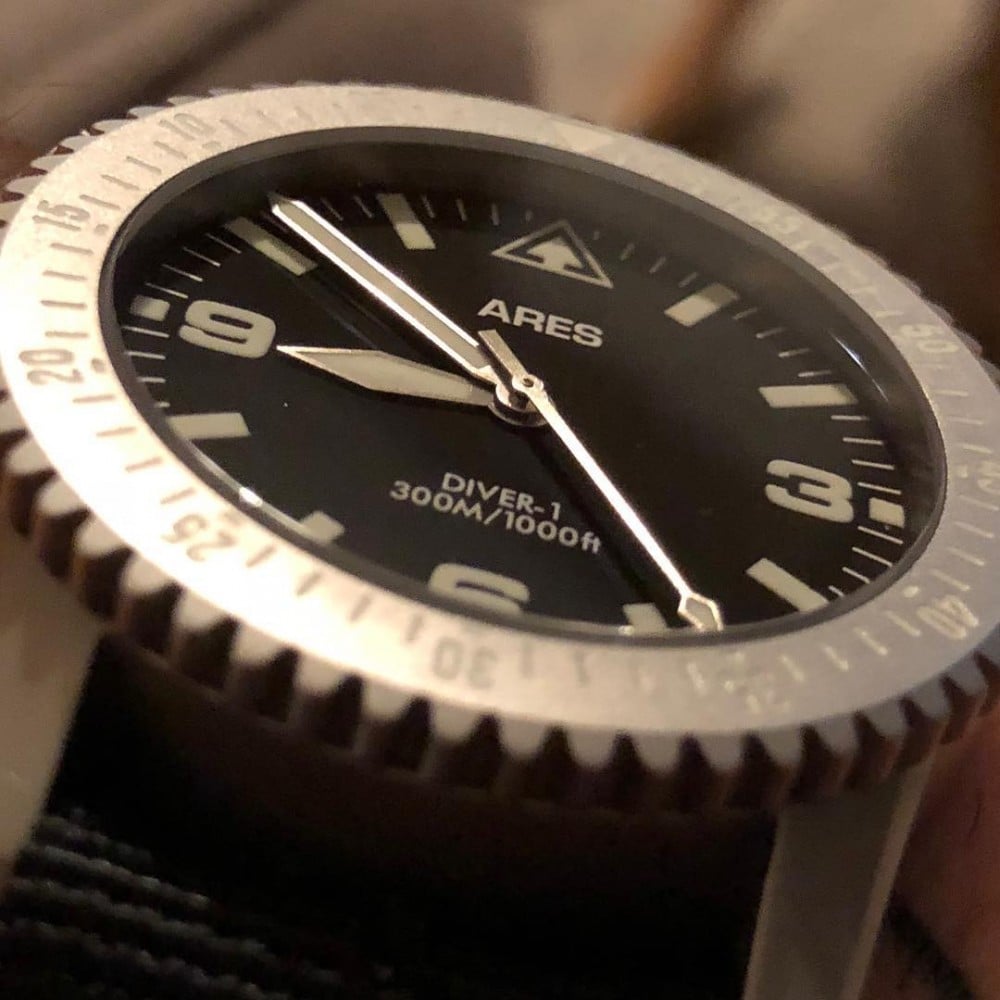 Here's what we know about the Ares Diver-1:
ARES Watch Co. DIVER-1
The serialized DIVER-1 is a limited release hard-use mission-timer tool watch. It was designed and assembled from domestic and internationally sourced components, then tested, certified, and serviced by hand in Seattle. As of product delivery, the DIVER-1 will have endured more than 20,000 hours of rigorous operational use evaluation in various locations around the world.
Mission Timer Technical Specs
Case, Caseback, Crown, & Bezel
▪ 41.0mm 316L stainless steel bead blasted two-piece case with individually serialized, engraved, screwback construction
▪ 42.0mm 316L stainless steel bead blasted bezel, featuring countdown timer with C3
Superluminova, clear coat finish, aggressive 'no-slip' teeth, and 120-click unidirectional
countdown mission timer
▪ 49.5mm lug to lug
▪  22mm drilled lugs with 1.8mm shoulderless spring bars, supplied with a 3-ring and 5-ring LASH nylon strap
▪ 10 o'clock 'fat head' 7.2mm logo'd screw down crown, featuring aggressive 'no slip' teeth and double Viton seals

Case, Caseback, Crown, & Bezel
▪ Ronda 715Li 5-jewel / gold plated analog quartz movement with EOL indicator
▪ 10 year standard battery life utilizing No. CR2016
▪ 3V lithium-ion battery
▪ Brass dial with C3 printed hour indicators, painted minute indices and logo
▪ Flat sapphire crystal with inner AR coating
▪ Brushed stainless C3 hands▪ Anti-magnetic rating 18.8Oe, shock resistant to
NIHS-91-10 and thermo compensated -0 to 50+ C.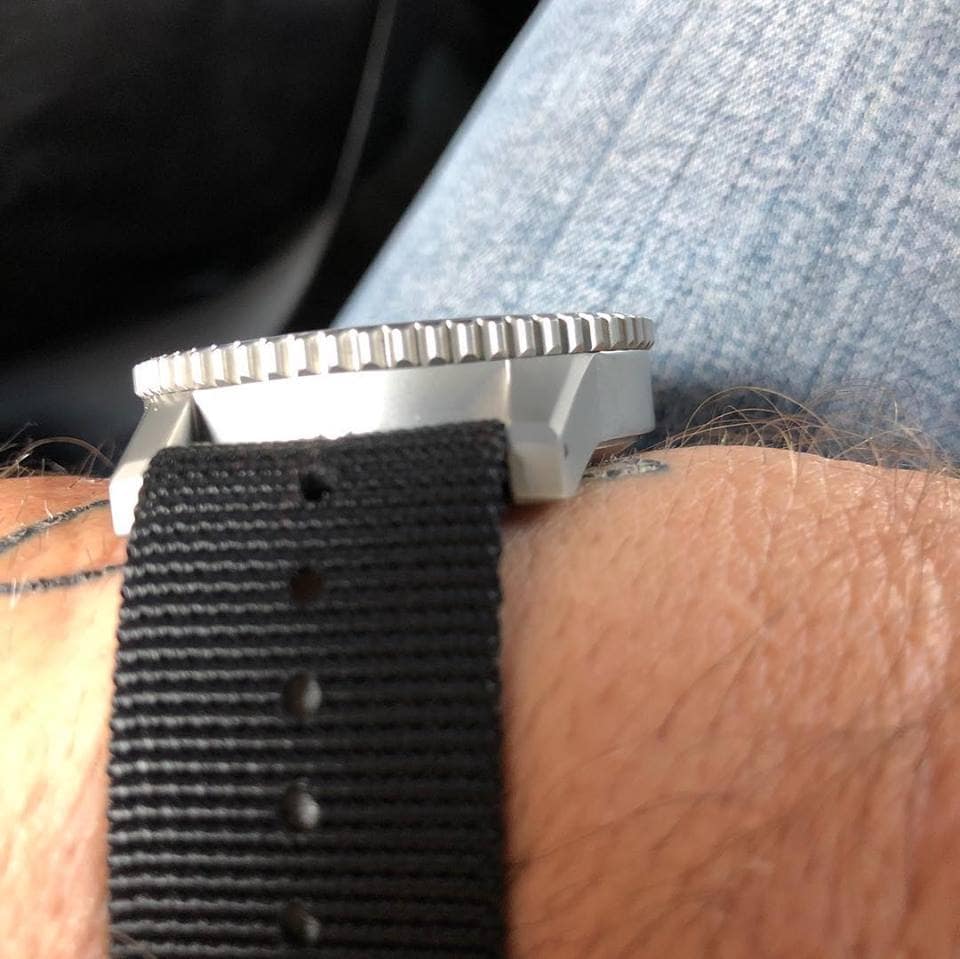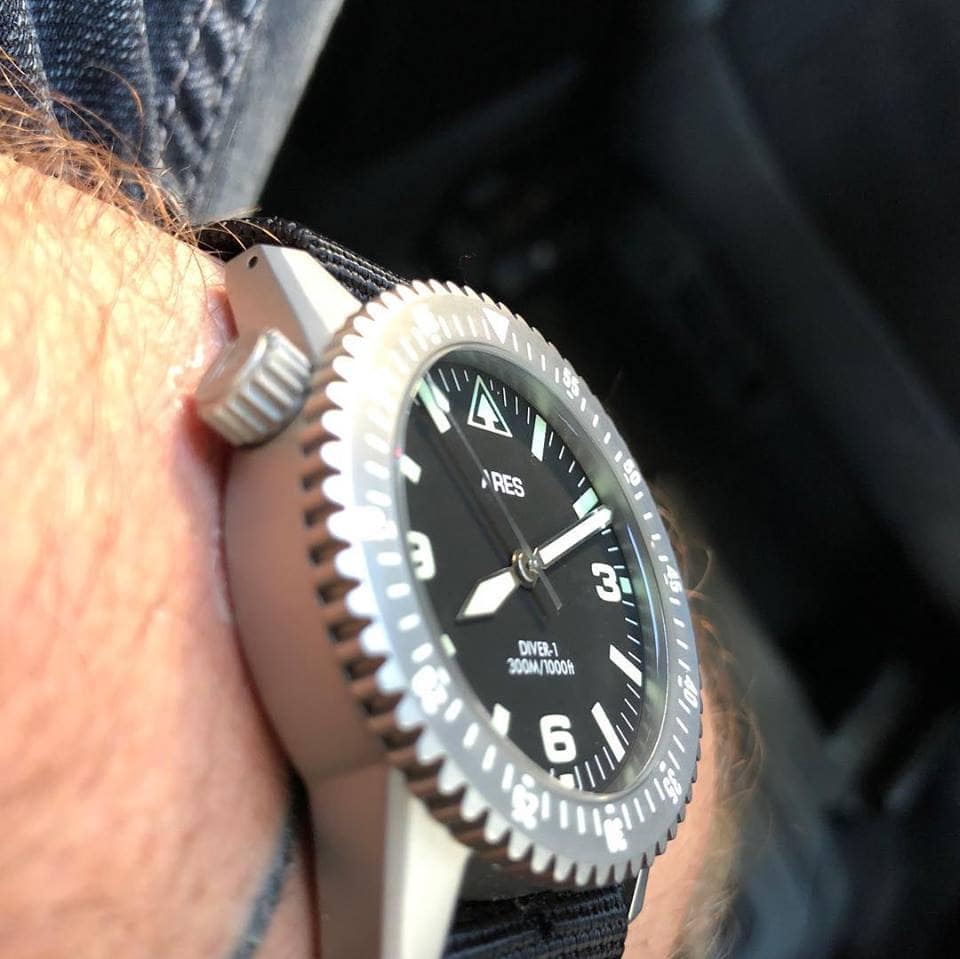 Check out the Ares Diver-1 (or buy one!) here online.
Now, here's a little Breach-Bang-Clear trivia for ya. Various members of our crew have trained with Graham several times over the last few years. The video below is what prompted us to do so that first time. Once we'd spent a couple hours working with him it became very clear, very quickly, that we were in for a serious Education. And that's why we keep going back.
About Ares Watch Company: Ares Watch Co. (https://areswatches.com) is an American watch company manufacturing hard-use mission timers in the Pacific Northwest. Connect via Instagram, @areswatchco, or and see more online, areswatches.com. Founder and lead designer Matthew Graham has nearly a quarter century of operational experience, including 12 years within the intelligence community. The last four of those were spent as the OIC of a firearms and tactics program for low profile operations. Learn more about Matthew Graham at grahamcombat.com (@grahamcombat). Fight with what you carry; nobody is coming to save you.
Learn more about Matt Graham in this article from RECOIL's CONCEALMENT.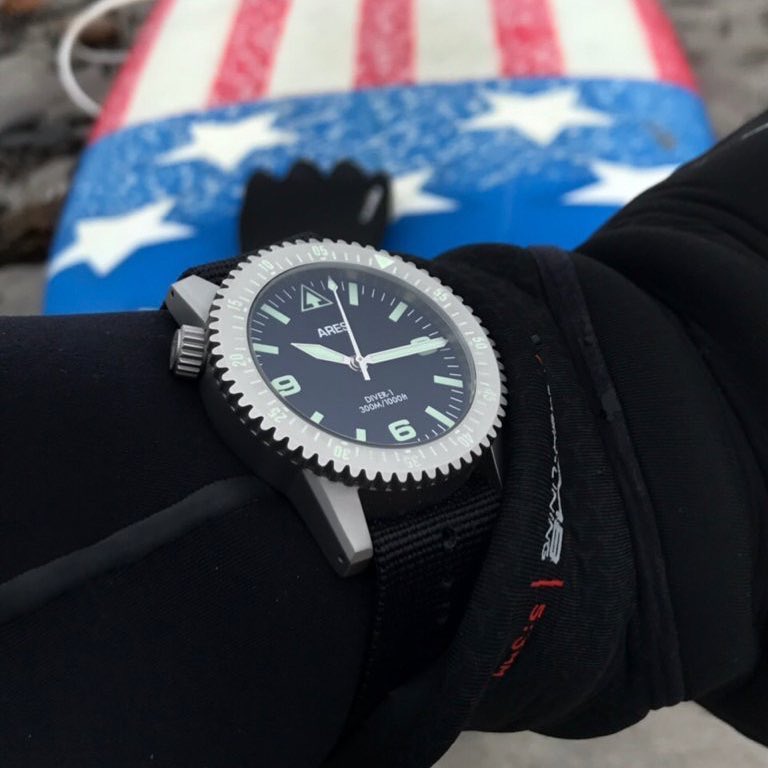 Why come to visit our double secret closed and private discussion group? Because of the Morningwood Bazaar and the conversation, obviously. 

Disclaimer: We are not endorsing Nancy's Squat & Gobble, nor do the opinions therein reflect those of the entire Breach-Bang-Clear staff. That said, while Nancy's is indeed a shady place, only a few people have actually gotten food poisoning there, and most of the girls have all their teeth. The one-legged bartender really does make a mean Old Fashioned, and if you ask nicely she'll even do it with burnt rosemary smoke.
Take heed! We have advertisers, sponsors, and affiliate relationships with some of the companies you will be reading about (particularly, but not limited to, archival posts). If you purchase one of those items, we will get a small commission from the sale at no additional cost to you. A lot of work goes into Breach-Bang-Clear; by making your purchase through one of our portals you'll be supporting our work. This will help us buy beer, bullets, and barbecue, and we won't have to put pop-up ads and other such stupid shit into our articles to pay our expenses.