Glock 43 Slides | New from KE Arms
Got a factory Glock 43 that you're looking to accessorize or upgrade? Well, 'tis the season, and you're in luck! KE Arms just announced the release of their Glock 43 slides, just in time for the Holidays.
As KE Arms explains,
The KE43 Slide is machined from 17-4 Stainless steel and heat-treated to Rockwell 42-43. These slides come ready to accept OEM internals, barrels, and guide rods. The KE43 slide is compatible with all Glock 43 OEM components.
Bravo through Delta Models are available milled for the Shield RMS or the Leupold Deltapoint Pro.
These will be available at a special introductory price of 10% off now through December 31st. We machine each slide to order due to the number of options and features the end-user can select, so the sooner you order the sooner you will have your KE43 slide.
According to the KE Arms website, the company machines all slides to order since each of them has a variety of options to select from. Orders can take up to four weeks, depending on the production schedule and machine time availability. Also, these tend to ship faster than Black Melonite since there isn't an outside coating process performed on stainless slides. On all of these slides, the KE Arms logo is an optional detail.
The Bravo, Charlie, and Delta models are available three sight options to choose from:  Shield RMSc, Leupold Deltapoint Pro, or Irons. Choose from five different finish options:
Blasted stainless.
Black Melonite.
Cerakote Elite Concrete, Coyote, or Jungle.
Glock 43 Slides Now Available
KE43 Alpha
The KE Alpha slide comes with rear cocking serrations and the ability to mount iron sights. It is available in blasted stainless or with a Black Melonite finish.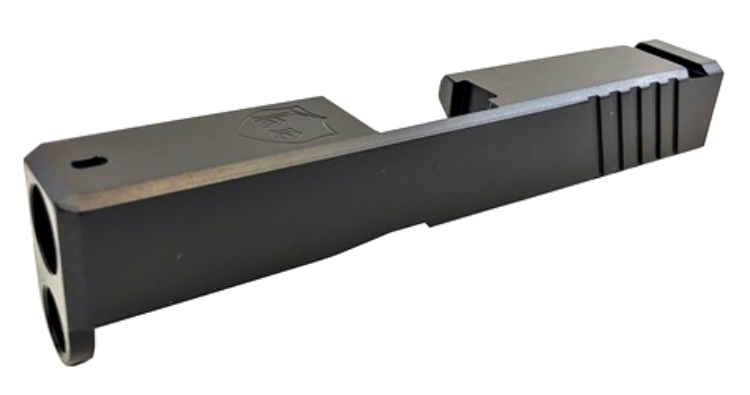 http://www.kearms.com/ke43-alpha.aspx
KE43 Bravo
A striker channel liner is included with this slide and it comes ready to accept OEM internals, barrels, and guide rods.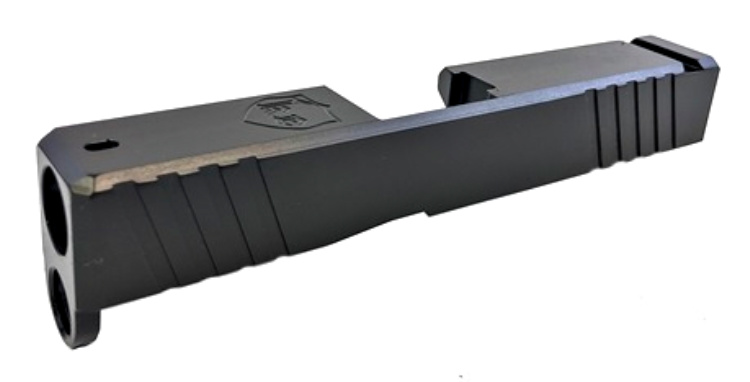 http://www.kearms.com/43-Bravo.aspx
KE43 Charlie
These slides come ready to accept OEM internals, barrels, and guide rods.
http://www.kearms.com/ke43-charlie.aspx
KE43 Delta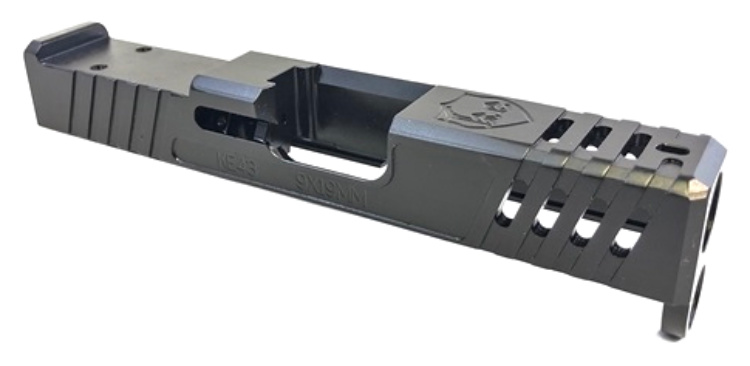 http://www.kearms.com/ke43-Delta.aspx
KE Arms says they designed their slides to work with Glock OEM components and KE Arms components. The company cautions that some combinations of aftermarket parts can cause improper function. Therefore, they recommend having the slides assembled by a competent gunsmith or armorer with function testing for safety prior to live fire.
KE Arms further recommends running at least 200 rounds of live fire before using one of their slides in a self-defense/duty application. Of that 200 rounds, at least 50 should be of your preferred carry/duty ammunition.
---
Read more  Glock 43 upgrades and reviews.
• Get your learn on; check out their blog. 
 Some hyperlinks in this article may contain affiliate links. If you use them to make a purchase, we will receive a small commission at no additional cost to you. It's just one way to Back the Bang. #backthebang