New GGP Glock Slides Available – see the V3 and V4 at SHOT
Join us at Nancy's Squat & Gobble! (It's our double dog secret, members-only discussion group.)

Grey Ghost Precision has released the sexiest thing you'll see at SHOT, no matter how many booths you visit (and even if you attend the AVNs); their new V2 and V3 slides are available. As we figure such things, it's a two-fer. The V3 and V4 Pattern Slides will make you walk with a limp when you see it and will mount either a Leupold Deltapoint Pro or Trijicon RMR with supplied aluminum shim plate and correct-length screws for both types of optic.
Plus it's textured for your grip and pleasure.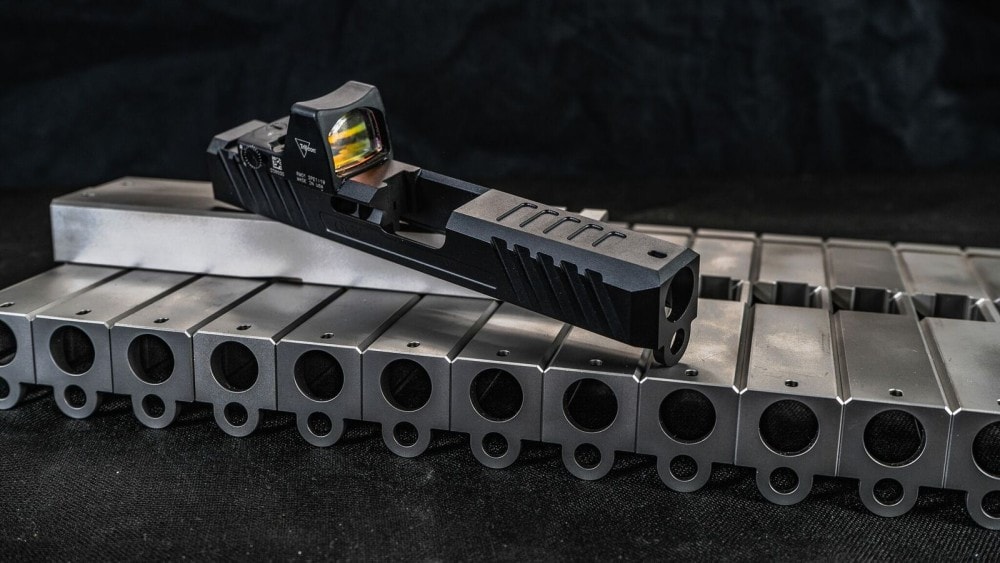 As GGP tells it, "the V3 and V4, share the same precision engineering and tightened critical tolerances of their predecessors the V1 and V2, while featuring a first-ever hybrid MRDS cut, a modified optic footprint that allows for mounting of the Trijicon RMR or the slightly larger Leupold DeltaPoint Pro."
Here's what we know about 'em:
The Dual Optic Compatibility GGP V3 and V4 aftermarket slides use the same performance enhancing (*snicker*) features of the GGP V1 and V2 predecessors, but with some upgrades. The most obvious are the optic cuts they've innovated to be equally compatible with either Leupold DPP or Trijicon RMR. For the V3 they've used tapered serration channels on the slide for grip under muddy, bloody, and other tenuous fighting conditions. For the V4, they've designed a micro-scale pattern texture that provides an unmatched level of frictional grip in any direction of pull. Factor in the top window cutout and you'll find what might just be your favoritest, mostest functionalest slide pattern for carry or duty.
Bottom line: the V3 and V4 slides are superb aftermarket upgrade choices for your G17/19, and perfect for your 80% build.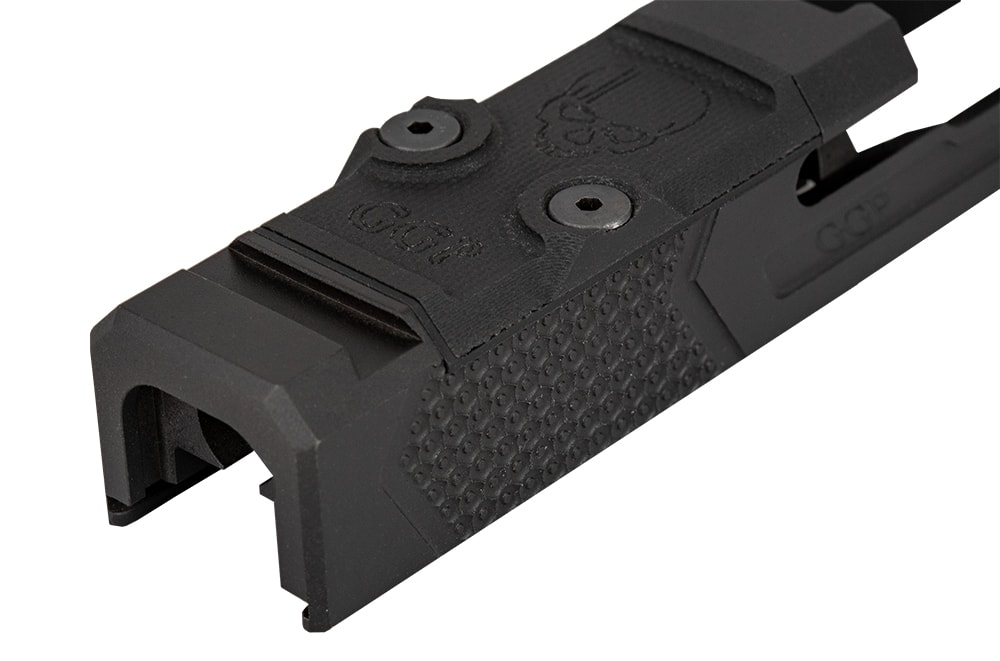 Check out these features:
Machined from 17-4 Billet Stainless Steel for tighter-than-factory-tolerances slide…check! ☑
Black Nitride coated inside and out for superior corrosion resistance…check! ☑
Dual compatibility with DPP and RMR…check! ☑
V3 Slide Pattern with tapered depth serrations for varying aggressiveness from top to bottom…check! ☑
V4 Slide Pattern with studded microscales for enhanced frictional grip…check! ☑
Shim plate supplied with screws for both optics…check! ☑
Available for Gen 3 or Gen 4 G19 compatible frames…check! ☑
Learn more (or better yet, order one) on the GGP website: http://bit.ly/allGGPslides
You'll be able to find 'em at the NSSF SHOT Show 2019, booth # 4366.
Note: This will initially be a preorder. Estimated ship date is 2/1/19. All sights should be installed by a gunsmith; don't go all Tim the Toolman or Jack Butler on it and fuck 'em up eh?
Visit Grey Ghost Precision online at http://bit.ly/GreyGhostPrecision
Connect on Facebook, http://bit.ly/GGPFacebook
Follow 'em on Instagram, @greyghostprecision, http://bit.ly/GGPInstagram
Keep up with their Competition Team, http://bit.ly/GGPcompetition-team
Remember – Grey Ghost Precision is a part of the Tactical Buyers Club.
Why come to visit our double secret closed and private discussion group? Because of the Morningwood Bazaar and the conversation, obviously. 

Disclaimer: We are not endorsing Nancy's Squat & Gobble, nor do the opinions therein reflect those of the entire Breach-Bang-Clear staff. That said, while Nancy's is indeed a shady place, only a few people have actually gotten food poisoning there, and most of the girls have all their teeth. The one-legged bartender really does make a mean Old Fashioned, and if you ask nicely she'll even do it with burnt rosemary smoke.
Take heed! We have advertisers, sponsors, and affiliate relationships with some of the companies you will be reading about (particularly, but not limited to, archival posts). If you purchase one of those items, we will get a small commission from the sale at no additional cost to you. A lot of work goes into Breach-Bang-Clear; by making your purchase through one of our portals you'll be supporting our work. This will help us buy beer, bullets, and barbecue, and we won't have to put pop-up ads and other such stupid shit into our articles to pay our expenses.