SADJ | GEMTECH Machine Gun Suppressor
GEM TECH Machine Gun Suppressor — when you want to hush a crew-served. Breach-Bang-Clear

The GEMTECH MGS Suppressor
A MILSPEC Torture Test
News Desk, via Small Arms Defense Journal 
Not too long ago, the folks at Small Arms Defense Journal (SADJ) consulted with SOCOM testers, Army procurement personnel, and others within the firearm field to design a series of tests for Gemtech MGS Suppressor. The testing was designed to answer these questions:
How will the suppressor hold up over time in the training environment?
How will the suppressors added to the TO&E perform over time?
What is the degradation of suppression, with how much use in training?
What is the degradation of accuracy over a simulated 10 years?
Here's the rundown from SADJ.
GEMTECH MGS | Taming the M240
In the case at hand, Gemtech is trying to harness a true beast: the U.S. M240 machine gun, firing full military 7.62x51mm NATO Ball ammunition through a 24.8-inch barrel at 2,800 feet per second, in fully automatic mode at a cyclic rate of around 700 rounds per minute. This is not a gentle project calling for muffling the sound of a bolt slamming home, nor is it time to reduce velocity. Gemtech is taking on a full workhorse medium machine gun, and that requires robust design, solid materials and the impeccable application of science.
The intended purpose? To make the beast hearing safe at the shooter's ear according to OSHA and military standards, 140 dB or under, and survive in long-term training as well as in full-tilt boogie combat conditions.
The Gemtech MGS Suppressor performed extremely well.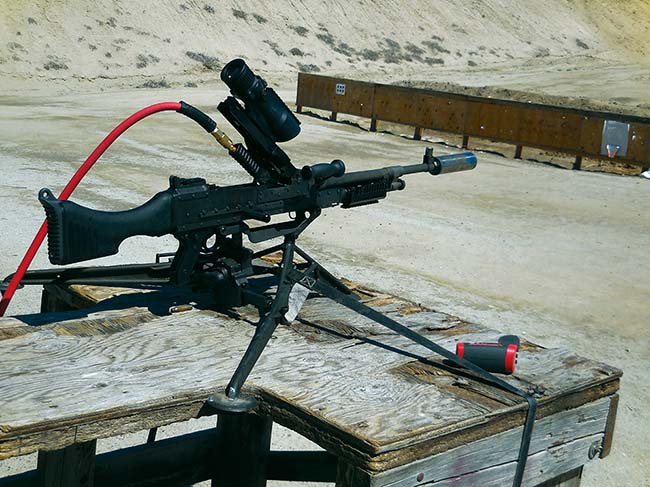 As they described it afterward,
"…the Gemtech MGS Suppressor is one outstanding, robust, high-performing can. There were zero malfunctions due to the suppressor—that's zero failures. Accuracy degradation over the torture testing? None to speak of. Suppression degradation after 7,000 rounds and high temperatures? Slightly more than 2%. This is excellent performance over a simulated long-term training use."
This was no half-assed attempt to test something. They put some damn work into it.
Read the full article at SADJ, Mil-Spec Torture Test: GEMTECH MGS Suppressor.
GEMTECH (@gemtechsilencer) is a member of JTF Awesome. Find 'em on Facebook, /gemtechsilencer/.

[arrow_feed id='48672′]
If you wish to cite, syndicate, or curate our material, please be so kind as to read our Terms and Conditions.
---
From the News Desk…
Breach-Bang & CLEAR!
We're not comparing ourselves to these folks at all — hell, we'd be more qualified to join the Justice League. We're just saying these are people you should know.