Baton Rouge Shooter Tentatively Identified as Gavin Eugene Long

Multiple news sources and publications are identifying the shooter from Baton Rouge this morning as Gavin Eugene Long. Long, who identified himself as Cosmo Setepenra (and maintained a website under that name) is apparently a former Marine from Kansas City, MO. Note that no law enforcement agencies have yet acknowledged or confirmed this. According to videos posted on his YouTube channel and Tweets from his Twitter account, Long recently returned from a "spiritual journey" to his "ancestral homeland" of Africa, where he apparently lived for two years. He identifies himself as a former Nation of Islam member, but made it clear in a YouTube video that he had "no affiliations." He claims in his blog to have picked up sergeant before his third year in the Marines.
Edit: The Marine Corps Times confirms Long was a Marine, advising he was a data network specialist who served from 2005 until 2010, also indicating he deployed one time to Iraq.
Long attended boot camp at Marine Corps Recruit Training Depot San Diego, and his last assignment was with the 3rd Marine Aircraft Wing at Marine Corps Air Station Miramar, California. During his time in the Marine Corps, Long also served with the 3rd Marine Division in Okinawa, according to his military records.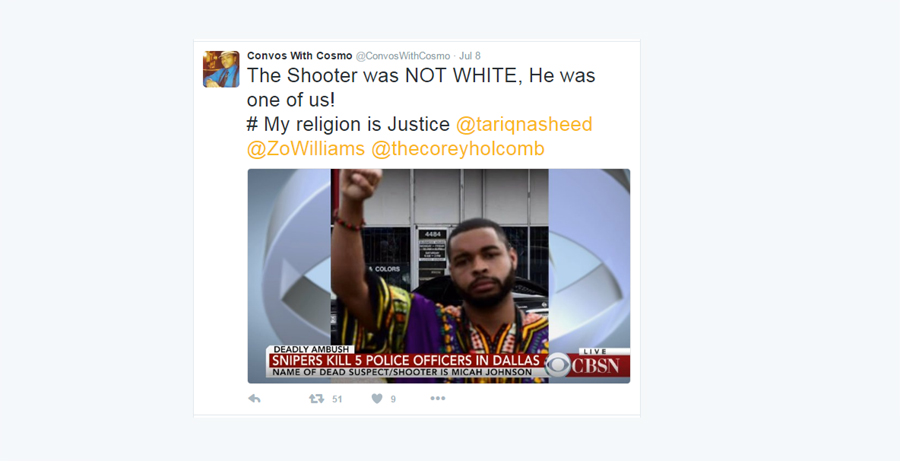 Shortly after the murder of five police officers in Dallas Long posted a video in which he railed against the disparity between races when 'fighting back against an oppressor.'
"Independence Day is really based on…George Washington and the Americans fighting back against their oppressor, Britain…and we celebrate that…You get it? But when a African fights back, it's wrong. But every time a European fights back against his oppressor, he's right. But soon as an African tries to fight back…" Gavin Eugene "Cosmo Setepenra" Long
Shortly before that he posted a lengthy diatribe about "standing up and standing firm."
"The epitome of Manhood is when a Man stands on his rights. And you're not a man until you demonstrate so.

And once they knew that I was a Man to stand on my rights, that nothing they did could scare me, that's when they knew they had to really really keep a close eye on me. They already would watch me, and follow my moves, because they knew I was very persuasive, convincing and a leader. Because I always spoke the truth, and there is one thing about the truth, its very convincing!

I went on a 30 day recruiting duty when I was a corporeal and recruited like 3 people immediately. So they knew I had the ability to convince people.

But after I stood up for myself, and called the inspector General personally, they knew I wasn't afraid of shit! Which Is partially the reason why I have been blacklisted from getting employment since I got out of the Marines. I also had a friend tell me that the govt threatened him not associate to closely with me. Essentially its isolation. They don't want the spirit of courage to spread. Because their whole gimmick is fear. But im not the body, I have a body.

This system becomes very angry and frustrated when they cant get their way with who they want you to become. Of course As A Marine They wanted me to be fearless, but only when they say its okay, against Al Qaeda, Isis, Bin Laden, etc."
According to his website, on which he mostly speaks about himself in the third person, Cosmo" traveled to a number of African countries.
"He then joined the United States Marine Corps and earned the rank of Sergeant (E-5) in less than three years as one of the Corps most physically fit and disciplined Marines. During his five years as a Marine, Cosmo spent two years in Japan and did one tour in Iraq. While stationed in San Diego, California, Cosmo became a highly esteemed and sought after nutritionist and personal trainer.

After completing an Associate's degree in General Studies at Central Texas College, Cosmo then attended Clark Atlanta University to further his education. After a year and a half at Clark Atlanta as a dean's list student, he had a spiritual revelation that resulted in him dropping out of college, selling his two cars, giving away all of his material possessions, packing two suitcases and journeying to Africa—his ancestral homeland."
Long was either in Dallas the night of the shootings there or traveled there immediately after (stories vary depending on who is doing the reporting). He apparently rented a vehicle in Kansas City earlier this week, drove to Baton Rouge at some point in the last few days, and was killed in a gunfight with local LEOs this morning (a gunfight in which he murdered three officers and injured three others). Some LE sources speculate the fight was not an ambush in the strictest sense, but rather a "meeting engagement" in which responding officers interrupted him while he was "jocking up" to assault the nearby BRPD police station.
You can read our earlier reports on the shooting and watch the initial press conference here.
Earlier this afternoon President Barack Obama addressed the nation, saying,
"For the second time in two weeks, police officers who put their lives on the line for ours every day were doing their job when they were killed in a cowardly and reprehensible assault. These are attacks on public servants, on the rule of law, and on civilized society, and they have to stop." President Barack Obama
This is the alleged killer in some recent YouTube posts. You can locate his website here. His Facebook account is no longer active, though his Instagram account (@convoswithcosmo) is.

Mad Duo, Breach-Bang& CLEAR!
Comms Plan
Primary: Subscribe to our newsletter here, get the RSS feed and support us on Patreon right here.
Alternate: Join us on Facebook here or check us out on Instagram here.
Contingency: Exercise your inner perv with us on Tumblr here, follow us on Twitter here or connect on Google + here.
Emergency: Activate firefly, deploy green (or brown) star cluster, get your wank sock out of your ruck and stand by 'til we come get you.