G96 Rifle Bore Cleaner Gains Military Approval
The G96 Rifle Bore Cleaner (blaster scrubber) has reportedly been approved for US military use. Breach-Bang-Clear
G96 Rifle Bore Cleaner Gains Military Approval
The Rifle Bore Cleaner Is Now Useable By American Troops
News Desk
G96 has announced that their Rifle Bore Cleaner has passed DoD live-fire and laboratory tests. The solvent performed at what they describe as the "…extremely low temperatures of -49 degrees Fahrenheit," which in fairness is almost as cold as Hillary Clinton's heart, and far colder than any temp we'd want to be out fighting in.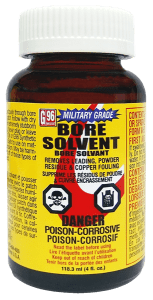 Here's what G96 tells us about it:
PATERSON, N.J., Jan. 2, 2018 — G96, a leading supplier of gun lubricants and cleaning products, announces that its Rifle Bore Cleaner (RBC) solvent has passed muster by the Department of Defense (DoD) for use by American troops. Military Specification Mil-PRF-372F was issued after G96 Rifle Bore Cleaner passed laboratory tests as well as live-firing tests.  The results clear the way for the product to be used in a variety of automatic weapons, machine guns, and hand and shoulder weapons. According to the Mil Spec, G96 Rifle Bore Cleaner met or exceeded the Army's criteria in a variety of conditions and temperatures. As a result, as of December 2017, it was certified as the only DoD-qualified RBC in accordance with the revised Mil-PRF-372F, which lowered the low temperature pour point requirement from +27F to -49F. Competitive products froze at the lower temperatures. G96 Rifle Bore Cleaner joins the company's Synthetic Bio-CLP Gun Oil as certified by the DoD.
For more information about G96 and their products see here.
Made in Trexico is a part of JTF Awesome. Follow 'em on Instagram, @madeintrexico. They're on Facebook, /MadeInTrexico/.
If you wish to cite, syndicate, or curate our material, please be so kind as to read our Terms and Conditions.
---
From the News Desk…
Breach-Bang & CLEAR!
We're not comparing ourselves to these folks at all — hell, we'd be more qualified to join the Justice League. We're just saying these are people you should know.