G43 EMR = New For Your Glock 43 From Tyrant Design

There's a new type of extended mag release for the Glock 43 available from Tyrant Designs (@tyrantcnc). It's called the…wait for it….
Tyrant Designs CNC Extended Magazine Release | Glock 43! (G43EMR)
Tyrant Designs tells us,
"We are very proud to announce our first Glock component, the Glock 43 Extended Magazine Release! By utilizing our edgy Tyrant styling AND our ability to create great performing products, we know all customers will love this new G43 EMR. And we are pleased to say we will continue our aggressive expansion into the handgun market this summer!"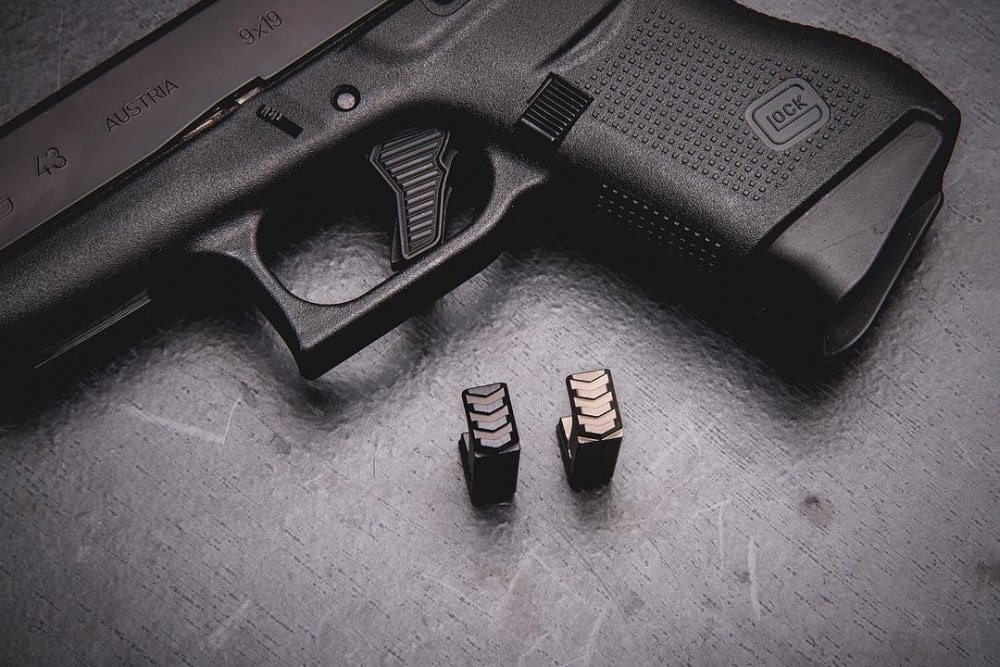 This is the first product in what will apparently be a whole line of Glock components, which is good news for people who like Tyrant CNC stuff or who carry Glocks!
Here's how they describe it.
"Boasting a very aesthetic chevron design on the front, and a pocket cut design on the rear, Tyrant's Glock 43 Extended Mag Release is a great looking product. Machined from 6061 aluminum and available in anodized Black, Red, Blue, Grey, and polished aluminum, this reversible G43 EMR is promised to operate just like your OEM release, just much better."
This is a limited production intro run, just like all the Tyrant Design releases in the past, so if you want one, get it now.
Rainier Arms carries a whole line of Tyrant Designs parts; If you want to skip the browsing, just go straight to the G43EMR.
---
Declare for Morning Wood!
Come, stroll the awe-inspiring aisles of the Morningwood Bazaar.  Earn the right to wear our sigil and speak our words.
If you wish to cite, syndicate, or curate our material, or if you're wondering about our please be so kind as to read our Terms, Conditions, and Disclosures.
Take heed! We have advertisers, sponsors, and affiliate relationships with some of the companies you will be reading about (particularly, but not limited to, archival posts). If you purchase one of those items, we will get a small commission from the sale at no additional cost to you. A lot of work goes into Breach-Bang-Clear; by making your purchase through one of our portals you'll be supporting our work. This will help us buy beer, bullets, and barbecue, and we won't have to put pop-up ads and other such stupid shit into our articles to pay our expenses.