Officers Down – Five Years Ago Today in Lakewood
Five years ago today four peace officers were murdered in Lakewood, Washington.
On November 29th, 2009, Sgt. Mark Rennnger, Officer Ronald Owens, Officer Tina Griswold and Officer Greg Richards were killed as they prepared for their shift while enjoying a cup of coffee at their local coffee shop. Just like they did every shift. Just like I and so many others have done so many times.
Sergeant Mark Renninger, 39
Officer Ronald Owens, 37
Officer Tina Griswold, 40
Officer Greg Richards, 42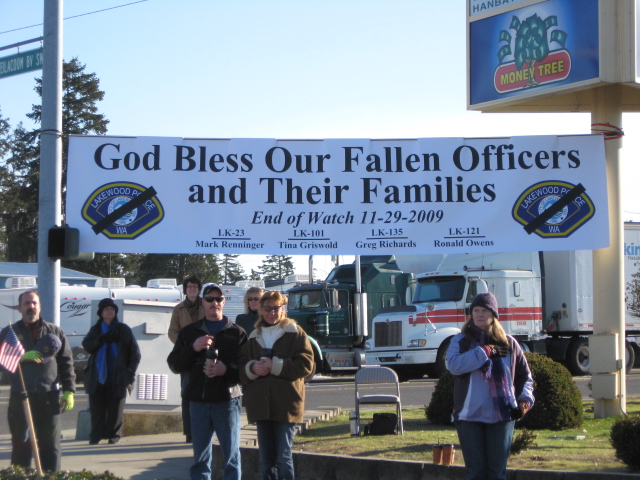 A piece of human garbage named Maurice Clemmons walked in and effectively ambushed them. He was no stranger to violent crime. He had a long history of violent attacks and was out on bail awaiting trial on new charges, including assault on an officer and the rape of a child. In fact, he had a lengthy prison sentence commuted by then-Governor Mike Huckabee of Arkansas.
I still can't watch that guy on Fox News – and I watch a lot of Fox News.
It came just months after four officers of the Oakland, CA Police Department were killed in that city – Mark Dunakin, John Hege, Ervin Romans and Dan Sakai.
I was fortunate enough to be able to attend the funeral service for the Lakewood officers. I was joined by over 10,000 Brothers and Sisters in a procession that spanned over ten miles from Joint Base Lewis-McChord past the Lakewood Police Department to the Tacoma Dome. It was bitter cold, but clear and it was an amazing day. I never felt more like a cop than on that day. I drove the 2.5 hours north to the Tacoma/Lakewood area with a few of the guys from my shift and one of our Sergeants.

In fact, later that week my Sergeant put an entry in to the department's daily log praising us for taking the time to attend the service. It seemed a little strange to me to do so and I certainly never expected any recognition, but I appreciated the gesture. Our Sergeant happens to oversee our Department's Honor Guard and has for many years. He's seen more than his fair share of cop funerals and I think he appreciated the fact we went without being asked. Maybe he was just happy he didn't have to go by himself.
Either way, I would just assume not have to attend any more funerals for cops killed in the line of duty. But there will be funerals. And I will go.
One of the most amazing things I saw that day was the streets lined with members hundreds, maybe thousands, of the community despite the frigid temperatures. Families, business owners, regular folks, complete strangers. And yes, even some bad guys stood in the cold to show their respect for the thousands off officers who came to their town that day.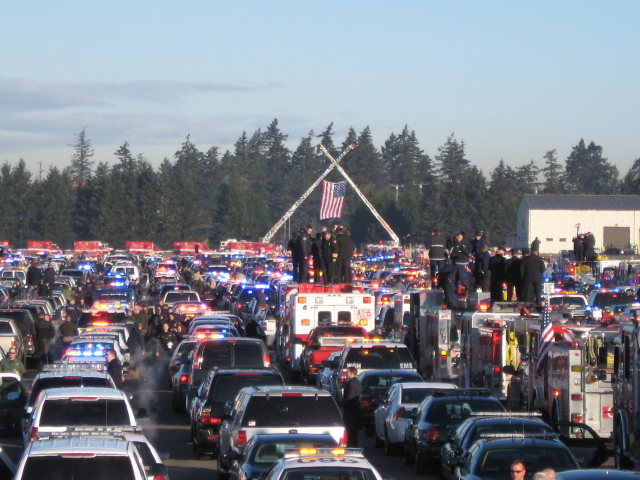 One bit of levity along the way: we saw a local officer, on duty, performing Field Sobriety Tests on a person on the side of the road. A little funny, yes, but also a stark reminder we never stop working. Even as our people are being laid to rest and every other cop in the area – cops from over 150 different agencies as far away as Boston, New York, Alaska and a huge contingent from the RCMP (that was pretty cool to see…they still wear spurs!) was headed to the funeral.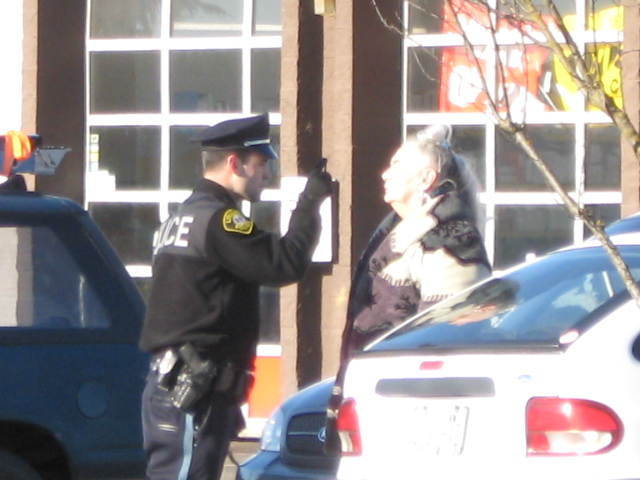 A few days later, a Seattle Police Officer came upon an unoccupied vehicle with its hood up, still running. He ran the plate which came back stolen a just few hours later. As he was filling out paperwork in his car, he saw a man fitting Clemmons' description approaching from behind him. He exited the vehicle and gave verbal commands as the man reached into his waistband. He fired, struck and killed the man who turned out to be Clemmons. Clemmons was also found to be in possession of Officer Greg Richards' handgun. It's worth noting during the original incident, Officer Richards managed to return fire and strike Clemmons before succumbing to his injuries.
Don't give up, even if you're on you're way out.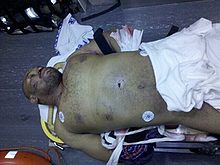 As you can imagine, the world descended upon the scene and Clemmons was pronounced DRT (Dead Right There). I'm not sure if other LEOs use the term. We do.
In the intervening months, several of Clemmons' associates and family members were arrested, tried and convicted of an array of crimes for lending assistance and aid to Clemmons. The getaway driver was sentenced to 420 years in prison for his role in the murders.
Four centuries is a long time, though probably a cold comfort to the families of the fallen officers.
I don't know if there are any parallels to draw with this case and the case in Ferguson, MO. You be the judge of that. I do know very few people have heard the names Renninger, Owens, Griswold or Richards. Certainly not as many as have heard Wilson or Brown. In fact, if it hadn't been for the number of victims, it's doubtful it would even have made the national news. Had it been "just" one officer, well, it's the nature of things. Lots of people have heard of Eric Frein; far fewer would recognize the name Corporal Bryon Dickson. It's sad, if understandable, that the phrase "Officer Wilson" turns up so many more results than does "Officer Olexa" or "Sgt. Michael Naylor". I don't know if there is any practicable way we can change that.
I do know this. Regardless of whatever else happens in response to the the recent announcement outcome of the Grand Jury in Ferguson, police officers will be on the street in Ferguson and every other city. They will be protecting the good guys, the bad guys and all their property and their rights. Whatever your version of "justice" is, rest assured there will be peace officers out there doing their utmost to ensure you are protected.As the 5-year mark approaches, I will remember the months following November 2009 as being incredibly sad, troubling and frustrating. It was also something that made me feel proud to be part of such an honorable profession.
IN VIRTUTE SPES
In Valor There is Hope.
Be safe out there. Stay dangerous.
If you have the chance – and you're not On The Job – raise a pint to the Lakewood Four.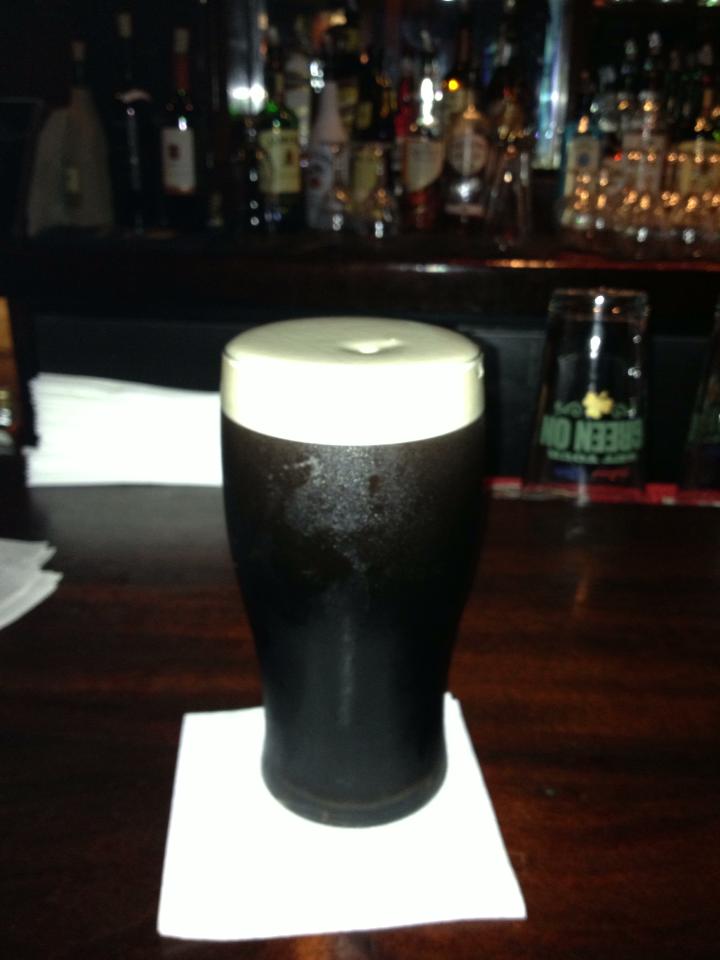 Breach Bang Brian
You can read more about the author here.