Fight Like a Girl: Ruthie Talks Dynamic Carbine
As you know we periodically run article by and for fightin' females. Some are gear related. Most are training related. This is a review of the MagPul Dynamics Dynamic Carbine 1 course by Breach-Bang-Clear correspondent-at-large Ruthie Jenkins (you've read her stuff before). Yes, given the size ratio and the lead instructor these pictures may look like screenshots from some modern-weapon version of the Hobbit, but they're not. That isn't Bert, Tom or Bill and there's no Smaug. That's just Ruthie standing next to Steve Fisher.
MAGPUL DYNAMICS: DYNAMIC CARBINE 1

FEBRUARY 8-10
Ruthie Jenkins
Around this time last year, I began my ongoing quest to further develop my skills as a strong shooter. It's hard to believe that my first experience with a carbine was hardly 10 months ago. I've certainly come a long way, and still am on a continuous journey to perfect the basic fundamentals. Luckily, I recently had the privilege of taking my second Magpul Dynamics course with Steve Fisher: Dynamic Carbine 1. I was expecting the same level of intensity as Handgun 1, but was really hoping to find that optimal balance between speed and accuracy with my rifle. Likewise, I was hoping to absorb different techniques that could work more effectively with my body mechanics. This was probably the most important goal for me. Being a very small person, I have found that minor tweaks in technique can make a huge difference in my performance. Let's just say that this class surpassed any expectations I could have ever set beforehand. After being somewhat of a training junkie for the past year, this course has been, hands down, the most exhilarating one yet. I don't even know where to begin, so I'll just get started with day 1.
After Fisher spent a couple of hours briefing us in the classroom about what would be occurring over the next three days, we proceeded to get on our gear and get set up for a 50 yard zero that we eventually confirmed at 200 yards. Essentially, day 1 was about fundamentals. As a relatively new carbine shooter, I am still finding ways to work around my small size, especially in terms of stability. I was provided with many tips to help with this like pulling the stock out all the way in when in prone. This was something I had never thought of before, but it helped me get on top of the weapon and keep it steady. Fisher also worked with me on broadening my stance. As the skill level of the students was some of the best I've seen in such a course, things naturally started to move towards a faster pace.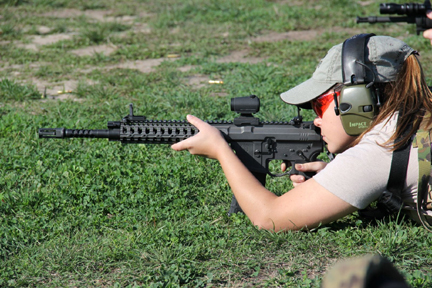 Day 2 was without a doubt the most thrilling day of shooting I've ever experienced. We were on the range from 8:00am-3:00pm and from 5:30pm-11:00pm. During the day, we covered reloads, malfunction clearances and different shooting positions. All of these topics were especially interesting to the women in the class because we were provided with a wide range of techniques and chose the ones that worked best for our body mechanics. For instance, Fisher went over sling assist techniques that really helped stabilize the weapon system when attempting accuracy at distance. This was something not many individuals had tried or seen before and was certainly a unique aspect of the course.
Everything we learned during the day was amplified at night. When you can't see what you're doing, you begin to gain an intimate knowledge of your weapon system. This understanding sunk in through a malfunctions drill during the night where we had to clear a double feed and compete for time. I could immediately feel exactly what was happening and was able to quickly diagnose my problem and put rounds down range. Fisher also thoroughly explained lighting techniques and went through the advantages and disadvantages to both strobing and hard lighting. These lighting techniques were new to many of us as evidenced by forgetting about our mechanical offset when firing in the low light conditions. However, we adjusted quickly and kept moving through drills. Fisher also went through the importance of choosing the correct light and light placement.
Day 3 was about implementing all of the information we learned through different drills as well as adding a few techniques for transitioning shoulders and transitioning to a secondary weapon system. I run the MS3 sling as a single point most of the time, which ended up being easier for me to transition to my left shoulder. Shooting like this for the first time, however, was extremely awkward. You don't realize all of the things that completely change like your stance and sight picture. During the last couple of hours of the course, we ran through a "catch me" competition that worked on shooting from cover/concealment, transitioning shoulders, accuracy at 200 yards, optional shooting positions, speed and maintaining muzzle awareness. It took about 30 minutes to get through and was exciting to watch the last 2 students try to tag each other out.
I took so much away from this class, but one of the major lessons I learned was to compartmentalize each round. We did a bunch of intense drills where we were required to get hits on steel standing at 100 yards while changing positions (or whatever else Fisher decided to throw at us at the moment). Sometimes these drills took quite a bit of time to complete because they were challenging. However, we learned how much more effective we were if we separated each shot in our mind rather than getting caught up in our mistakes and misses. Likewise, I appreciated the structure of the class. There was never wasted time. We took quick breaks to hydrate and eat lunch, but I never felt like I was waiting around to get back on the line. Another thing I appreciated about the structure of the class (and I appreciated in Handgun 1 as well) was Fisher's round about sessions where everyone provided their thoughts on the day or the drill that was just completed. This is good because you learn from other shooters and new information is reinforced. It helps you gather your own thoughts and retain the information more thoroughly. Finally, there were many things that I took from the class that I can apply to my own range time. For instance, I'm going to do much more shooting at distance and focus on things I need to work on, rather than things I know I'm good at.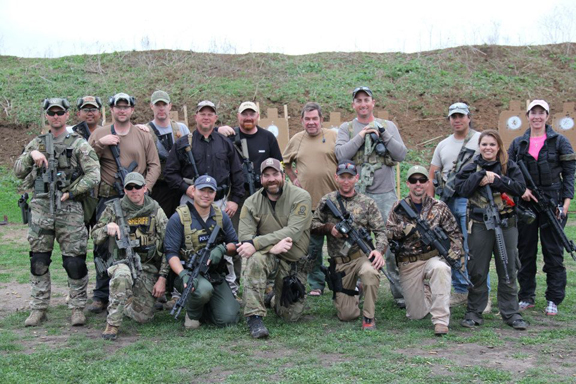 I think it's clear that I can't say enough about how valuable this course is to those who really want to improve their skills. I definitely accomplished my goal of balancing speed and accuracy. Most importantly, I was able to fine tunetechniques and discover what worked best for me.