NPRC – National Patrol Rifle Competition
Although Kim is one of our abject minions, in fairness we should say she is far less servile and wretched than the others (though she makes a mean sammich…). She is also a better shot than many of our other handlers and substantially more appealing in jeans – though we pretend not to notice when she's around. EDIT 29 OCT 14: We've known her for a couple years now and about two years ago managed to persuade her to join our team and start writing for us. She's graciously did so; this was her first article for us, a review of the NPRC.
THE NPRC
Every year, Centermass, Inc. hosts a rifle competition in Michigan called the National Patrol Rifle Championship and they know how to put on an event.  The competition is held on a Sunday and is followed up by a banquet dinner, prizes, guest speaker, and two days of conference with a vendor area.  
The event begins for a lot of people, the night before around 1700 hours when they hold an early check-in at a nearby Marriott hotel.  The event draws a lot of out-of-towners who arrive around this time, getting checked-in to the hotel and the event at the same time.  If you arrive after 1800 hours or are local and arrive the morning of, you can check in at the range prior to the event.  Shooters receive a bag that contains a conference/competition book outlining the vendors, speakers, courses of fire, event map, some schwag and a t-shirt.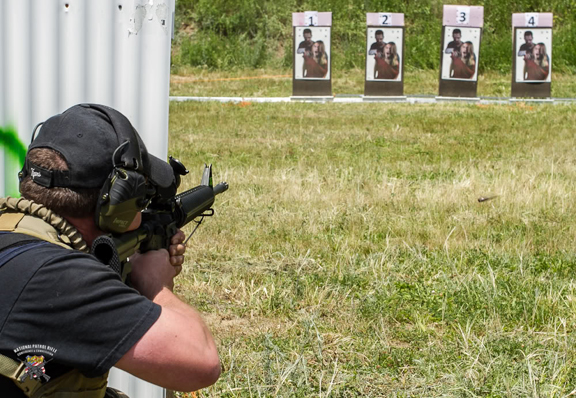 I think the first read of the course descriptions is almost as exciting as the event itself.  Jeff Felts and his team do an excellent job of creating stages that require reality based skill sets, applied in a fast and furious fashion.  In all courses of fire, shooters are given the option of head shots or body shots, so shooters can choose appropriately based on the course of fire and their skill level.  This allows an excellent learning opportunity for shooters of all abilities.  What seems like easy head shots, frequently turns into a few hits, and some misses for shooters.  There is time to observe other shooters run through the courses of fire, with the exception of Interactive Alley, giving shooters a chance to think about their current skill level and what they think they will be able to accomplish.  Once that course of fire is over and the shooter had misses or did not perform as well as they had expected, it is a wake up call for them.  They had time to run through the course in their head and see it done, and still did not perform to their expectations.  What if that had been a similar real life situation, that happened now, and with only enough time to react as they had trained?
The courses of fire typically give more points for head shots than high chest shots, or head versus torso, and there is no penalty for rounds not fired.  If you shoot a no-shoot target or area, or miss completely, then you are penalized, and some may even deduct points for time taken to complete the course of fire, so you have to find your balance between speed and accuracy.  Most courses of fire require a run or maybe even some low-crawling prior to the shooting part to get your heart rate up.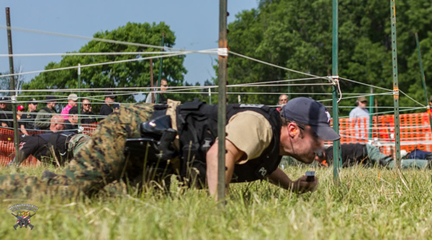 Prior to shooting, everyone must have their rifle inspected to make sure it is "patrol practical", at least a 4lb trigger, maximum 6 power magnification on optics, no bipods, 
It is also a good opportunity to see what gear everyone else is using and get feedback from users like yourself.  There are three categories for shooters, iron sights, optics, and magnified optics, so you will see BUIS to Elcans and everything in between.  The same wide array of gear applies to mag pouches, plate carriers, slings, hydration products, you name it.
Though there are shooters that attend the event to win, I go for the challenge and the opportunity to shoot under stress that I can't duplicate on the range with friends.  While the targets aren't shooting back, there is the competition aspect that gets the adrenalin going, time constraints, physical exertion, and a crowd of people watching you, which is significantly more stressful than static quals used as a poor excuse for training on a lot of Departments.  Some shooters have never shot with an elevated heart rate or with time constraints, and it is an eye opening experience for them.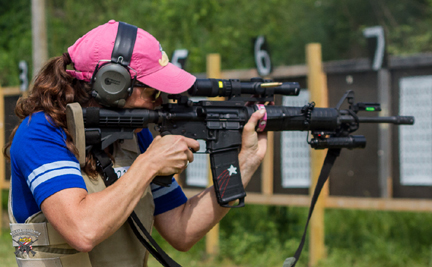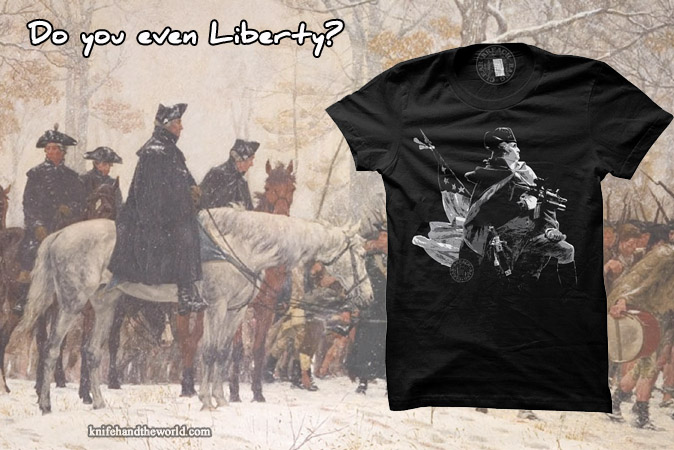 Regardless of your skill level, it is a fun event, and there is learning to be done by all.  With all of the craziness in the world now, it is also nice to spend the day or days surrounded by people who have their heads properly oriented.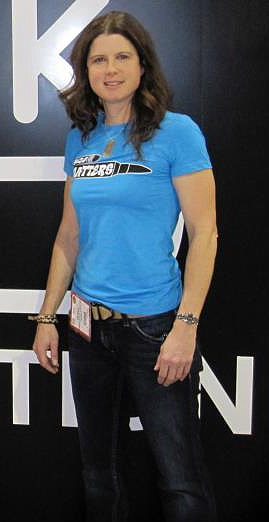 More to follow…
Kim Heath is a veteran law enforcement officer from Illinois and the Vice President of the WTA. She is a firearms instructor for her department, the regional training facility, the Women's Tactical Association (WTA), a member of the Illinois Tactical Officer and a fiercely competitive shooter (such as at the NPRC). We also think she's smokin' hawt. A backpacker and outdoorswoman from way back, she is prepping now for her next assault on the NPRC.
Mad Duo Clear!