Eyes On | Grey Ghost Precision MKII Receiver Set
Having been in the firearms industry for slightly North of a decade, it seemed a bit lazy that I haven't actually assembled a complete AR pattern rifle yet. I have been lamenting that I want to learn about all the parts and pieces that make up the complete rifle and this set will give me that chance. On top of that, I've wanted a rifle from Grey Ghost Precision ever since the Specter released a few years ago. So you can imagine how chuffed I am at being able to pick up this receiver set from GGP.
As I said, I've been wanting to learn more about each of the components inside a rifle and building one up myself is the perfect way to do just that. I also need to help round out the family of rifles inside my safe with something chambered in .308, so this will certainly fit the bill. I'd like to say that I'm super well versed in all things firearms; and when it comes to the operation of an AR rifle, I can certainly hold my own. But when it comes to the gunsmithing and assembly of the rifle – not so much. So this is my way to fix that issue.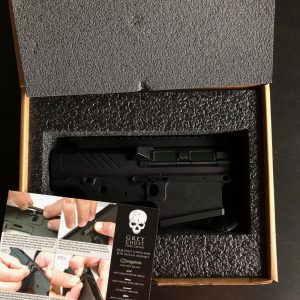 As for the use, once it's built up, it will be used mostly for target shooting, hunting, and defending against a potential threat of the invasion of the unwashed masses. It would be cool to say that I'll use it to become a female assassin too, but since that requires thigh-high leather boots, and staying up past 10 pm, that is a major non-starter.
The set is machined from high-grade aluminum and factory matched for a precise fit. It utilizes a nylon tipped tensioning screw for a tight fit between the upper and lower. The receivers are hard anodized for a crisp, durable, corrosion-resistant finish and have pictogram markers to denote safe and fire. Since I married a south-paw, I also love the fact that it has an ambidextrous bolt release as a standard feature with the necessary parts included with the set.
I'll make sure to keep you readers up to date with the build as I start getting other parts. But so far, this is a solid base, and I'm stoked to see where this build leads.
Is reading Breach-Bang-Clear worth at least $1 month to you? That's not even a lapdance! Consider backing us!
What is Patreon? It's a crowdfunding platform. Breach-Bang-Clear readers pledge from $1 to $50 a month to "House Morningwood" (our Game of Thrones house, complete with sigil!), to help us with expenses. We, in turn, give our supporters unique content, membership to a closed discussion group, and access to the "Morningwood Bazaar", which is basically helluva lot of unique discount codes (up to 60%) to numerous manufacturers and retailers. "Bend the knee" to House Morningwood and help us cover costs. Rise Before Dawn! 
If you wish to cite, syndicate, or curate our material, or if you're wondering about our please be so kind as to read our Terms, Conditions, and Disclosures.
Take heed! We have advertisers, sponsors, and affiliate relationships with some of the companies you will be reading about (particularly, but not limited to, archival posts). If you purchase one of those items, we will get a small commission from the sale at no additional cost to you. A lot of work goes into Breach-Bang-Clear; by making your purchase through one of our portals you'll be supporting our work. This will help us buy beer, bullets, and barbecue, and we won't have to put pop-up ads and other such stupid shit into our articles to pay our expenses.