Eyes On | Grey Ghost Precision MKII Receiver Set
You're dubious. We get that, but…
Having been in the firearms industry for slightly North of a decade, it seemed a bit lazy that I haven't actually assembled a complete AR pattern rifle yet. I have been lamenting that I want to learn about all the parts and pieces that make up the complete rifle and this set will give me that chance. On top of that, I've wanted a rifle from Grey Ghost Precision ever since the Specter released a few years ago. So you can imagine how chuffed I am at being able to pick up this receiver set from GGP.
As I said, I've been wanting to learn more about each of the components inside a rifle and building one up myself is the perfect way to do just that. I also need to help round out the family of rifles inside my safe with something chambered in .308, so this will certainly fit the bill. I'd like to say that I'm super well versed in all things firearms; and when it comes to the operation of an AR rifle, I can certainly hold my own. But when it comes to the gunsmithing and assembly of the rifle – not so much. So this is my way to fix that issue.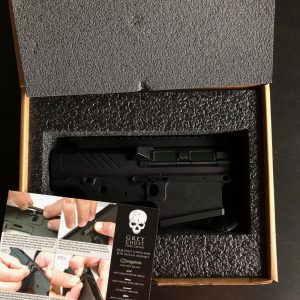 Buy your blasters, blaster parts, and ammunition at dealer cost. 

As for the use, once it's built up, it will be used mostly for target shooting, hunting, and defending against a potential threat of the invasion of the unwashed masses. It would be cool to say that I'll use it to become a female assassin too, but since that requires thigh-high leather boots, and staying up past 10 pm, that is a major non-starter.
The set is machined from high-grade aluminum and factory matched for a precise fit. It utilizes a nylon tipped tensioning screw for a tight fit between the upper and lower. The receivers are hard anodized for a crisp, durable, corrosion-resistant finish and have pictogram markers to denote safe and fire. Since I married a south-paw, I also love the fact that it has an ambidextrous bolt release as a standard feature with the necessary parts included with the set.
I'll make sure to keep you readers up to date with the build as I start getting other parts. But so far, this is a solid base, and I'm stoked to see where this build leads.

 This article may contain affiliate links. If you make a purchase using such a link, we will earn a small commission from that sale at no additional cost to you. 
Like what you read on Breach-Bang-Clear? Consider joining our Tactical Buyers Club.