So What Exactly is The Warrior Expo?
So What Exactly is The Warrior Expo?
Richard Kilgore
Here on BreachBangClear you may have noticed this banner from JTF Awesome Team Member ADS:
Don't know what this banner is all about? Fear not, we'll break it down for you.
ADS created the Warrior Expo to showcase industry-leading solutions that all boil down to helping one person: The end user on the front lines. They've made it their mission to seek out problems of all kinds, and mate them up with the best solutions for those fighting on our behalf.
The motto of the Warrior Expo is Touch. Try. Train.

Touch
Thousands of products will be on display for you to get your grubbies on. Looking at a picture of gear on the internet is one thing, but physically holding it in your hands is infinitely more beneficial than brain games and theorizing from spec sheets. Which brings us to the next bullet point:
Try
There are an increasing number of interactive exhibits and demos at each Warrior Expo. If putting it in your hands is better than staring at a spec sheet, physically using it is even better. Our friends at Soldier Systems had this to say:
"I've been attending Warrior Expo since the beginning and I have always been impressed how it is the place where requirements meet solutions. More recently, Warrior Expo has added a hands-on component to the event, and it gets better and better each year. This is a must-attend event. "
Train
Yup. They said train. We got ourselves an inside look. At the next Warrior Expo event there will be classroom training on a number of subjects, from Modern Use of Force to Battle Born Leadership to Transitioning to the Civilian Workforce—with many more packed in and all courses led by recognized industry subject matter experts. Pre-registration is required, else they'll end up with people crammed in like a 7-ton. Thankfully, most classes are being held at multiple times so you can work them into your schedule. Visit the Training page here or see the current offerings below: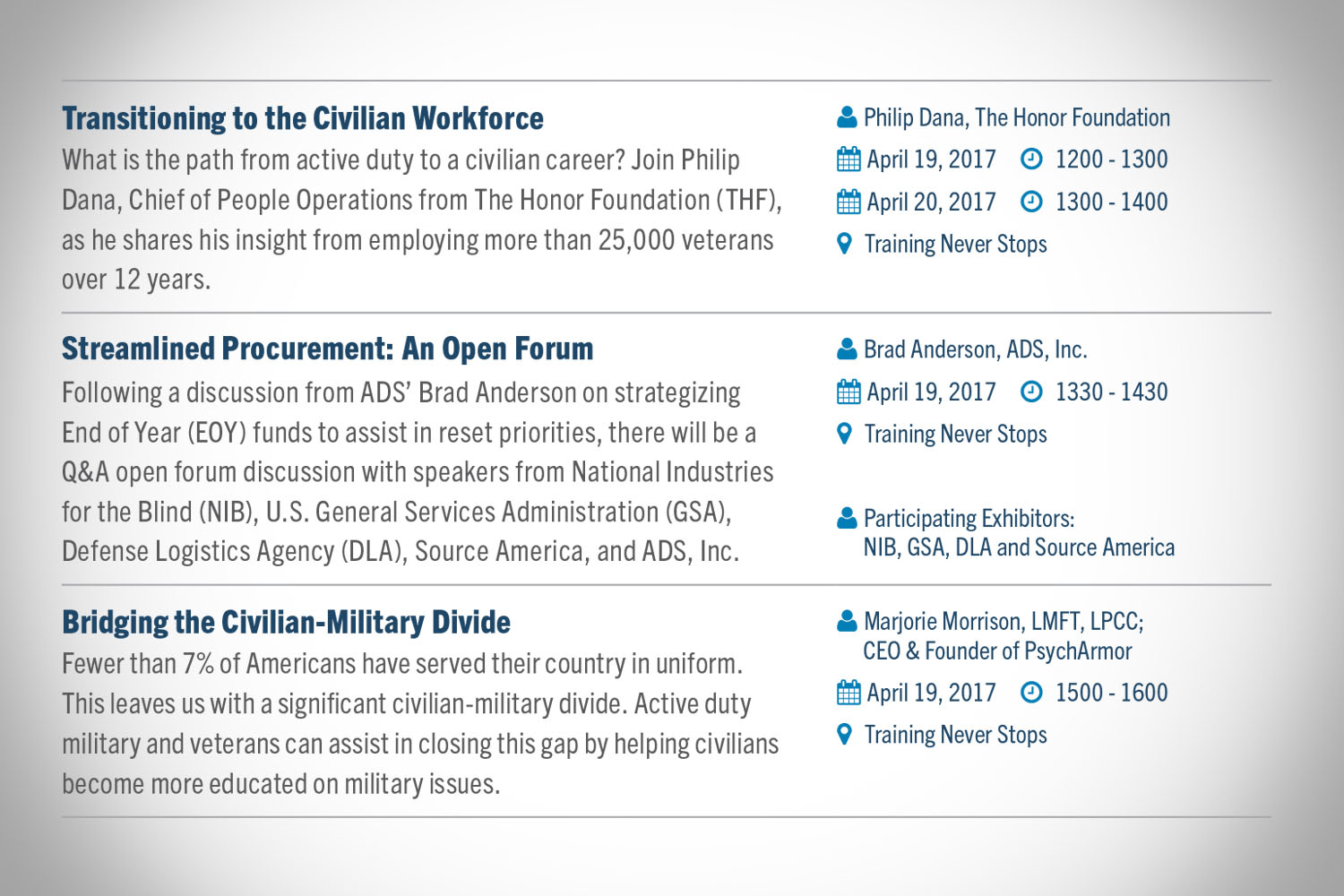 So How Do I Go?
Twice a year ADS puts on Warrior Expos, one on the west coast and one on the east coast. If you're right smack dab in the middle of CONUS you may have a hard decision to make, but for those on either side of the Mississippi it's an easier determination.
The event coming up in just over a month is Warrior Expo West, in San Diego, California on April 19th and 20th. There will be more than 275 exhibitors on hand to answer your questions about their latest wares and solutions. The event itself is being held in the San Diego Convention Center, which is a mere 3.5 miles from the airport. There are special rates for attendees at the Hard Rock Hotel right across the street, plus a number of alternate accommodations available. The expo is surrounded by great restaurants and sightseeing locations (the USS Midway Museum is literally down the street). Staying an extra day or two might be advisable for that reason alone.
For those on the eastern half of CONUS, Warrior Expo East will be held July 13th and 14th in Virginia Beach—and we'll bring more details as we get a little closer. As for us, we'll have boots on the ground next month at Warrior Expo West, ready to bring you the best of the show. If you want to  get your Touch, Try, and Train on with the latest innovations, you can register for the event yourself right here
We're looking forward to it–see you there.
-Richard Kilgore
---
---
Comms Plan
Primary: Subscribe to our newsletter here, get the RSS feed and support us on Patreon right here.
Alternate: Join us on Facebook here or check us out on Instagram here.
Contingency: Exercise your inner perv with us on Tumblr here, follow us on Twitter here or connect on Google + here.
Emergency: Activate firefly, deploy green (or brown) star cluster, get your wank sock out of your ruck and stand by 'til we come get you.
Swinging Dick Approved.