SHOT 2016 | EOTech is Jumping
Being able to reach out and touch someone without them knowing you're there is a great feeling. For more than a century, magnified scopes have provided us with this luxury. When we heard EOTech was debuting their line of variable power rifle scopes at SHOT Show, we couldn't wait for our minions to check them out and we think you'll see why. And yes, we know about the drama surrounding the EOTech HWS –Mad Duo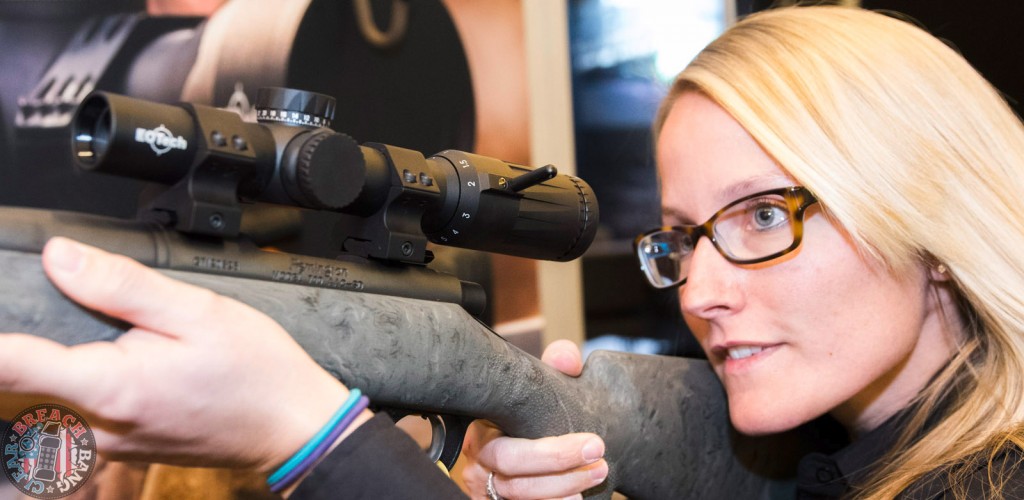 Candice Horner
No, they're not jumping ship and not jumping the shark. EOTech is jumping into the variable power scope market. This year at SHOT, EOTech introduced their Vudu rifle scopes with a handful of prototype models. While this may seem like a leap of faith to those who know EOTech for their HWS, the Vudu line of precision rifle scopes has been in the works for the past five years. The attention-to-detail features and pricing set a high bar for competitors.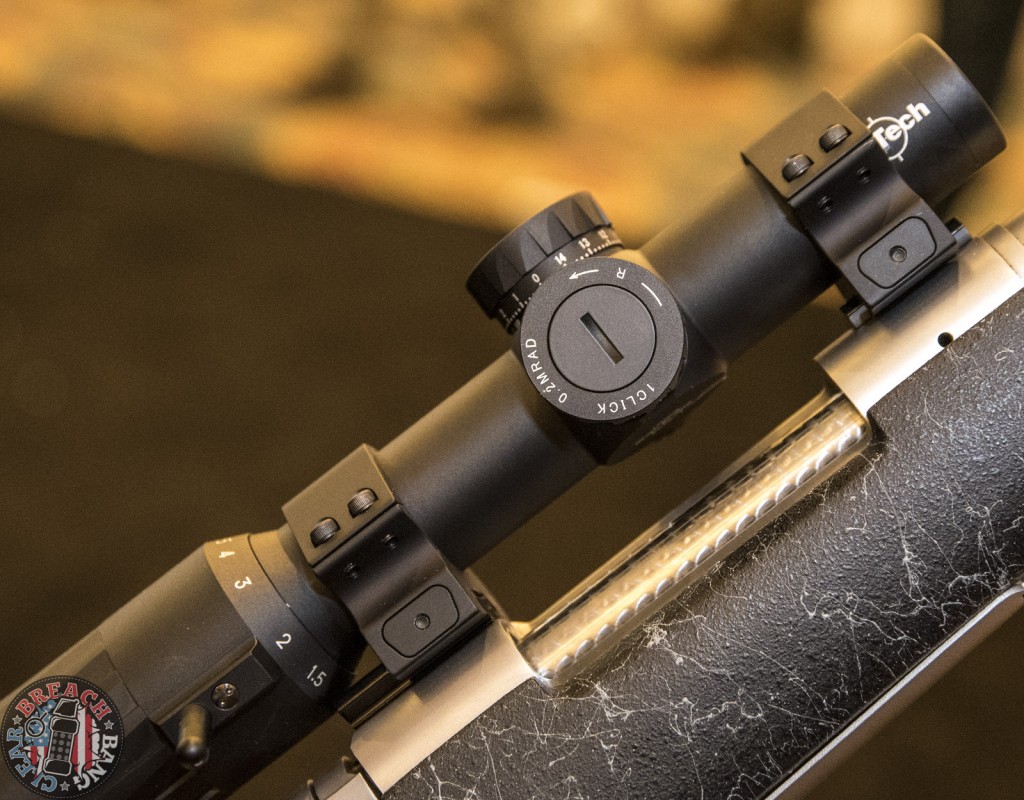 Quick Rundown of the Vudu Line
– Offering 1-6x, 2.5-10x, and 3.5-18x variations
– All models are First Focal Plane
– Forgiving eye relief, with an average of 3.6"
– Very clear, Japanese-made glass
– Takes a CR2032 battery
– Long battery life, advertised as 10,000 hours
– Auto power shut-off after 2 hours of no use
– Several reticle options
– Crisp, positive clicks of windage and elevation turrets
– Illuminated reticle options for each model
– Push button reticle brightness adjustments
– Comes with a removable scope lever that screws directly into the magnification ring, which will make for fast adjustment of magnification
The Vudu 1-6x was designed with the competitive shooter in mind. On the lowest magnification, the fishbowl effect is minimal and on the highest magnification, the BDC reticle should assist with those long-range shots. The reticle illumination is undoubtedly bright, a necessity for quick target engagement on sunny days. The MSRP is $1299, coming in at a lower price point than competitors' scopes that are currently dominating the 1-6x market. The Vudu 1-6x weighs 1.23 lbs, which places it in the middle of its competition. The features of the Vudu 1-6x are very promising and I look forward to testing a production model. Note the traditional EO circle-and dot at low power for fast acquisition that disappears to a BDC reticle at higher power.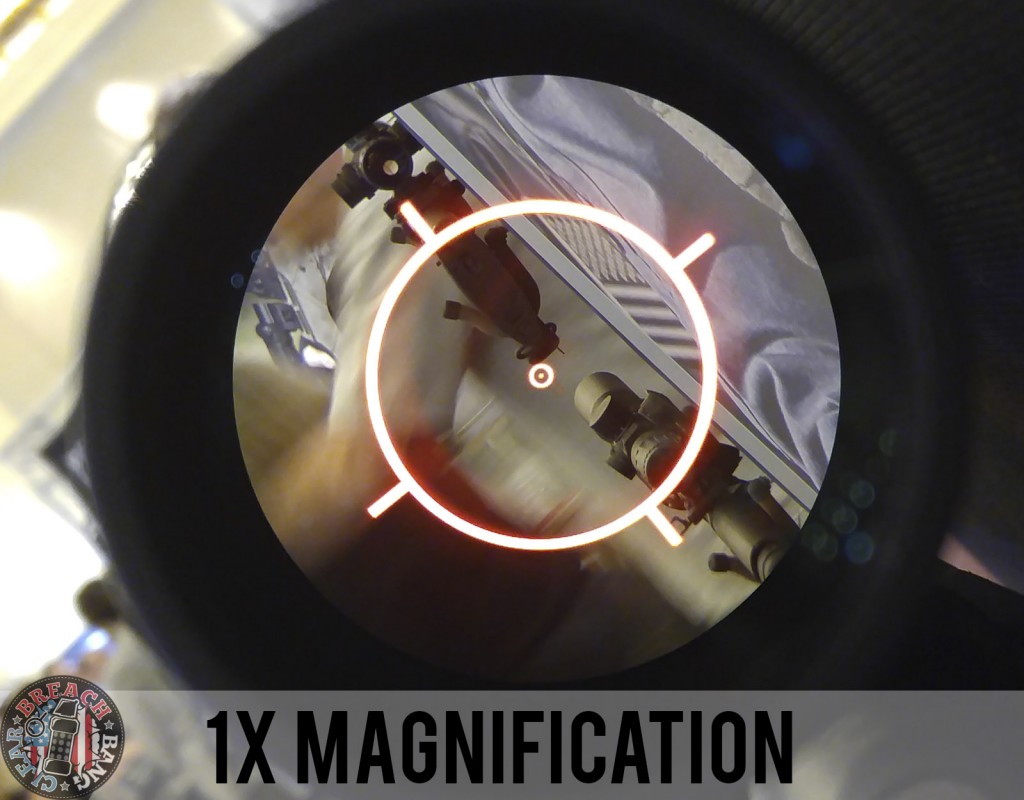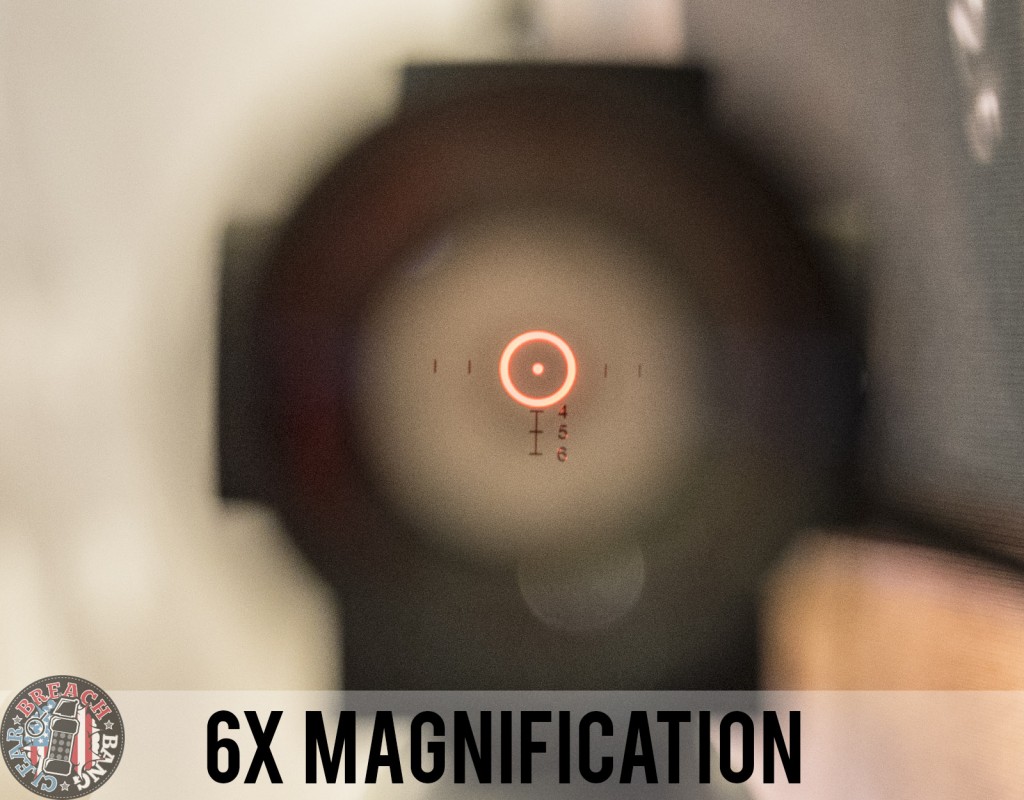 The Vudu 2.5-10x seems like a solid option for the shooter who needs a precision mid-range optic. The MSRP of the Vudu 2.5-10x is $1549, which puts it below many of the other FFP medium range scopes. Two reticles are offered: MD (MD1, MRAD or MD2, MOA) or the Horus H59. The MD variations are illuminated, while the Horus is not. The weight of the 2.5-10x is 1.68 lbs. With such an attainable price point for consumers and minimal competition in the non-saturated FFP mid-range variable power scope market, the Vudu 2.5-10x has a lot of potential for success.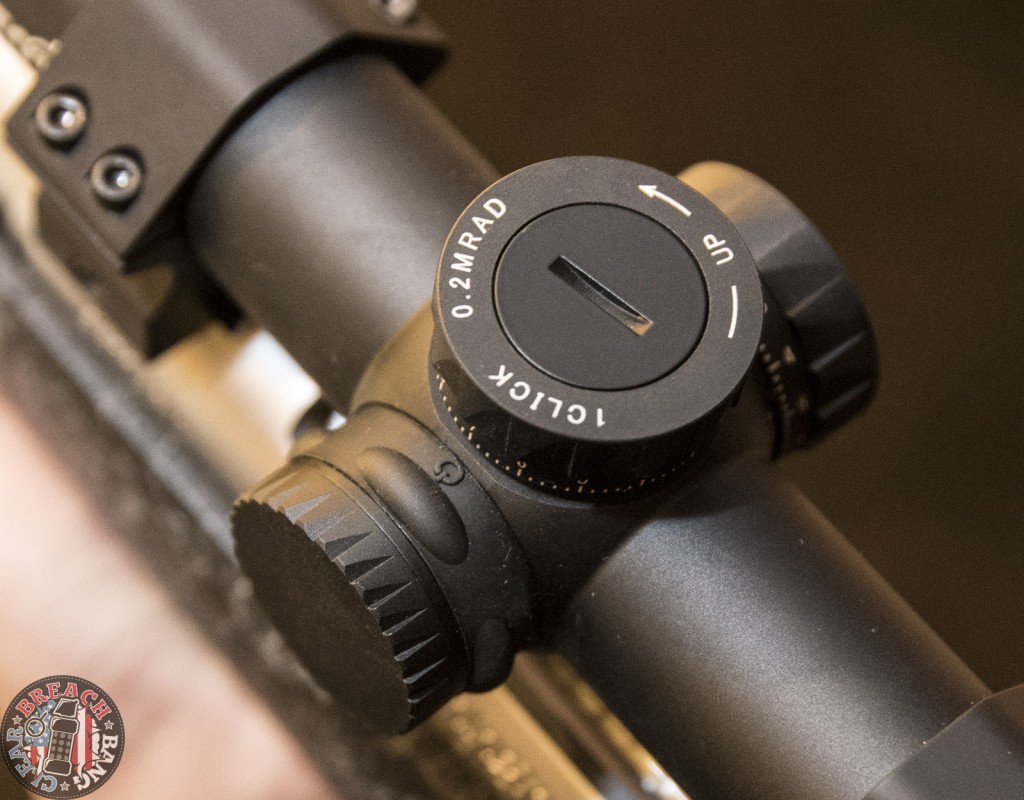 The Vudu 3.5-18x is similar to the Vudu 2.5-10x except it has an expected higher MSRP and a bit more weight due to the added glass. The MSRP of the 3.5-18x is surprisingly low at $1629 and it weighs 2.08 lbs. Making precision shots is dependent on several variables, one of which is reliable glass mounted on an accurate rifle. I have very high hopes for this scope because, just like the rest of the Vudu line, EOTech has priced it aggressively low.
One of the most interesting aspects of the product information sheet is the lifetime guarantee offered by EOTech, which states:
"At EOTech, we know you are serious about your choice of equipment, and so are we. For this reason, we have constructed one of the finest rifle scopes on the market today. In fact, we are so confident in the ruggedness and reliability of our scopes that we offer a Lifetime Guarantee. That's right, if your product does not perform as promised we will repair it or replace it with a comparable product – for free. This is a forever guarantee – regardless of whether you are the original owner. There is no need for proof of ownership or a warranty card. We do this because we want you to be as confident in your purchase as we are in the quality of our product. Contact EOTech customer service for full details."

EOTech is planning for the first orders to be accepted in spring, with deliveries beginning in late summer. Stay tuned for more info in the coming months about EOTech's Vudu Precision Rifle Scopes.
Visit EOTech online at: http://www.eotechinc.com/
Follow EOTech on Facebook at: https://www.facebook.com/EOTechInc
What's your favorite variable-power scope and why? List your answers in the comment section.