Emerson Commander | Some Gratuitous Knife Pr0n
The Emerson Commander is damn near as old as some of you reading this — but we'll bet a lot of you own one. 

Breach-Bang-Clear

The Commander Remains One of Emerson's Top Sellers
The Emerson Knives Commander has been out for a while now. It was well received, not surprisingly, and remains one of their most popular models (also not surprisingly). Reviews of the Commander are extremely positive and extremely consistent, even after filtering out a large number of ardent fans and impossible-to-be-impartial Emerson Loyalists.
Grunts: gratuitous.
We recently received word that the Commander had been out doing some modeling in Death Valley, and that there was some badass new imagery available. Knowing the timbre of our readers' preferences, we thought it only appropriate to share.
You're welcome.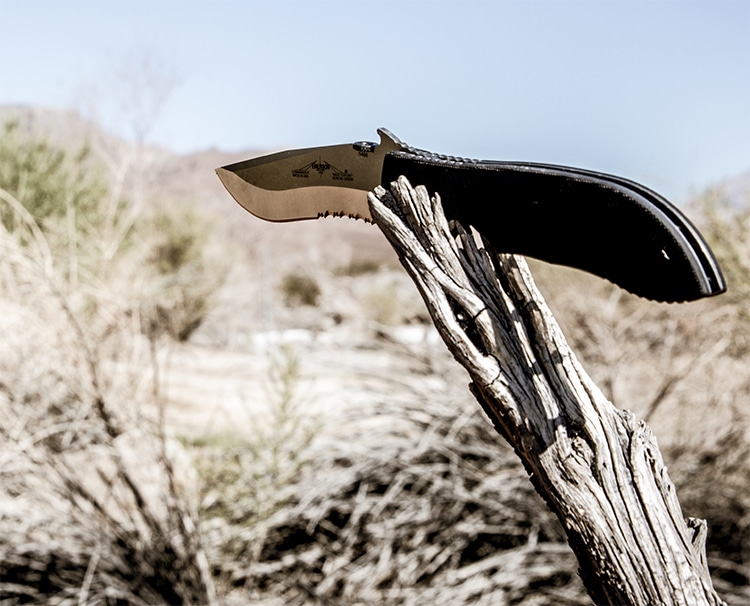 The Commander was one of the first knives Ernest Emerson designed and was extremely popular. In fact, Emerson Knives advises it remains one of their top three best selling models. It features a recurve blade (plain or partially serrated) that is available in black or stonewashed, and buyers have the option of having it drilled and tapped for wrong-handed carry when you order, and you can likewise add a black lanyard with a skull.
Visit the Emerson Knives website for more information (or to purchase). They start at $254.95 on the Emerson site. Be sure to parse through them all, if you have time. There are Blue Line Commanders, Irish Commanders, Mini Commanders — well, you get the point. If you're in a hurry, there are many Emerson Knives on Amazon, including the Commander and many of them are eligible for Prime too.
Emerson Knives Commander Specs and Features:
HandlesLockBladeFinishGrind

Conventional V-Grind Bevel with a Chisel Edge

Overall Length

8.75 in.

Blade Length

3.75 in.

 Handle Length

 4.65 in.

Blade Thickness

.125 in.

Hardness

57-59 RC

Weight

 5 oz.
Like Emerson's knives? Read Tim the Russian's review of the Government Mule, or Mike the  Mook's review of the Emerson Rhino. You should also read Mike's interview with Ernest Emerson at the Usual Suspects Network Gathering!
That's it for now. Go forth and conquer.
DR ?
If you wish to cite, syndicate, or curate our material, please be so kind as to read our Terms and Conditions.

---
Breach-Bang & CLEAR!