Elements Thermotorch 10 by Celestron
Elements by Celestron has set out to limit the amount of gear you take on outdoor excursions. Sure, we all love adding gear to our already-bursting-at-the-seams loadouts, but most of us do try to make certain pieces pull double duty. Enter the Elements Thermotorch 10. Your first impression of it being a flashlight would be correct, but inside its rugged aluminum body you'll find a few other items that might streamline what you take out on that next adventure (or camping trip with the family).
Let's dive into the features of the Thermotorch 10: first and most obvious, it's a flashlight with three modes and a bright white 5W LED. This LED has three settings that include low (60 Lumens with a constant run time of 48 hours, medium (100 Lumens with a constant run time of 30 hours) and high (300 Lumens with a constant run time of about 8 hours). The light is powered by 2 rechargeable lithium ion batteries (5000 mAh – bringing it to 10000 mAh which is impressive).
Another rather unique feature is a hand warmer. You can run the hand warmer with the light on (only about 6 hour run time when on the low setting) or the warmer alone for 10 hours before draining the battery. The temperature for the hand warmer runs between 103-114 degrees. You might ask, "Why do I need this?" If you spent any time outdoors in a stationary position (tree stand, duck blind or alpine hunting) you know how valuable those tiny hand warmers can be. This feature sets out to eliminate the need for those packets. The flashlight does get quite warm but its size makes it not as handy as those individual packets. However, the warmer is unique and works quite well. We only tested it on cool nights in Utah and in the California mountains, and the hand warmer did what was it intended to do. More time is needed to see how it functions in lower temps, but overall it delivered on its promise.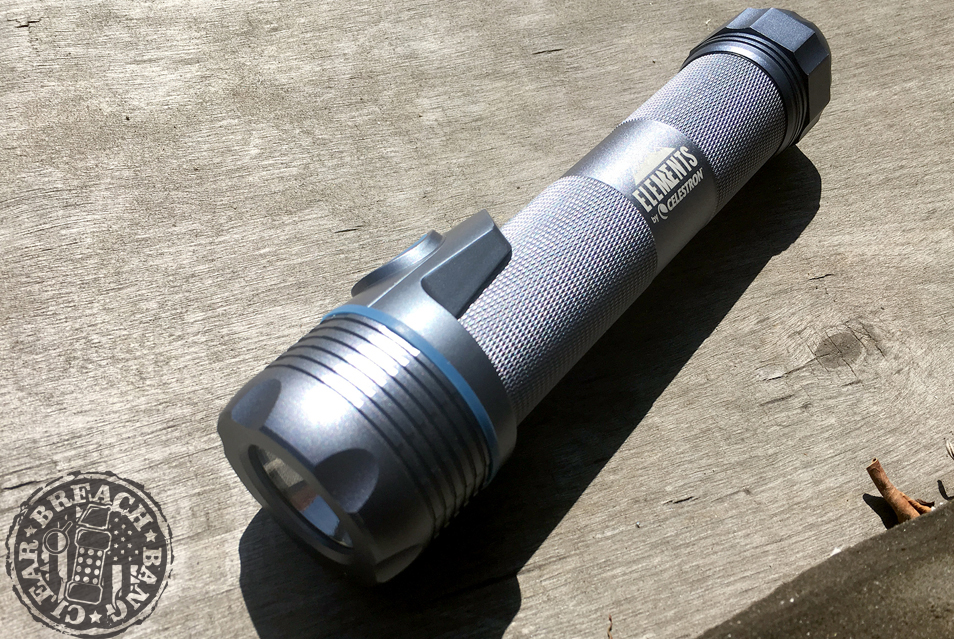 The third feature of this light is its ability to charge multiple devices, such as smart phones, tablets and even action-type cameras. The back of the flashlights unscrews to reveal these two USB ports. Depending on your device's power needs, the Element flashlight can power your device from 7 to 22 hours. We powered up our smart phone and used the various functions for days on end with out recharging the the flashlight, which impressed us.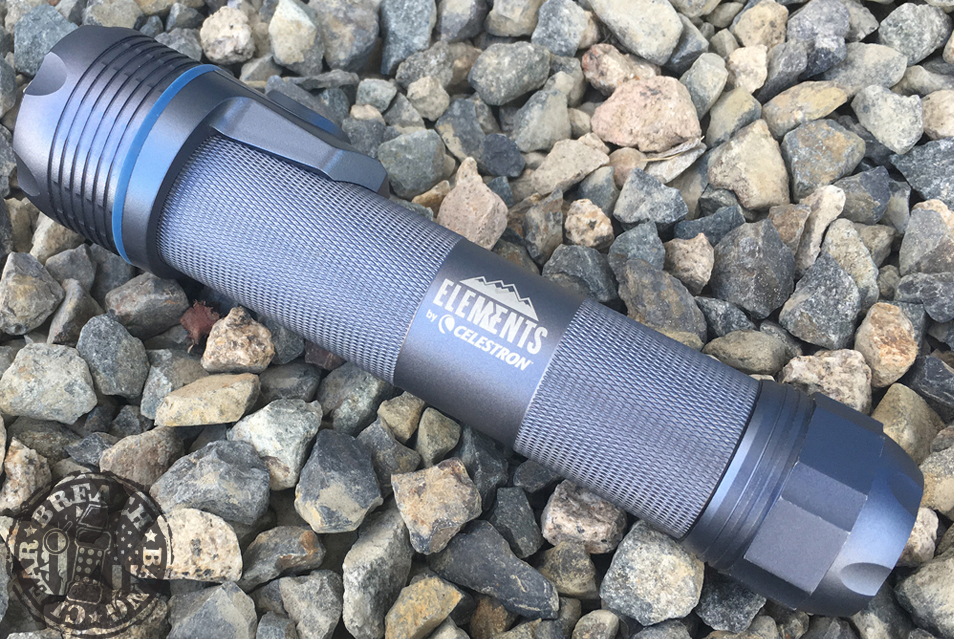 Overall, the flashlight's construction is solid. It's a bit bulky, but with all the features it makes sense for its size. According to Celestron the light has a IP-65 rating (IP stands for Ingress Protection and relates to how well an electronic device is sealed from the elements). It has 100% complete dust protection and a water protection rating of five (can withstand 12.5 liters of water per minute for up to three minutes).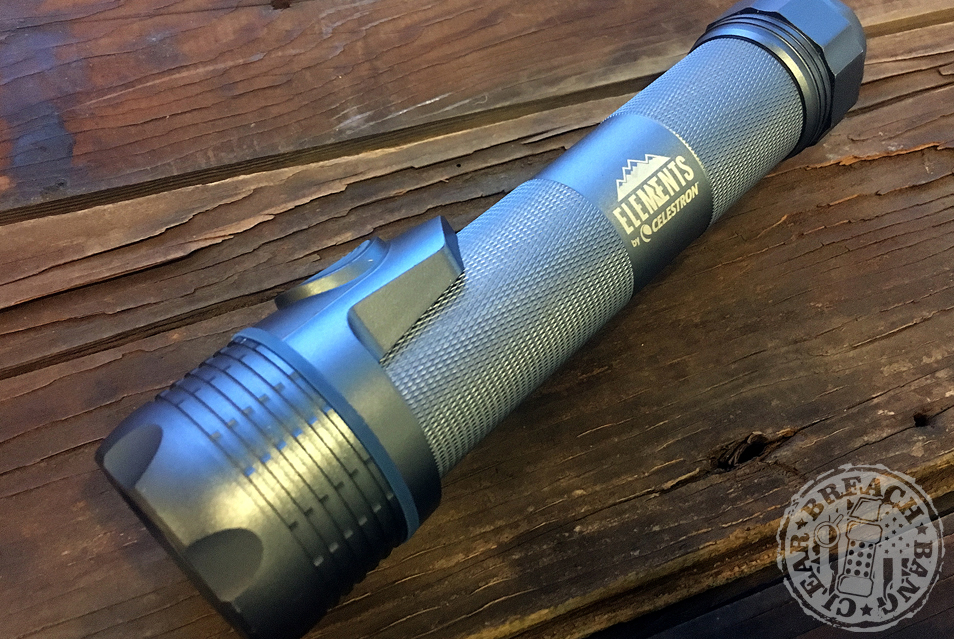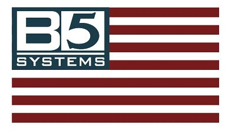 After some time spent with the Elements light we determined it would make a decent bug-out bag companion or nice addition to your vehicle emergency kit. The 17 oz weight doesn't make it ideal for backpacking to say the least, but it's great for car camping or activities involving off road vehicles or supported trips (base camps). The Elements Thermotorch 10 retails for $89.99 and there is a smaller version with slightly lower run times retailing for $69.99. To learn more about the Thermotorch 10 and other products in the Elements line visit their website.
Mad Duo, Breach-Bang& CLEAR!
Comms Plan
Primary: Subscribe to our newsletter here, get the RSS feed and support us on Patreon right here.
Alternate: Join us on Facebook here or check us out on Instagram here.
Contingency: Exercise your inner perv with us on Tumblr here, follow us on Twitter here or connect on Google + here.
Emergency: Activate firefly, deploy green (or brown) star cluster, get your wank sock out of your ruck and stand by 'til we come get you.