Downrange During Pistol Match; How Could that Happen?

In today's op-ed, Hernandez gives us some key lessons to take in. Mad Duo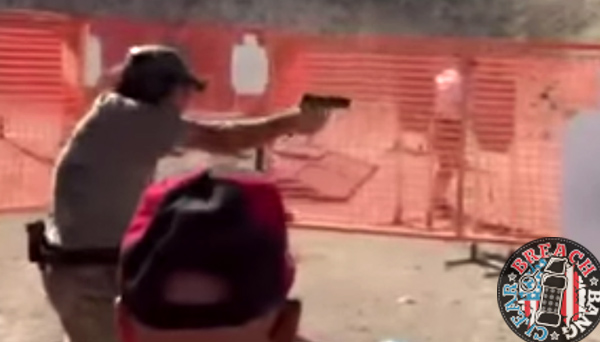 Downrange During Pistol Match; How Could that Happen?
by Chris Hernandez
Video of a major range safety violation has been floating around lately. During a pistol match where non-see-through barriers had been erected, a shooter engages multiple targets at different locations while moving. Then we see a man calmly standing downrange, oblivious to the shooter engaging targets around him. The man didn't react until the shooter got very close, and the shooter didn't seem to see him until someone pointed him out.
This was a huge screwup. Any number of people at the match could and should have simply walked downrange to ensure it was clear before anyone began firing. Someone could have called out "Going hot!" before hitting the timer. There's just no excuse; range safety is as simple as it is vital.
So how did that near-fatal mistake happen? I don't have any inside information on that particular range mishap. But I've been involved in a similar situation, while I was deployed. I've decided to write about it, in order to remind people that it's easy to get complacent.
My Situation
When I was in Afghanistan, I was on a small firebase in the middle of nowhere. Outside the firebase was an open area with mountains in the backdrop. We used it as a range, and frequently trained there. Some days we'd have a mix of American soldiers, French Air Force troops and Marines, and the occasional Afghan soldier all firing shoulder to shoulder. At a stateside army range there are tons of sometimes-ridiculous safety rules. At my firebase, the rule was pretty much "have fun and don't shoot anyone important."
We did all kinds of things that would give reflective-belt safety nazis a heart attack: throwing hand grenades during live-fire team drills, blowing claymores, bounding under cover fire, engaging with AT-4 rocket launchers, firing Mark-19 automatic grenade launchers and M203 rifle grenade launchers at close-range targets (once so close that a female soldier was hit in the leg with shrapnel from a grenade she fired), had soldiers on foot firing as they walked beside armored vehicles while the vehicle gunners fired, basically we did whatever we wanted.
We once sighted in a rifle by putting two targets together, then I stood off to the side while the shooter fired. After every shot I'd walk up, hold my fist where the round hit, then back off after he acknowledged. So yes, I stood downrange as he fired rounds past me.
It was war, bro. Acceptable risk was on kind of sliding scale over there. But one day, we pushed the limits just a little too far.
A new small unit had just arrived at the firebase. A very specialized, highly trained team volunteered to give them additional training. One of the team members took them to the range to put them through basic close-quarters carbine drills. Another member of the specialized team, a retired Special Operations soldier working as a contractor, decided to do some "shoot house" room-clearing training at the same time. He had small, portable plywood walls on stands that he could use to set up a makeshift doorway and used engineer tape to lay out rooms. He set up a house to the side of where the new unit was training and placed several targets inside the rooms. Several of my soldiers, along with a few from other teams, came out to participate in the shoot house training. (Images below are very simplified and not to scale.)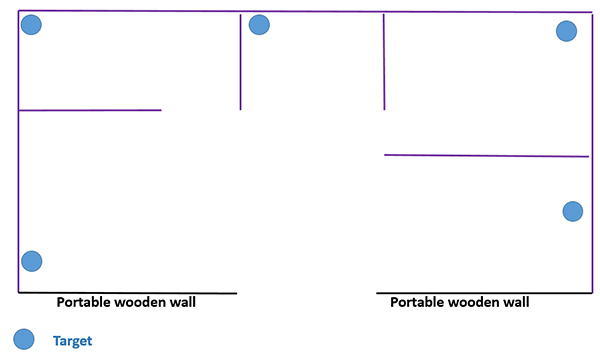 Room clearing, for those unfamiliar with it, consists of soldiers stacking outside a structure, breaching the door and filing in as quickly as possible. As they enter they break left and right, flow through and engage all enemy as quickly as possible. Room clearing is brutal, complicated, easy to screw up and far more difficult to do right than most people realize. "Doing it right" is a subject of much science and debate. As a soldier I never had to clear real houses, which is probably a good thing.
Here's a video of room clearing training in our makeshift shoot house in Afghanistan: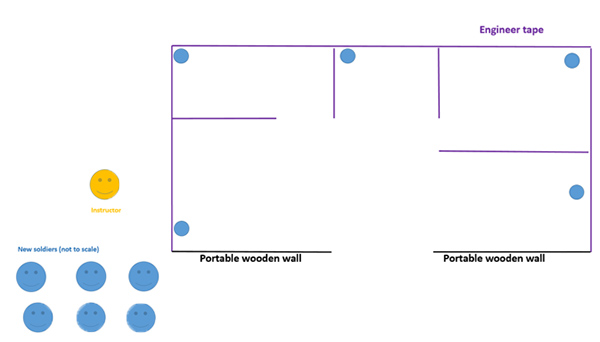 So the new unit was about fifty meters to our left. The new unit's soldiers were standing on line facing downrange, the team member training them stood about fifteen meters downrange addressing them.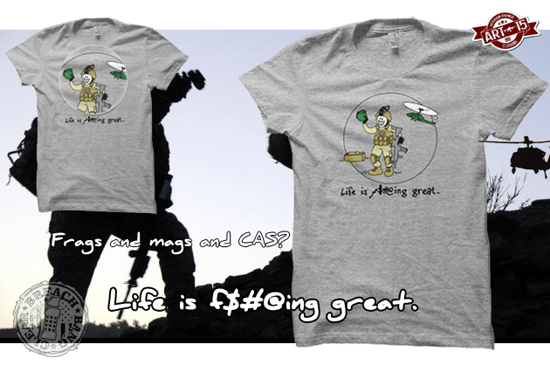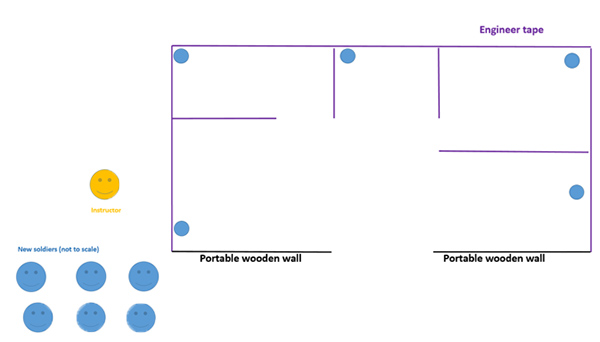 We were stacked outside the shoot house, waiting to breach. The trainer gave us the signal to go. We rushed in, flowed through rooms and engaged targets. And multiple, panicked voices outside screamed "Cease fire! Cease fire!"
We froze and looked at each other in shock. I flipped my safety on and stepped around the targets to see what had happened. The new unit's soldiers were a ragged mob, their clean line of shooters had dissolved. Their trainer furiously waved his arms and screamed, "Cease fire, god dammit! Y'all just fired rounds between me and the new soldiers!"
In an instant I realized what had happened: we didn't check the target geometry inside the house. When we set the targets, we didn't take into account where the shooters would be in relation to them and the other soldiers to our left. And a shooter had engaged at just the right angle to put rounds through his target and between the trainer and his students.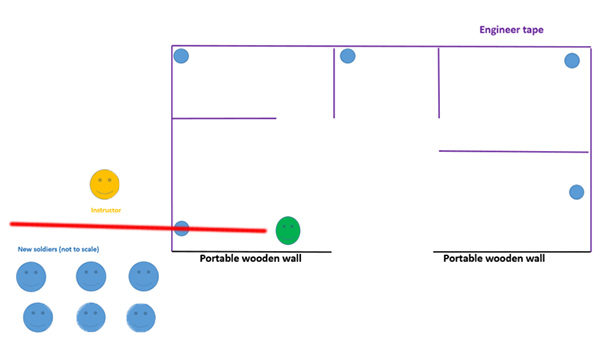 Our trainer stood in stunned silence for a few seconds. Then he yelled back, "Did anyone get shot?"
Their trainer screamed, "No!"
Our trainer responded, "So quit bitching about it!" Then he turned around, gave us an Oh god look and said, "Holy shit guys. Let's move the targets, quick."
That was a huge, and fortunately rare, mistake. But I know of two other incidents where experienced trainers made the same mistake. In both of those incidents, people got shot.
So what's the lesson? Aside from the obvious and simple "Check what's behind your targets when you set them up", we also need to understand human nature. When you watched video of the near-tragedy at the pistol match, did you find it odd the man downrange didn't react to numerous rounds fired around him, or wonder why the shooter didn't see him even after he advanced past the screens? I didn't. The man downrange was working on whatever was in front of him, he heard gunfire which he apparently thought was in another bay, and he probably had "They'd never actually start shooting with me downrange" on his mind. He wasn't thinking about range safety, he likely just assumed he was safe.
And the shooter was focused on his targets, not what was behind them. He probably also thought, "They'd never tell me to shoot before making sure the range was clear." So he concentrated on moving, accurately engaging, reloading and everything else. A man downrange was the last thing he expected. He assumed the range was safe.
And in my incident in Afghanistan, a soldier entered the shoot house, saw a target and engaged. He never expected the target to be set up in such a way that other soldiers would be in danger. He likely had a mental baseline about clearing an Afghan house: "The walls stop bullets." So he fired on his target, inside an imaginary bulletproof house, and didn't think twice about it until he heard screaming. Like the men at the pistol match, he assumed the shoot house had been set up correctly. He thought everyone was safe.

These were two nearly fatal incidents, which taught us hard lessons. Or maybe they just reminded us of lessons we already know. Observe the basic safety rules (no, that doesn't mean treat everyone on the range like they're an E-1 in boot camp). Don't let yourself get complacent. Good training is sometimes risky, and we should embrace that risk. But we can never forget how easy it is to make a stupid mistake we'd never recover from.
Mad Duo, Breach-Bang& CLEAR!
Comms Plan
Primary: Subscribe to our newsletter here or get the RSS feed.
Alternate: Join us on Facebook here or check us out on Instagram here.
Contingency: Exercise your inner perv with us on Tumblr here, follow us on Twitter here or connect on Google + here.
Emergency: Activate firefly, deploy green (or brown) star cluster, get your wank sock out of your ruck and stand by 'til we come get you.
Chris Hernandez Mad Duo Chris (seen here on patrol in Afghanistan) may just be the crustiest member of the eeeee-LIGHT writin' team here at Breach-Bang-Clear. He is a veteran of both the Marine Corps and the Army National Guard who served in Iraq and Afghanistan. He is also a veteran police officer of two decades who spent a long (and eye-opening) deployment as part of a UN police mission in Kosovo. He is the author of White Flags & Dropped Rifles – the Real Truth About Working With the French Army and The Military Within the Military as well as the modern military fiction novels Line in the Valley and Proof of Our Resolve. When he isn't groaning about a change in the weather and snacking on Osteo Bi-Flex he writes on his own blog, Iron Mike Magazine, Kit Up! and Under the Radar. You can find his author page here on Tactical 16.