DnD: Forward Controls All Angles Augmented Bolt Catch
This Down'n'Dirty originally appeared online at Military Morons. It appears here in its entirety with permission. If you're a regular reader of Breach-Bang-Clear, you'll know MM is one of the sites we always keep an eye on. The reviews there are succinct, thorough, and unabashedly honest. Mad Duo

Down'n'Dirty: Forward Controls All Angles Augmented Bolt Catch ABC/R-AA
Military Morons
The ABC/R-AA (Augmented Bolt Catch/Release – All Angles) is a variant of the ABC/R [note: previously reviewed here, Mad Duo] with dimples on the control surfaces instead of horizontal serrations. Everything else is the same. The horizontal serrations on the ABC/R provide traction in the vertical direction, but not so much along the direction of the serrations. With the ABC/R-AA, the dimples provide the same traction for the finger no matter the direction, hence the 'All Angles' designation.
The AA actually has three dimple sizes and depths; 30 dimples in total. The dimples are all enclosed within the area of the paddles; they don't extend off the edges which would result in partial dimples. This was more of an aesthetic choice which doesn't affect function. Comparing the original ABC/R and the AA, I found that the dimples have slightly less traction than the serrated model, in the vertical direction.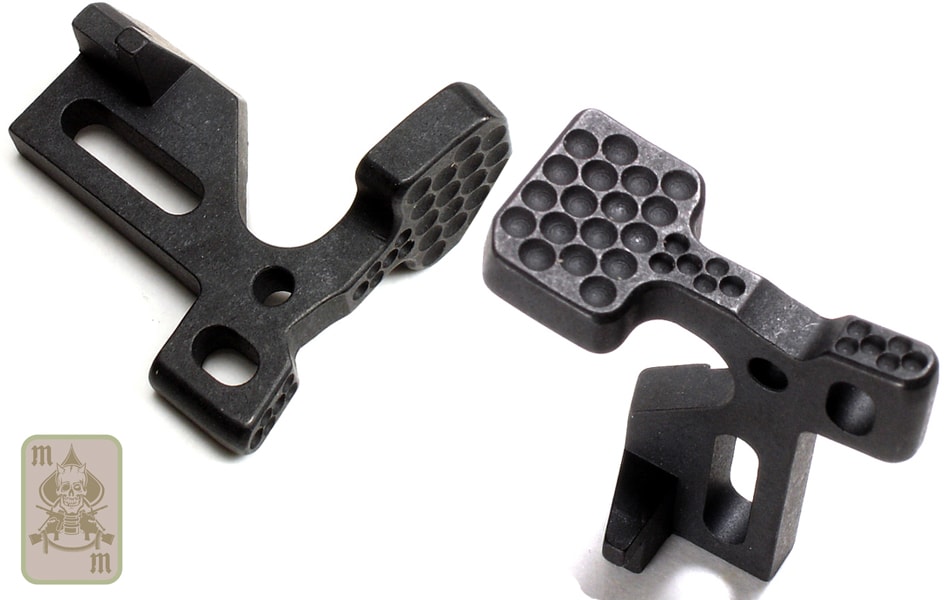 The serrations have a little more 'bite'. In the horizontal direction and other angles, the AA has the advantage. One thing I would like to see is the dimples closer together so that they overlap to create points, and increased traction. As a lefty, I've always used my left index finger to actuate the bolt catch. I actually don't find that I need additional traction along the horizontal direction, and the serrations are very effective as they are. However, right-handed users may actuate the bolt catch differently from me, and appreciate the non-directional texture of the AA variant. Either way, it's a cool-looking variant of an already functionally-improved part.
Military Morons is on Twitter, @militarymorons. You can also follow 'em on Facebook right here. We highly recommend you do.
Learn more about the Forward Controls All Angles Augmented Bolt Catch right here; follow Forward Controls Design on Instagram, @forwardcontrols.
Mad Duo

---
Comms Plan
Primary: Subscribe to our newsletter here, get the RSS feed and support us on Patreon right here.
Alternate: Join us on Facebook here or check us out on Instagram here.
Contingency: Exercise your inner perv with us on Tumblr here, follow us on Twitter here or connect on Google + here.
Emergency: Activate firefly, deploy green (or brown) star cluster, get your wank sock out of your ruck and stand by 'til we come get you.
Swinging Dick Approved.