Details on the return of the 5.11 Kilt
Yes, it's true. the Tactical Duty Kilt from 5.11 Tactical is back, and yes you will be able to buy one starting the middle of the month. You can watch the new video below. The 5.11 TDK has become an almost iconic 5.11 April Fool's Day tradition now, since its first inception as a joke-turned-actual product. You may in fact recall an ongoing series of challenges between Scruffy Wallace of the Dropkick Murphys (a former Combat Veteran) and 5.11 Tactical CEO Tom Davin (a former Marine infantry and Reconnaissance officer) – that banter appears to be ongoing.
The Mad Duo spoke to Davin this morning immediately prior to the video release. He was hoarse but in good spirits, having just finished a special contract job as an orator for Audible.com.
"We're happy to bring back the TDK," he told us. "Not only are they comfortable and practical – especially if worn the way the SKMA recommends it* – but we will be once again be donating $10 from every kilt sold to the FBINAA charitable foundation and an organization called We Salute You Veterans."
Many people are unaware that last year's TDK raised over $12,000 for We Salute You Veterans, a charity for homeless veterans run by Scruffy Wallace. You can see Davin, Scruffy and others involved in the picture below outside McGreevy's on Boylston in Boston, then inside where Davin is presenting the check. Interestingly, Davin is wearing a Realtree Tactical Duty Kilt, while Murphy is not. This could mean a lot or nothing, though we cannot help but wonder if Scruffy was just skeert to show off his knees.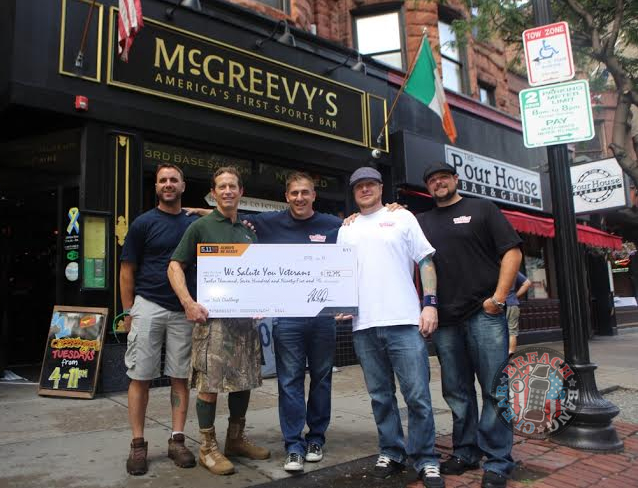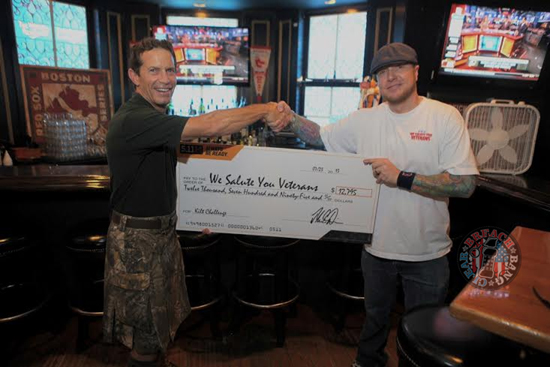 Scruffy Wallace was unavailable for comment (he's apparently out on the range with Kyle Lamb), though we'll get him on the record for you before the 15th.
The release of this new 5.11 TDK series has taken some effort and coordination. The teaser video had to be made, the full video required editing and there were numerous production and design concerns. Some of it was in the works as early as last year. Some was as recent as last week, such as when 5.11 International Marketing Director Jan Willem Driessen spent nearly 3 hours at a salon in Irvine having his boys waxed prior to last minute filming.
"Lekkerrrrr! Die gaat mooi mee naar huis (Look, I'm not wearing underwear!)" Driessen told us disturbingly this morning over Skype, shifting the position of his webcam to prove it.
To reiterate, this is not just an April Fool's Day joke. There will be TDKs available for sale as of 15 April 14, with additional information and a longer video to come closer to that date. We're hoping for a full length feature, but 5.11 Tactical creative HMFIC Matt Frederick quit talking to us after the Great Maculated Loofah Incident of 2012 so we don't have any advance screenshots to show you. Grunts: maculate. In the absence of any "inside scoop" we sought an advanced screening of the "full monty" video from 5.11 Director of Marketing Intelligence Dave Rhoden (seen below with Davin testing TDK prototypes). Unfortunately, Rhoden was actually injured in the filming of the video while jumping a cactus (it was as bad as you think) and was unable to return our calls.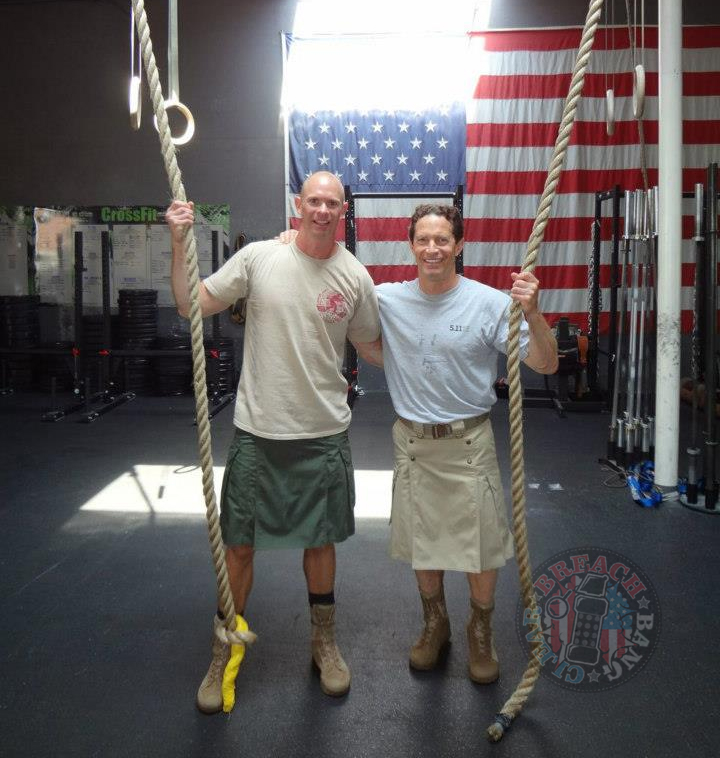 The only other person we were able to reach was 5.11 Tactical CMO Guy Burgstahler, but he seemed surpisingly disgruntled. "They went live with that and edited all my scenes out?" he asked. "WTF? I shaved my legs for that!"
You can find out more about We Salute You Veterans, cofounded a couple of years ago by Scruffy Wallace and James Lamarr, here. The FBINAA is online here. Previous news about 5.11 Tactical Kilts and the Scruffy Wallace's challenge here.
Initial RUMINT indicates the TDKs will be available in a number of patterns, including black, OD, coyote, MultiCam, Realtree, leopard print (5.11 CBL Dave Hein's favorite), a delicate lilac-cerulean tiger stripe (5.11 CBL David Hagler's favorite) and hopefully good old fashioned woodland camo. Pictures are already being posted all over social media and the blogosphere using the hashtag #kiltoff.
Once the TDKs go live on the website we'll be offering a special Breach-Bang-Clear code you can apply to the purchase of a TDK. We're not sure what it will get you – a hat, a morale patch, or a locket of Kyle Lamb's beard, who knows? – but we will do something for you.
We'll advise further details when they become available. 5.11's Craig Metzger, who may or may not also be "the gyro captain" from Mad Max, has promised to keep us squared away with up to the minute details.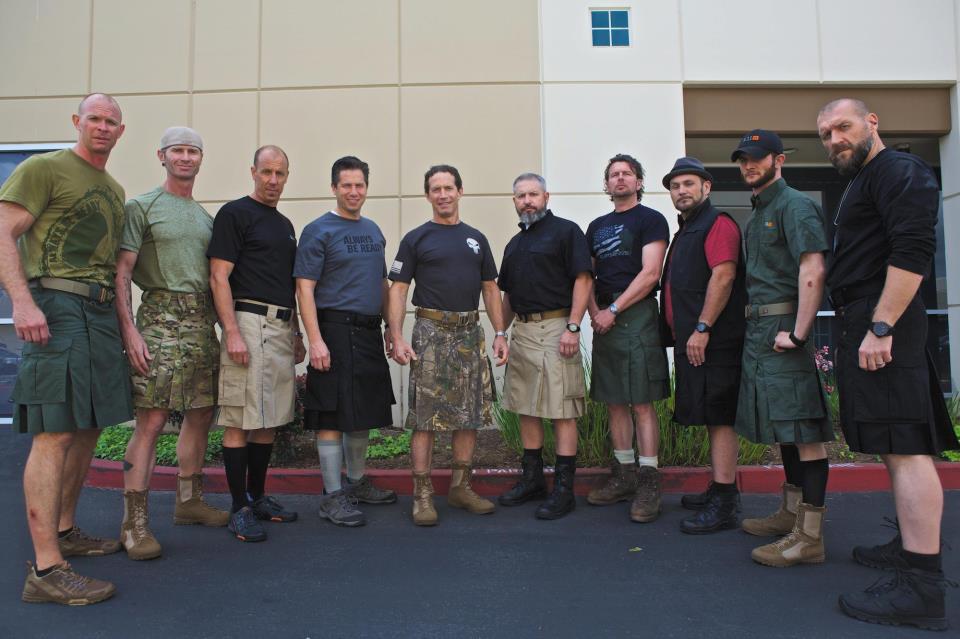 *Scottish Kilt Makers Association spokesman Ian Chisholm is on record as saying, "The tradition of no underwear being worn was a stipulation of Scottish military regulation…The freedom of movement is healthy. We always tell custoemrs to wear nothing under the kilt if everything is in good working order."
Mad Duo, Breach-Bang & CLEAR!