When you're the size of the Mad Duo you need a full ruck to carry a multi-tool. Luckily for you 1:1 scale folks that's not the case, even people like Pocket Doc and Peanut. FYI: TAREINCO (Tandem Research and Innovations Company) has released a pouch for the MultiTasker Series 3 (and its extra bits). This will be good news for those of you who, like Mad Duo David, carry their MT3 in the original box wrapped in boot blousers.
The TAREINCO MT3-Xtra Carrier main pouch houses the actual MT Series 3 and, like the closing flap, is secured with hook & loop. It also has a D-ring pull loop. The closing flap itself features a built-in pouch to hold the spare bits. The pouch comes with a Malice Clip for attachment to PALS/MOLLE and will work with belts up to 2.5″ in width. They are currently available in both Coyote Brown and Black.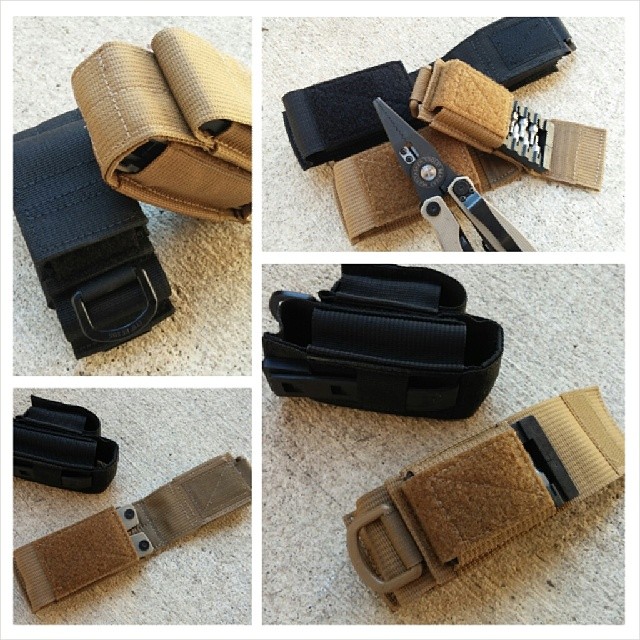 TAREINCO's HMFIC, Mark Basa, advises the difficulty designing the pouch was "…finding the right amount of contact between the hook and loop velcro on both closing flaps; as you can see there could be an issue of the user opening the front pocket while inadvertently opening the main pocket." You can see one of the 2-tone prototypes below. As you can see, he solved the problem.
Note there is also an MT3 carrier that does not hold the extra Series 3 bits. Make sure you buy the right one. Anyway, as regular readers are no doubt already aware, the Mad Duo are fans of TAREINCO. It's a small, family business and everything is made in the USA.Check them out here on the web or here on Facebook.
The MT-3 Xtra has an MSRP of $27.00, available here. The reg'lar MT-3 Carrier (which carries just the MT Series 3, not that additional bits) MSRPs at $20.00 here.
Mad Duo, Breach-Bang & CLEAR!