⚠️ Some hyperlinks in this article may contain affiliate links. If you use them to make a purchase, we will receive a small commission at no additional cost to you. It's just one way to Back the Bang. #backthebang 
Laser Sights (and stuff and things)
We're seeing more recently from the Crimson Trace blog
We've seen a lot of activity on the Crimson Trace blog lately, and recently received a message from one of our cohorts, to wit:
Laser sights are the subject of much discussion and (dis)information. This, unfortunately, can keep people from using a visible laser sight to its fullest advantage: or prevent them from using one at all.
Crimson Trace recently set out to correct that by increasing the publication tempo on the newly reinvigorated Crimson Trace blog. One result of this new publishing tempo is the article

About Green Lasers

, which discusses not just (visible) green laser sights, but how they're different from the red ones, to wit:
It is important to understand something as we begin: a green laser is not actually, measurably brighter than a red laser. We simply perceive it as brighter – which is functionally the same thing. As such they are almost always going to be superior to red lasers in bright conditions, both for "picking up" the laser with your eye and shooting with it effectively at a greater distance.
The human eye has evolved to see the color green better than any other color in the light spectrum, which is why a green laser appears brighter in ambient light (such as bright sunlight) conditions than a red laser  – even those that operate at equal strength. Yellow and blue follow. This may account for the assertion by some professional users that it is faster to acquire a green laser than a red one when shooting.
Addressing why green lasers are more expensive than their red counterparts, CT explains,
The diodes used to generate a green laser are more complicated to build and employ than those of a red laser (which are relatively easy to make and assemble). This also makes the manufacturing process more time-consuming. As technology and material design improves, however, the gap between red and green can be expected to narrow.
Check it out for yourself: https://www.crimsontrace.com/company/blog/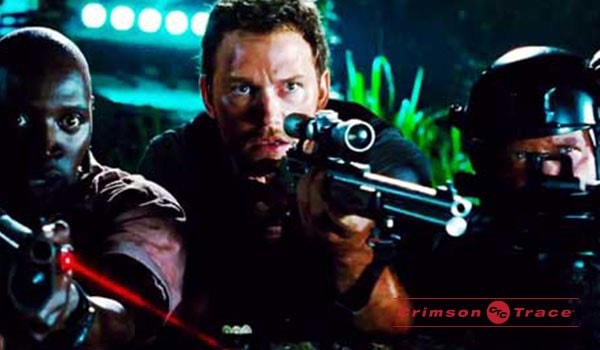 Like what you read here? Consider backing us on Patreon.
You'll be automatically enrolled into the Tactical Buyers Club, thus getting dozens of discount codes to high-end companies in the tactical/firearm/outdoor arena, and you'll earn the right to wear the House Morningwood sigil.
⚠️ Some hyperlinks in this article may contain affiliate links. If you use them to make a purchase, we will receive a small commission at no additional cost to you. It's just one way to Back the Bang. #backthebang