Breaking News: POTUS and POTRF en route to Mali?
Just days after French paratroopers dropped into Mali as part of Operation Serval we are hearing rumors that Presidents Barack Obama of the United States and Vladimir Putin of the Russian Federation may be deploying to the Sahel to "get it done right". Apparently frustrated by a lack of progress on the part of the French Foreign Legionnaires, President Putin (described as the 'Adventurer of the East' by a newspaper in Khalino after his many action hero-like exploits) and President Obama (described by the seemingly constipated former Press Secretary Robert Gibbs as the manliest, shootinest President since Teddy Roosevelt) may actually have already fast-roped into Songho as this report is filed.
President Obama, whose ironic mastery of the AK is second only to his legendary ability to speak extemporaneously, is reportedly carrying a Kalashnikov with a full load-out of high capacity assault massacre magazines and a 'really big frag'. President Putin, seen below at play, will reportedly be carrying some form of sniper rifle or paintball gun.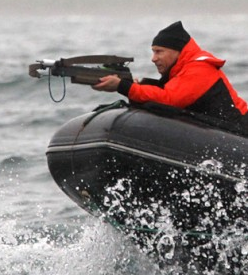 Amateur video and photography taken from the hottest parts of the fighting are grainy and inconclusive, making attempts to confirm the story inconclusive. We contacted Roger Young Pelham, a journalist renowned for accurate coverage of truly dangerous places and a reputation for candor and testicular fortitude.
"I dunno," Pelham told us. "That looks a lot like Liberia."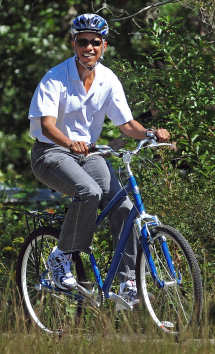 Neither Pentagon nor White House spokesmen have been available for comment, though one source speaking on condition of anonymity said Marine Corps Gen. "Mad Dog" Mattis would be leading the QRF tasked with assisting the two Presidents in the unlikely event they needed help.
We spoke via Skype with Gen. Mattis as he soaked in a whirlpool tub filled with the blood of cowards and the tears of his enemies. He exhibited heartfelt appreciation for the assignment, growling, "You have got to be fucking kidding me," without ever opening his eyes.
It remains unclear whether any additional world leaders will join the punitive expedition against Al Quaeda extremists in Africa. Grand Duke Henri of Luxembourg, below, refused to answer questions and the Dutch Queen Beatrix was unavailable for comment.
We can assure readers that Her Majesty Queen Elizabeth II of England, shown below on the firing line instructing basic marksmanship techniques to Marines of 45 Royal Marine Commando, will not be going to Africa or anywhere else. HM the Queen is, as most Breach-Bang-Clear readers know, a lady and a genuine bad ass.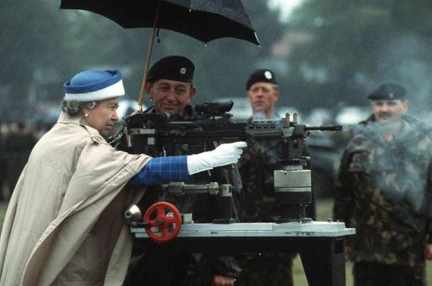 "That's just silly," said one Englishman. "Her Majesty dursn't need to prove anything." (Yes, dursn't.)
"You're fucking barking, mate," a grizzled Colour Sergeant of the Coldstream Guards agreed, before trying to curb-stomp one of our minions. "Mum isn't stupid like that."
Reports that Sen. Chuck Hagel put boots on the ground only to be eaten by a small crocodile can be neither confirmed nor cared much about.
We will continue to monitor the situation on the ground.
Mad Duo, Breach-Bang-Clear!
Join us on Facebook. No hippies, sissies or admirers of Keith Olbermann need apply.