Blue Force Gear Insists CHAPSminus Are Legit
You may already have read about the new CHAPSminus™ from Blue Force Gear®. What you may not realize about these tactical chaps, which feature BFG's Patent pending MOLLEminus™ technology (MOLLE minus the weight, bulk and complexity) is the back story. They are not, BFG insists, so-called "assless chaps" but are in fact legitimate tactical equipment.
"CHAPSminus was actually Stephen's idea," Blue Force Brittney tells us, referring to Blue Force Gear's Stephen Hilliard. "He was inspired by a couple of outfits worn by patrons at a tavern he occasionally frequents. I can't recall the name off hand, but there are a lot of motorcycle riders, Indians and construction workers who go there. We actually had a couple of prototypes done in various camouflage patterns, including one Stephen calls Urban Zebra."
Hilliard is a graduate level student of Doorkickery and the Blue Force Gear Director of Product Development.
"It's the natural progression for subloads and drop-leg load-outs," Hillard agreed. "We expect the CHAPSminus to become the standard for all thigh panels.You can wear them over your clothing or by itself in hot or humid conditions where heat stroke could be an issue. The CHAPSminus belt is fully adjustable and fits sizes 28" – 48", so everyone from little scrawny [expletive deleted] and fat boys can wear one."
CHAPSminus is the fourth product in Blue Force Gear's MOLLEminus line. There is no word yet if they will be jump-rated or receive an NSN, though RUMINT has it that the French Army has already ordered enough for an entire battalion.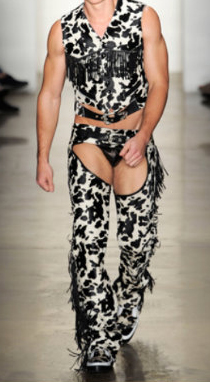 Blue Force Gear's Product Line Manager John Felushko appeared to think some operators wouldn't take the CHAPSminus seriously. "The Rhodesians and the Brits have worn shorts operationally for decades," Felushko said. We told him not to be so defensive. He said he wasn't being defensive. Then he continued.
"CHAPSminus is our biggest innovation to date," he want on. "They are not assless chaps. They are a load carriage system that is an obvious force multiplier. Traditional cargo pants are uncomfortable and can get saturated with sweat and other bodily fluids so we used our lightweight technology to make these airy, free breathing replacements. Chaps also provide cultural camouflage for folks in disruptive low-profile roles at major metropolitan spring and summer celebrations. They really help make your warrior athlete physique less threatening."
A threatening warrior physique has always been an issue in certain career fields, less commonly for POGs than the combat arms branches.
"I feel I should point out that the term 'assless chaps' is redundant," said one disaffected redheaded complainer, whose tactical acumen apparently didn't prepare him to recognize the value of CHAPSminus as a force multiplier. "If chaps had an ass, they'd be called pants."
Hilliard refrained from throat-punching the complainer, though he did note that the "…MOLLEminus design provides the thinnest, strongest, lightest modular load carriage of individual combat equipment: half the thickness of a dime, over 4 times as abrasion resistant as air textured nylon and formed from a single piece of Blue Force Gear's proprietary ULTRAcomp™ laminate.  CHAPSminus is compatible with all legacy issue MOLLE pouches and for the ultimate lightweight thigh rig combine CHAPSminus with pouches featuring Blue Force Gear's revolutionary Helium Whisper™ attachment system…"
Gunslinger Roland, another renowned knuckle-dragger reputed to be the finest operator in the better part of two rural counties exclaimed, "Chaps are totally legit! Haters! The tactical-kilt was a joke….. Until everybody wanted one! The people will not be denied their assless chaps! I'd rock some OG-107s and OD green chaps with ten speed pouches on them in Afghanistan right now! I can't support the pile cap though. Rangers wore black wool watch caps. Legs wore rolled pile caps. My pile cap still has saw dust from the PT pit in Airborne school in it and pin on E-3 rank."
Felushko attempted to get a word in edgewise, presumably to reiterate the CHAPSminus were not in fact intended to be 'assless' but by that time no one was listening to him and Brittney had long since lost interest.
For more information check out www.BlueForceGear.com.
Mad Duo, Breach-Bang-CLEAR!