Blitzkrieg Components: They Deserve Their Stripes
The fine folks over at Blitzkrieg Components came up with a pretty badass little front sight upgrade for your AR. We were going to run this article months ago, but one of Swingin' Dick's handlers lost all our original images, then couldn't find the review. It's possible he destroyed a desktop in a sudden Luddite berserkergang as a result, but we can't confirm (grunts: berserkergang). In any case, the the Chevron Front Sight Post adds a (you guessed it) Chevron to just about any front sight out on the market. The sharp and crisp white chevron gives shooters like us a fast target acquisition without obscuring or cluttering our sight picture.
This front sight gives a new meaning to the phrase 'Just the tip'.
Heh, get it? Just the tip? Get it?
"The Tip" installs in just minutes and replaces your traditional front sight post. The chevron stripe is marked on both sides, so a minimal, 2-click adjustment is all that's required.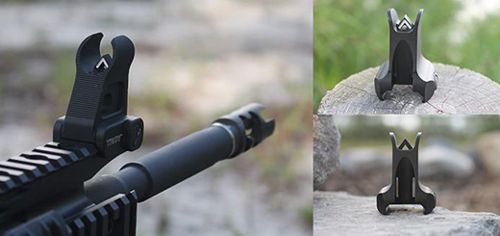 Me and Slim know a thing or two about earning stripes. We've gained 'em and lost 'em, mainly due to our devout love of strippers and frequenting the local watering holes. This as you can imagine leads to drunken brawls at 3 A.M. with the feature dancer's bodyguards or bouncers (and once in a while with MPs and Security Forces).
Cinnamon, bless every one of her delicious freckles, never has called us back. There is a story about Cinnamon, you may recall…but we digress.
The crew at Blitzkrieg have definitely earned a stripe in our book with their innovative new front sight post. I'm sure it'll be a great addition to our terror-fighting, All-American boomsticks as we tear ass up and down the middle east or the local shooting range.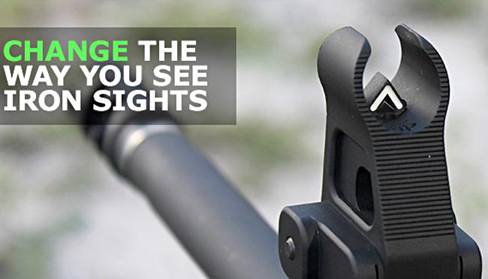 The Chevron FSP is available in White or Flat Black KG finish and according to their Facebook page retails for around $40.
Check out Blitzkrieg Components' wares at www.blitzkriegcomponents.com.
Mad Duo, Breach-Bang-CLEAR