MNKF: Big Assed Folding Knives
This article originally appeared in RECOIL Magazine (@recoilmagazine), Issue #30. It is republished here with their permission — which was actually pretty easy to get once we started buying Iain (@recoilboss) a few drink. Thankfully we got an answer before he climbed on the mechanical bull in just his silkies. Mad Duo

Big Folding Knives
Patrick Vuong
Our EDC gear tends to be as compact and discreet as possible. But every once in a while, we like to get our gigantism on. Whether it's an iPhone 7 Plus in your pants or a Ford Super Duty in the garage, having big powerful tools is indispensable.
So, we're taking a stab at large folding knives. We don't always carry them daily, but in certain circumstances they offer benefits that other knives can't.
First is range. The longer the weapon the more reach and the less distance to cover in a self-defense situation. Second, longer blade means more cutting surface — whether that's for harvesting game, batoning firewood, or intercepting a bad guy's attack. And for those with big hands (insert joke here), a bigger overall length (insert second joke here) means there's more leverage.
Of course, there are drawbacks. Bigger folders are heavier and take up more pocket real estate. And there may be legal ramifications for carrying them in nanny states and regions with tight knife restrictions.
As always, do your research and figure out which giant knife is right for your loadout. After all, it's practically un-American not to have Supersize Me options.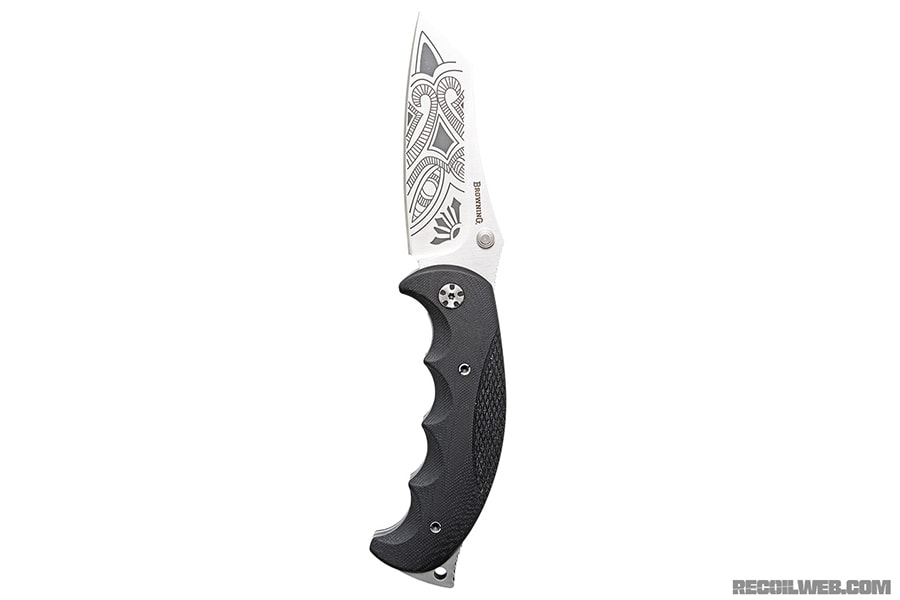 Make:
Black Label
Model:
Wihongi Signature Folder
OAL:
8.6 inches
Blade Length:
3.6 inches
Blade Material:
7Cr17MoV stainless steel
Weight:
7 ounces
MSRP:
$40
URL: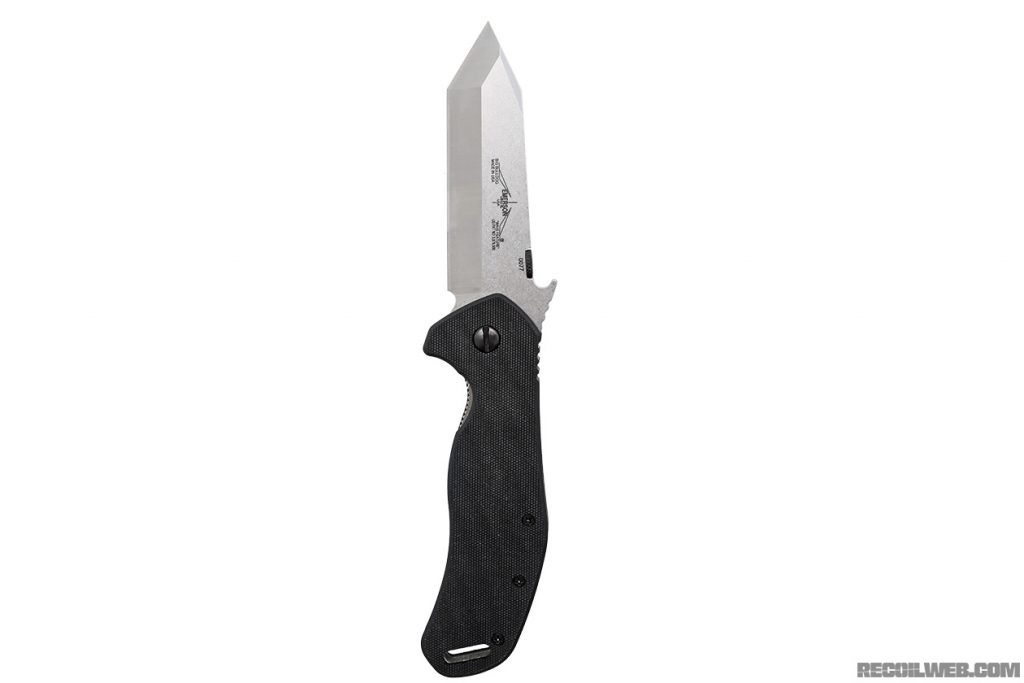 Make:
Emerson Knives
Model:
Big Bulldog
OAL:
8.9 inches
Blade Length:
3.7 inches
Blade Material:
154CM stainless steel
Weight:
6.5 ounces
MSRP:
$260
URL: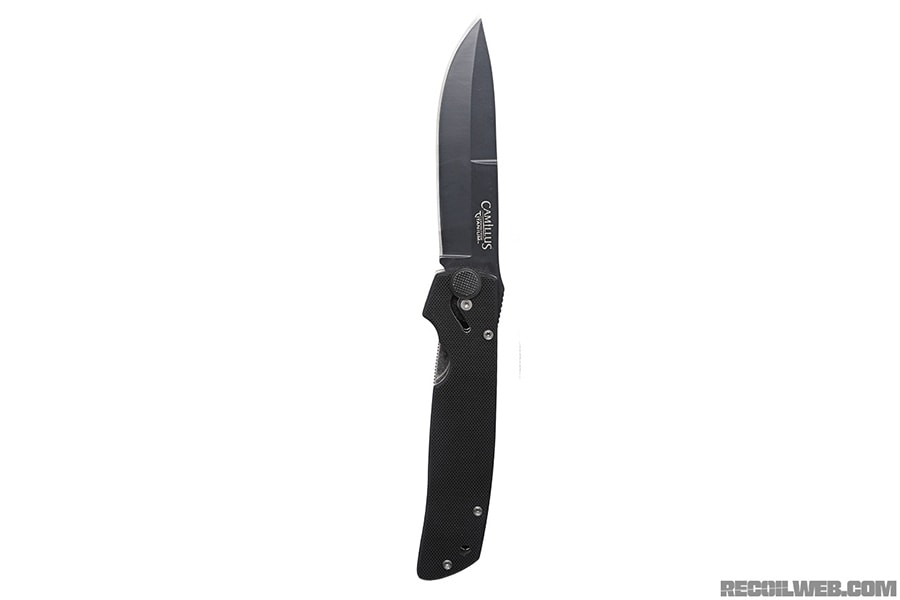 Make:
Camillus Cutlery
Model:
9" Cuda
OAL:
9 inches
Blade Length:
3.75 inches
Blade Material:
AUS-8 stainless steel
Weight:
5.1 ounces
MSRP:
$58
URL: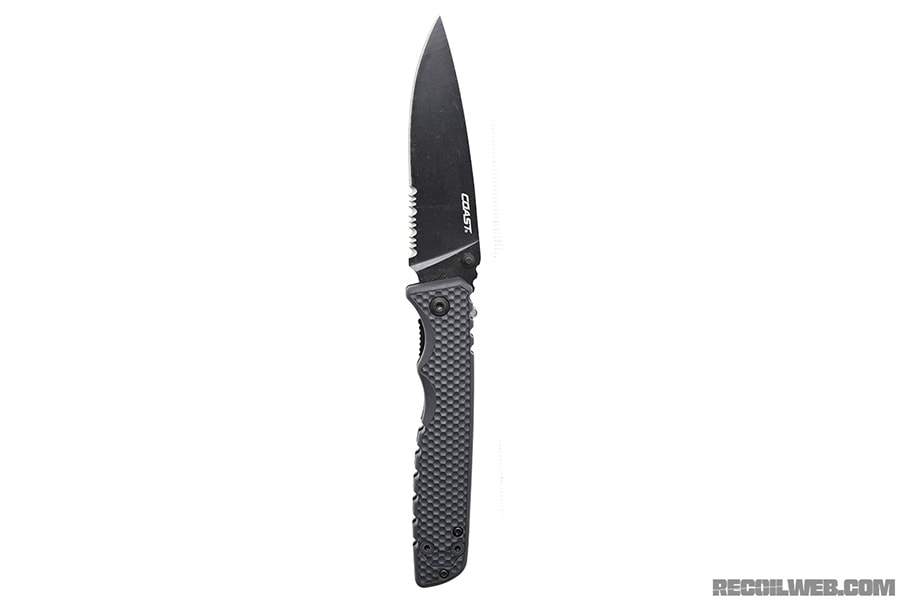 Make:
Coast Products
Model:
TX399
OAL:
9 inches
Blade Length:
3.9 inches
Blade Material:
9Cr18MoV stainless steel
Weight:
3.7 ounces
MSRP:
$50
URL: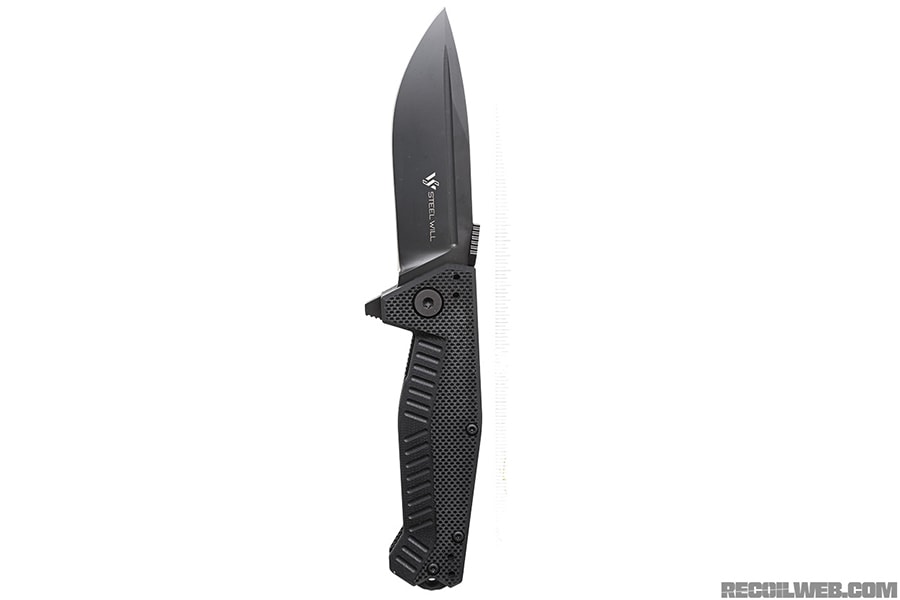 Make:
Steel Will Knives
Model:
Bruiser 500
OAL:
9.53 inches
Blade Length:
4.02 inches
Blade Material:
K110 tool steel
Weight:
9.13 ounces
MSRP:
$300
URL: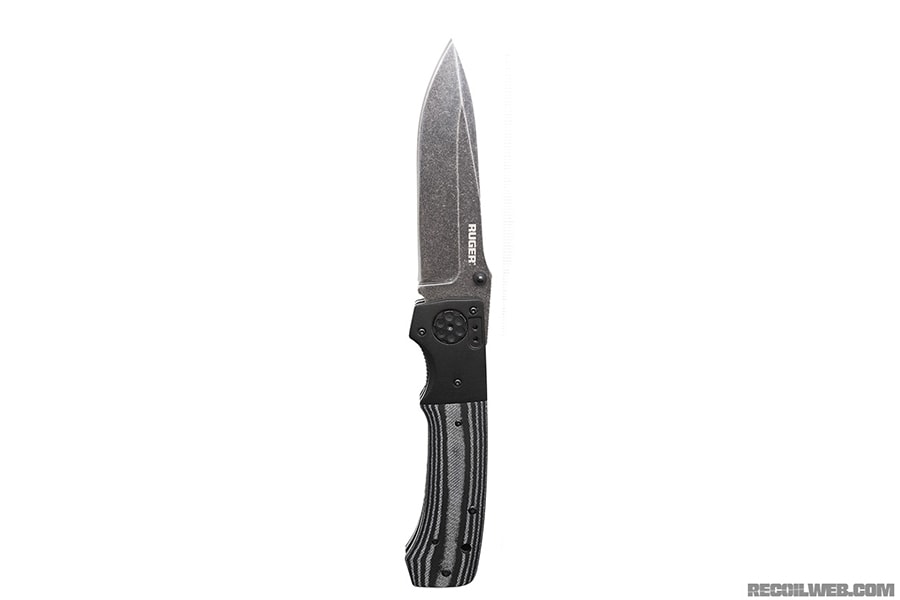 Make:
Ruger Knives
Model:
All-Cylinders +P
OAL:
11.25 inches
Blade Length:
5 inches
Blade Material:
8Cr13MoV stainless steel
Weight:
11.6 ounces
MSRP:
$75
URL:
Make:
Spyderco
Model:
Tatanka G-10 Black
OAL:
11.55 inches
Blade Length:
5.05 inches
Blade Material:
VG-10 stainless steel
Weight:
9.2 ounces
MSRP:
$330
URL:
Browning Wihongi Signature Folder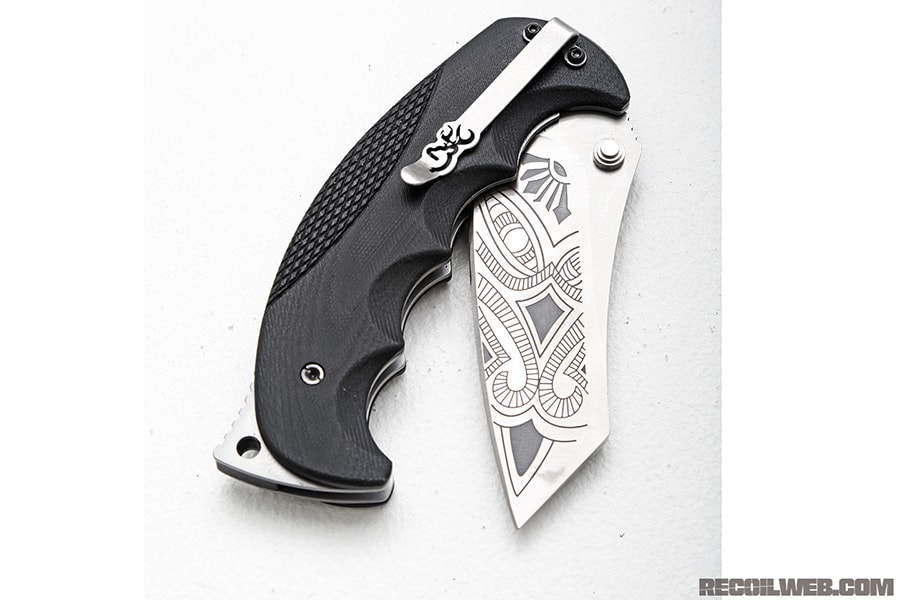 411:
As the eponymous co-designer, Jared Wihongi teamed up with award-winning knifemaker Russ Kommer to create a whole lineup of tactical blades that combines his Maori warrior heritage, Filipino kali mastery, and hands-on SWAT experience. The results are eye-catching. Though it's the smallest in this buyer's guide, his folder is by no means the runt of the litter and can more than hold its own as an EDC or fighting knife.
Pros:
>From the large thumb-studs and comfortable G-10 scales to the ergonomic finger groves and excellent grip (both forward or reverse), there's a lot of little details that equal big benefits.
>The modified Wharncliffe blade slices and punctures cardboard like it's loose-leaf.
>Surprisingly, it retails for only 40 bucks.
Cons:
>Unfortunately, to keep those costs down, the blade's made from Chinese stainless steel.
>Tip-up-only pocket clip means you'll have to re-grip the handle before opening the blade, slowing deployment slightly.
Emerson Big Bulldog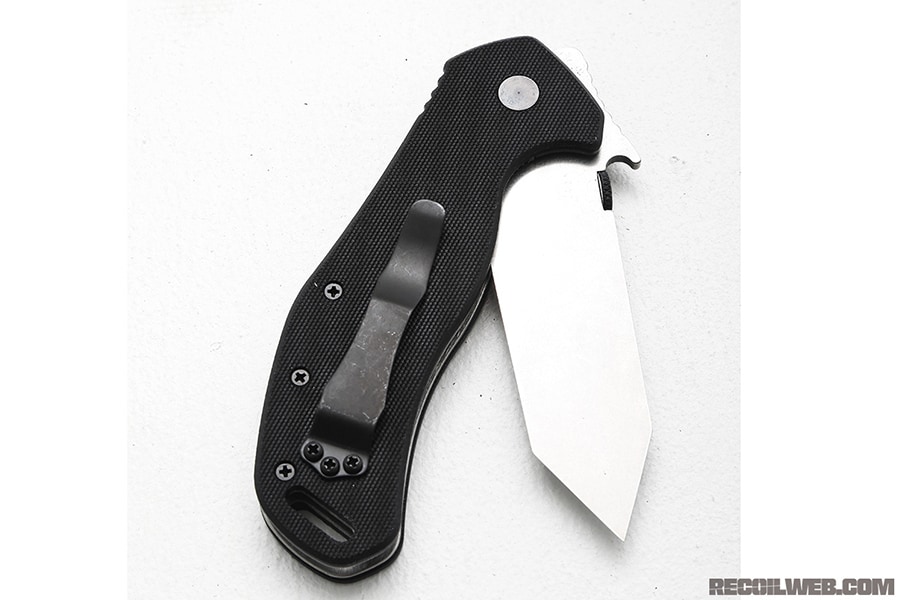 411:
Emerson Knives has built its reputation by arming first-responders and the military (notably Navy SEALs) with hard-core knives that can thrive anywhere — this model's no exception. Anyone who's ever owned any breed of bulldog knows what to expect from this knife: strength, toughness, dependability, and a fierce bite should the need arise. Blade available with stonewash or black-coat finish. Made in the USA.
Pros:
>The blade's chisel grind and 154CM stainless steel translates into insane cutting and stabbing power.
>Top-of-the-line craftsmanship and durability — and made stateside
>Lightening fast deployment, thanks to Emerson's patented wave-shaped feature that opens the blade as you draw from your pocket
Cons:
>With a chopped tanto profile, the blade doesn't have a belly, lowering its versatility a bit.
>Lefties will have to pay an extra $25 for "wrong-handed" carry
Camillus 9" Cuda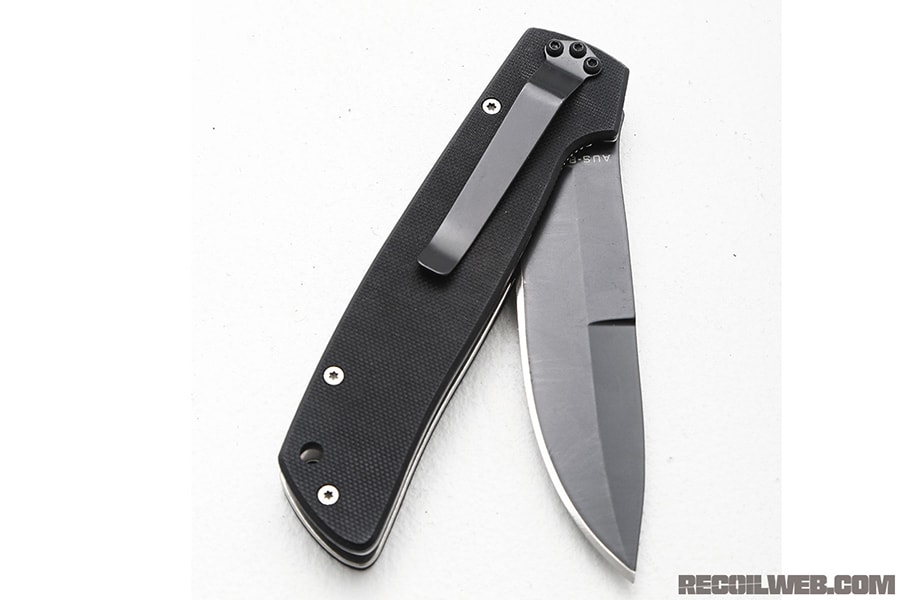 411:
Camillus has been around since 1876, so it knows a thing or two about knife-making. But it doesn't churn out the same old same old. Case in point: There's no thumb-stud on the side of the Cuda's blade or a flipper tab on its spine. Instead, it has a thumb-button that you push along a curved track in the bolster, which in turn drives the blade out. Unfortunately, it's awkwardly slow, but Camillus gets kudos for taking design risks.
Pros:
>With a carbonitride titanium coating and a hollow grind, the AUS-8 blade slashes and penetrates cleanly.
>Simple G-10 handle feels secure and comfy in hand.
>Won't break the bank.
>Lightweight for its length
Cons:
>Marketed as having a "quick-action blade release," but quick compared to what? A geriatric Scottish knight unsheathing his claymore sword?
>Carried only with the tip up on the right side.
Coast TX399
411:
While Coast is known for its lights, it does make solid yet affordable knives. The TX399 is the biggest entry in its most recent tactical knives lineup. This one's based on parameters from former special-operations members and features Coast's Double Lock technology, which prevents the blade from accidentally closing by jamming the liner locker open (and reminds us a bit of CRKT's Automated Liner Safety system).
Pros:
>Pocket clip can be switched for righties or lefties.
>A budget buy that you won't be afraid to beat up or lose in the field.
>At 3.7 ounces, this is the lightest knife of the bunch.
Cons:
>The weight savings comes mostly from the fiberglass-reinforced nylon handle, which is strong but gets slick when wet.
>The Chinese construction is questionable; we can wiggle the blade laterally by a couple of millimeters with our thumb and index finger.
Steel Will Bruiser 500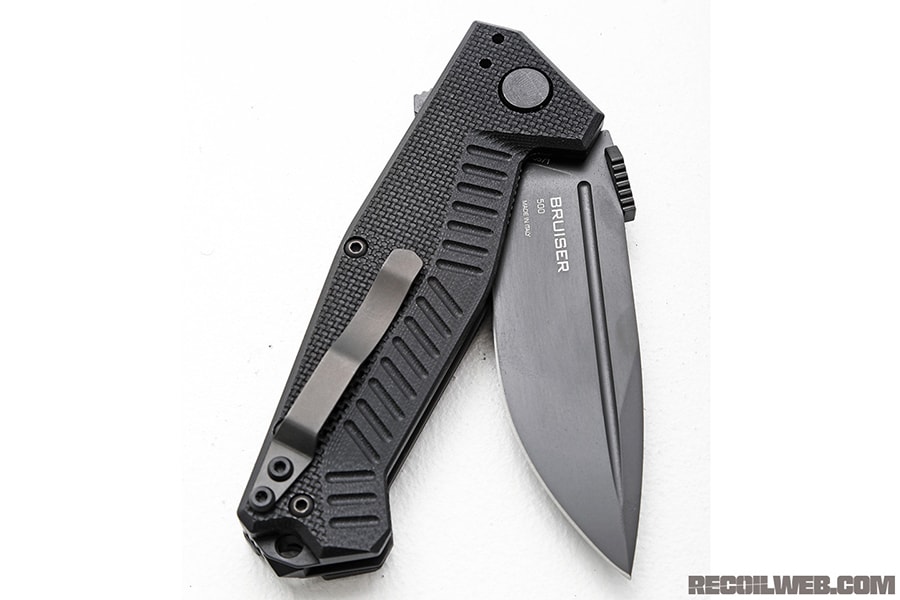 411:
With its distinct lines, aggressive texturing, and thick components, it looks like the kind of knife an assassin droid would use. Conversely, this beefy Bruiser is the kind of knife you'd need to shank said assassin droid should you drop your lightsaber (tsk, tsk). The PVD-coated blade is 0.16-inch thick while the G-10 handle (not counting the pocket clip) is almost ¾-inch thick. Beefy like marbled wagyu. Made in Italy.
Pros:
>Comes with Cordura sheath if you don't want to pocket carry
>Integrated glass-breaker at the bottom of the handle
>Pocket clip can be positioned for tip up or tip down and for both right-handed and left-handed users.
Cons:
>Not the smoothest of openings; requires a wrist flick to generate enough momentum to open via flipper tab.
>Takes up a lot of space and tips the scales at more than a ½ pound.

Ruger All-Cylinders +P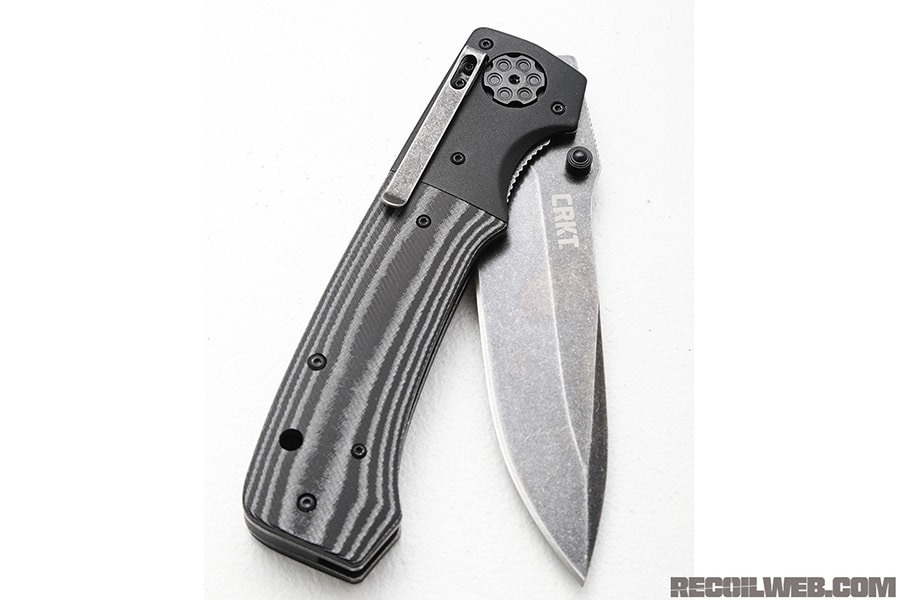 411:
At first glance, we thought this was comically huge, a novelty at best and a clunky space-waster at worst. But after fondling it for some time, we quickly realized that it feels and operates much like its more compact brethren with suitable craftsmanship and good ergonomics. No surprise, though, since it was designed by iconic knife-smith Bill Harsey and manufactured by CRKT.
Pros:
>Despite its Chinese origins, the blade cuts, slices, stabs, and hacks with authority.
>Smooth deployment and tight lockup
>Feels good in hand, thanks to well-shaped G-10 scales
>Inexpensive for the amount of knife you're getting, and that's without searching for cheaper online prices.
Cons:
>Big and heavy; unless you're Brock Lesnar or Steve "Yeti" Fisher, carrying this would be like EDCing a machete.
>Though adjustable for righties and lefties, there are only tip-down pocket clip positions.
Spyderco Tatanka G-10 Black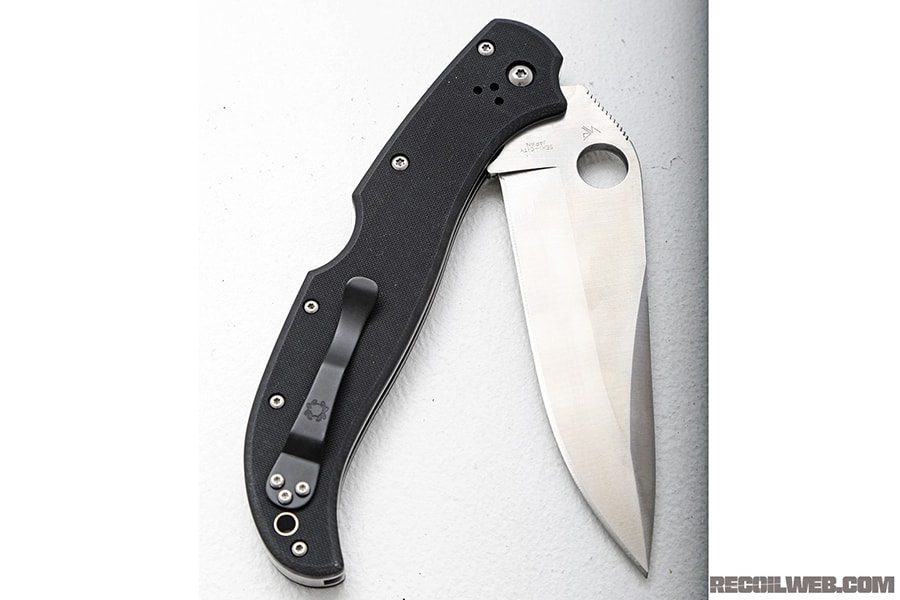 411:
Tatanka isn't just the name of a pro wrestler or the Lakota word for "bull buffalo." It's also the moniker for this big honking knife. It features Spyderco's PowerLock, a souped-up lock-back that applies additional wedging to prevent any accidental closing when it's open. It has a saber profile, but the blade geometry and the handle's finger groove allow for everything from slashing to fine detail work.
Pros:
>Though no longer the flavor of the month, the blade's VG-10 steel still cuts like a laser sword.
>Gargantuan handle with G-10 scales feels surprisingly comfortable in our medium-sized hands.
>Adjustable four-way pocket clip
Cons:
>At nearly a foot long overall, this is getting close to pocket wakizashi territory here. Great for a samurai, not so much for the grayman.
-PV
---
---
Comms Plan
Primary: Subscribe to our newsletter here, get the RSS feed and support us on Patreon right here.
Alternate: Join us on Facebook here or check us out on Instagram here.
Contingency: Exercise your inner perv with us on Tumblr here, follow us on Twitter here or connect on Google + here.
Emergency: Activate firefly, deploy green (or brown) star cluster, get your wank sock out of your ruck and stand by 'til we come get you.
Swinging Dick Approved.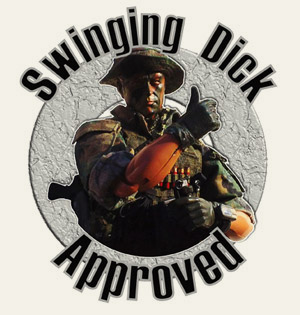 About the Author: Patrick Vuong (pronounced Wong) is the Editor-in-Chief for OFFGRID Magazine, the Senior Editor for RECOIL, a writer for Off-Road Magazine and a former contributing editor and film critic for Black Belt Magazine. Though you'd never know it by his last name, he's Asian (!) and very likely a member of the SOCAL Asian Mafia nominally run by SMG Lee (though we cannot prove it). A prolific writer and longtime student of both hoplology and all things sharp and stabby, Vuong has little patience for lexiphanicism. He wears PIG Alpha tactical gloves to make up for using a sissy Prius type lawnmower during yard work, and may or may not have done some script work for Larry Long and Cinemaview for Naughty Canadian Girlfriends. Vuong is far, far more dangerous than he let's on and is the only man we've ever met who knew the difference between analepsis and anadiplosis, or cared — or didn't assume they were venereal diseases). You can follow him on Instagram if you'd like, @calmbatives. Surprisingly, there's hardly any pictures of food.
Grunts: lexiphanic.
Now we'll play you the song of his people.