Benjamin's "Muscular and Hefty Bulldog"

Named for the courageous breed of dogs that are short and stocky with a pushed in nose, the Benjamin Bulldog is a .357 caliber PCP (pre-charged pneumatic) air rifle. Tom McHale recently wrote an article about it at Airgun Wire.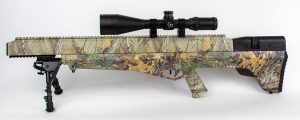 Notice the flattened nose, just like the iconic English canine. Photo credit, Benjamin Big Game Hunter Pack.McHale says,
"This is a seriously fun rifle. I like the caliber choice because it offers big bore performance yet doesn't suck air like a politician on the witness stand."
McHale wrote his review about the Bulldog Big Game Hunters Pack from Crosman. Along with the rifle that comes with a special camo finish, the pack includes a bipod, a 4-16x scope, a box of Nosler .357 Ballistic Tip eXtreme bullets, and a carrying case.
According to Crosman, "Stepping into a Bulldog .357 means stepping out of the traditional world of airguns. Go beyond garden pests and into the realm of predator hunting and wild hogs, whitetail wallhangers and African plains game. Take the leash off what's possible and hunt with a Bulldog".
McHale said,
Shooting the Bulldog is easy. The rotary magazine lifts straight out of the stock when you retract the cocking lever. Just drop five (or fewer) pellets into the spring-loaded magazine and replace it. Feeding was smooth and snag free; I had no hang-ups or jams in the reloading process…Accuracy was peachy with a 1.52-inch group at 50 yards, so I put targets at 100 yards as well.
The Bulldog has big game power.  Take a look at this video of Fred Eichler taking down a hog with his Benjamin Bulldog.
You can read McHale's full review at Airgun Wire.
     Buy your eyepro here, and don't be a dumbass. Use breachbangclear at checkout and save 10%.



---
Declare for Morning Wood!
Come, stroll the awe-inspiring aisles of the Morningwood Bazaar.  Earn the right to wear our sigil and speak our words.
If you wish to cite, syndicate, or curate our material, or if you're wondering about our please be so kind as to read our Terms, Conditions, and Disclosures.
Take heed! We have advertisers, sponsors, and affiliate relationships with some of the companies you will be reading about (particularly, but not limited to, archival posts). If you purchase one of those items, we will get a small commission from the sale at no additional cost to you. A lot of work goes into Breach-Bang-Clear; by making your purchase through one of our portals you'll be supporting our work. This will help us buy beer, bullets, and barbecue, and we won't have to put pop-up ads and other such stupid shit into our articles to pay our expenses.