Ballista Tactical Nautilus Rotating Rail: an Overview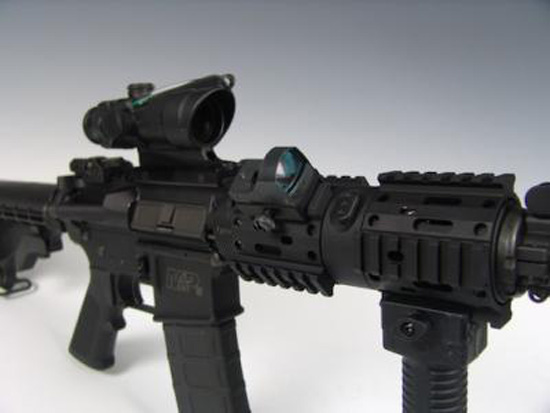 We were asked by some readers to take another look at an interesting product that's been out for a little while now. The Nautilus Rotating Rail (NRR) was designed to address a series of requirements some "specialized users" expressed a need for. One of those was the ability choose which accessories (i.e. laser/light) were arranged for immediate access. This could be a red dot or iron signs off set for back up use or close range shooting when running a magnified optic as your primary. A more interesting idea displayed is to have a low-profile bipod, such as the Atlas at the 3 or 9 o'clock position, and a vertical grip at the 6 o'clock. By rotating the rail, you can use the bipod in the prone and the vertical grip in the standing.
This could be a great feature or it could be a solution looking for a problem, we haven't decided yet.
Per the factory : "The NRR consists of 1 adjustable rail that is comprised of 4 individual Picatinny 1913 rails, which can be rotated 360 degrees, in 45 degree increments, in either direction by depressing the actuating button. It is constructed of aircraft grade, 6061 T6 5011 hard-anodized aluminum. It can be mounted to any AR style platform. This revolutionary design allows the user to have instant access to multiple accessories without the use of tools or the removal of other devices. This shift on the fly technology provides a significant advantage to the user in any sport, tactical or combat situation."
Although we have not used the NRR (this isn't a review), we have had the chance to handle it in person. The jury is still out whether it would have anything more than a niche application and more importantly if will hold up to abuse and/or gritty conditions.
It comes in carbine length, and is very well built. We are surprised how smoothly the rail rotates and how easy it is to engage the recessed buttons to do so. Its our understanding that it is a 100% American made product, which is  always a plus. Check out the specs below, and see if it is the rail for you. Love it or leave it, it's definitely a cool approach to several common problems facing today's shooter. There is also a new variant that has the whole quad rail rotate, instead of just sections.
If you want us to, we'll do a review. In the meantime you can check it out on line here: http://www.ballistatactical.com/
If you've actually used one, please sound off for the benefit of the guys who were asking about it as a possible addition to their loadout.
The new video is certainly better than the ones they used to have and does a far better job of explaining its intended purpose than the previous vapid blonde did (though she did have a nice rack).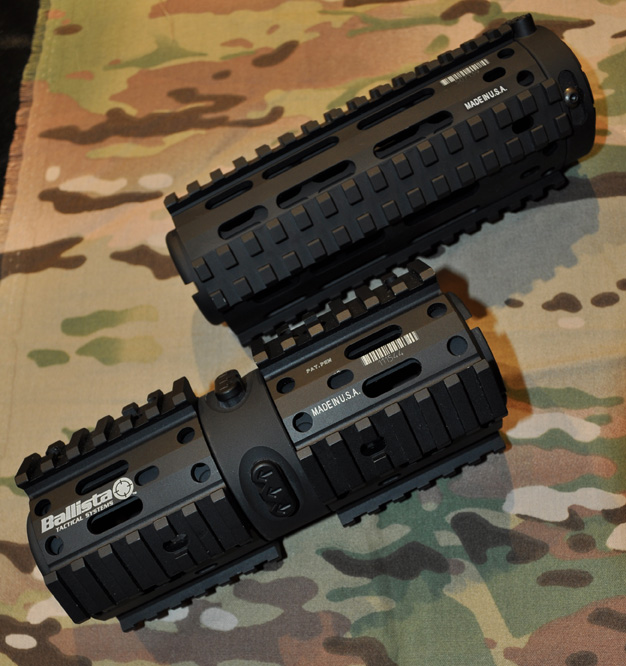 Features include:
• Four individual 1913 Picatinny rails that rotate in 45-degree increments
• Each section can be rotated 360 degrees
• Maintains zero when rotated
• Designed to perform in the worst conditions – including exposure to water, sand & mud
• Fits any carbine length AR style platform * quad rail – single button at 6 o'clock. This model rotates the entire quad rail locking in at 45 degree seamless increments.
http://ballistatactical.com/store/nautilus-rotating-rail-7-quot-single-rail/dp/11
http://kitup.military.com/2012/08/ballista-tactical-systems-rotating.html
What do you think?