Baja 4.5 Reserve Edition | New from TOPS Knives
The designers at TOPS knives, a member of the House Morningwood Tactical Buyers Club, come from all over the tactical spectrum, including military, law enforcement, martial arts, SWAT team members, survivalists, and Native American weapons experts. Every so often the company releases a new knife that we think our readers might want to know about. This newest release is a fixed blade that comes with its own leather sheath. Check out the Baja 4.5.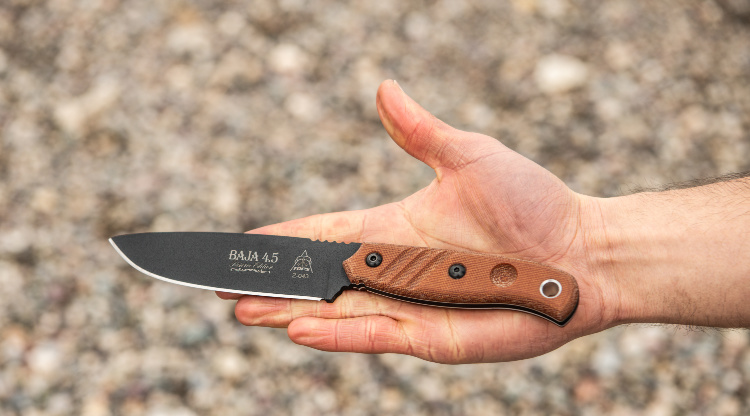 As TOPS describes it:
When TOPS started building knives for bushcraft outside of the tactical knives with a survival flair, black traction coating, and tan canvas Micarta handles were the option on most. As TOPS has continued to be successful in that arena, many colors and finishes have been offered, but the tan and black color combo remain to be one of THE classic looks. Enter the Reserve Edition. Like a prized, single-malt, aged scotch, or a top-shelf cigar, the Baja 4.5 Reserve Edition looks every bit as good as those classics and comes with a quality double-stitched brown leather sheath to complete the look. So nice, you'll want to wear it to your next black-tie affair or maybe just out into the woods. Either way, it'll look great and get the job done.
Unlike TOPS' other models in the 4 to 4.5-inch range, this one is 5/32" thick. That thickness along with a full flat grind gives it strength over 1/8" blades but allows it to maintain superb cutting capabilities since it's slightly thinner than 3/16". Our professional heat treat gives a long-lasting edge that is easy to re-sharpen once it is eventually needed. The jimping on the spine and along the finger guard is ideal for a solid grip in hard use or slippery conditions. Due to the thinner blade, it gives you better precision and greater range from making delicate cuts to cutting thick branches with ease.
Baja 4.5 Reserve Edition Specs
Overall Length: 9.25"
Blade Length: 4.88"
Cutting Edge: 4.5"
Blade

Thickness: 0.16"
Steel: 1095 RC 56-58
Finish: Black Traction

Handle Material: Tan Canvas Micarta
Knife Weight: 6.4oz
Weight w/ Sheath: 12.2oz
Sheath Material: Brown Leather
Sheath Clip: Belt Loop
Designer: TOPS Team
MSRP: $180.00
TOPS Knives: see everything we've written about 'em.
Enjoy Breach-Bang-Clear? How about doing us a solid. Back us by joining Great House Morningwood – you'll get stupid awesome rewards for it.