B5 Systems KeyMod Handguards
B5 Systems KeyMod Hand Guards
News Desk
Way back when in 2014, we welcomed B5 Systems into our JTF Awesome Team*—check out the link here. There we highlighted two of their buttstocks, the Bravo Stock and the Enhanced SOPMOD Stock.
We've talked about 'em frequently since then, and many of our team use B5 stocks. Today, we want to make sure you're aware of their line of handguards: the B5 KeyMod handguard, carbine and mid length.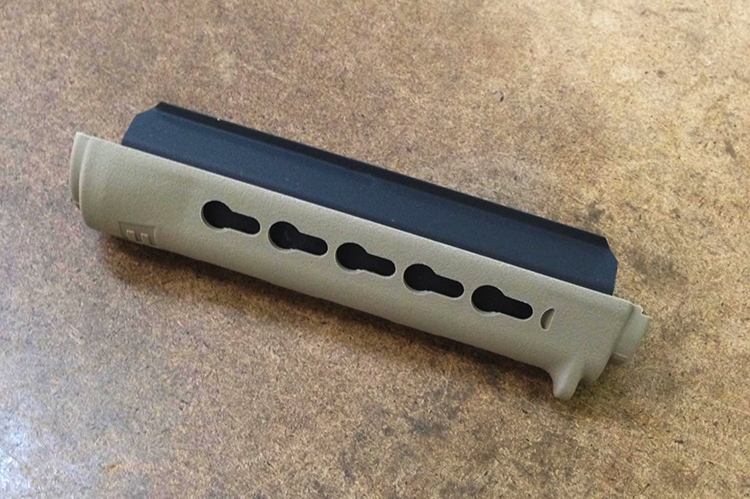 *Typically means Joint Task Force, can also in this instance stand for Just That Fucking.
B5 Systems advertises both handguards as being one of the narrowest drop-in systems available, giving you a stronger grip for control. And (something many fumble-fingered types will be excited to hear), the ability to add other accessories without removing the handguards. This is thanks to the rail slot placement on the top, bottom, and sides.
Taking a handguard off is a pain in the ass. You can say it isn't, but it is, and you know it.
Both Feature:
Top and bottom slots are compatible with most non-KeyMod accessories
Durable composite construction
Built-in stamped metal heat shield
Fits both round and triangle handguard caps
Mid Length Specs
Length: 8.64″ 
Width: 1.75″
Product Weight: 5oz
Carbine Length Specs
Length: 6.61″ 
Width: 1.75″
Product Weight: 3.9oz
Both handguards come in several colors, including Black, Foliage Green, OD Green, Flat Dark Earth, Coyote Brown and Wolf Grey. You can purchase their handguards along with any of their other products at a variety of retailers listed here.
Though many shooters don't know it, B5 Systems products are everywhere, on innumerable weapon systems. Find them online at B5Systems.com to learn more.  is a member of JTF Awesome. Follow them on Instagram, @b5systems, or find them on Facebook/B5Systems/.
One last thing: be sure to check out the B5 Grip Stock.

     
     breachbangclear = 10% off your purchase
     breachbangforce = 15% off Blue Force Gear
     bbcshipfree = flat rate shipping on $99>orders
     breachbangkuhl = 20% off Kuhl products
 Some hyperlinks in this article may contain affiliate links. If you use them to make a purchase, we will receive a small commission at no additional cost to you. It's just one way to Back the Bang. #backthebang