Attack of the Zombie Hippies SITREP
ALCON:
The Attack of the Zombie Hippies anthology is nearing completion, and we have to tell you. We received waaaay more response than we ever expected (which is why it's taken longer than anticipated to get the project off the ground). Our cover is being completed by Righteous Duke of Righteous Duke Designs and we're finalizing the edit of over a hundred thousand words of fiction. Numerous authors stepped up to the plate to help raise money for the Independence Fund, a surprising number of them former or current military and tactical personnel (and all of them good writers): Arthur Lowther, Justin Mullins, Jade Badwound, Daniel Davis, Justin Lamb and many others (no offense if you're not named, there are a lot of you).
Among the 10 writers of our non-fiction articles, who are contributing to the project in order to help prepare you for the real zombiepocalypse even while you enjoy reading fiction about it, are:
Pat Cascio, knife and gun writer of two decades, former student and friend of Rex Applegate and student of late Grand Master, John McSweeney has written for American Survival Guide, Handguns, Gun World, American Handgunner, Guns and Ammo, Knives Illustrated and now—The Attack of the Zombie Hippies.
Rob Pincus, host of SWAT Magazine TV, host of the Personal Defense Network, former law enforcement and SWAT officer and well-recognized trainer has taken a little time from writing, television production and tactical instruction to put together an important treatise on why we train for an Attack of the Zombie Hippies.
Michael Turley (CSM Retired) has written a little something on how to prepare your platoon or your team for the Attack of the Zombie Hippies. CSM (Ret) Turley leverages 25 years of tactical, operational and strategic experience as a lifetime infantryman, drill sergeant, Command Sergeant Major, Operations Sergeant Major Senior Military Operations Analyst on Counter IED operations to help you prepare your platoon, squad or tactical team for the zombiepocalypse.
Dave Merrill of MilCopp Tactical is a former Marine Corps foreign weapons, patrolling, MOUT and CQB instructor who used to teach Iraqi SF and other coalition troops.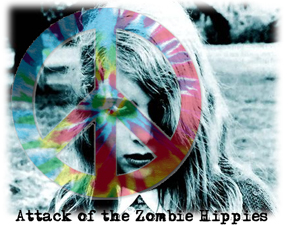 He now teaches civilians, LE personnel, military and high risk contractors, writes frequently on several fighting blogs and has taken a few moments to help you prepare your carbine for the Attack of the Zombie Hippies. In addition to helping you ready your battle rattle and weaponry for the impending zombiepocalypse he has, for your edification (and decreased piece of mind) provided a gritty fictional example of how the zombiepocalyptic battles will no doubt go.
Daniel Clermont reached out to the Attack of the Zombie Hippies project from the vast wilderness of Saskatchwan, Canada. You may have read his material in Tactical Weapons Magazine, Faith Today and other magazines, or in several on line venues. Like Dave Merrill, he will be helping prepare you for the zombiepocalypse and entertaining you with quality action-packed fiction.
Rick Lopez, a thirty+ year veteran of law enforcement (over 20 of them in SWAT) took a few minutes away from teaching Jake Gyllenhaal and Michael Peña to shoot and act like cops for End of Watch, as well as his occasional guest appearances on the History Channel and on numerous LA area police ranges to contribute some of his accumulated tactical wisdom to your zombiepocalypse preparations.
You can also look forward to reading material from Christian Lowe, former Politico writer and award-winning Chief Editor of Military.com, Eric Graves, editor of Soldier Systems Daily and contributor to Battle Rattle: the Stuff a Soldier Carries and author of Lightening the Soldiers Load, and Jack Murphy, a former SF soldier Kit Up! contributor and author of Reflexive Fire and PROMIS: Rhodesia.
Kit Up! contributor Jack Murphy is a former Ranger, Special Forces Soldier and is the author of the new military thriller PROMIS: Rhodesia. There are a few other fiction and non-fiction writers you may recognize but cannot be named because they are (at the moment) running lamentably late on their final drafts.
Let us also make it clear, the artwork from Righteous Duke, by the way, is effing awesome.
The Attack of the Zombie Hippies mixed anthology will be available on Kindle and Nook. You can count on good, solid tactically accurate articles and technically accurate shoot-em-up action stories with grit and a sense of humor.
Stay tuned for further SITREPs.
STAND TO!