Atibal Releases XP 6 Mirage 1-6 x 24 Optic
Atibal Releases XP 6 Mirage 1-6 x 24 Optic
Freddy Osuna, for the News Desk
Atibal Sights, an optics company headquartered in Surprise, Arizona, has announced the release of the XP6 Mirage. The Mirage is a 1-6 x 24 variable (intermediate to short range) First Focal Plane scope. Many of us here are raising our eyebrows at the specs and features of the optic when compared to the price point — $389.99. If the clarity and durability are there, this optic may well be hitting a quality-meets-price sweet spot.1 If it does, it will definitely be ringing steel for Two Gun Action and Three Gun shooters, as well as hunters looking for a new red dot or scope for Christmas. 
Features for the XP6 include a First Focal Plane BDC (Bullet Drop Compensator) illuminated reticle, which you're going to be hard pressed to find at this price point. Atibal's integrated rapid view lever (included) should offer quick target acquisition at differing ranges, thus allowing a shooter to serve targets from all up in their grill to playing shy at hundreds of yards away. The manufacturer says the optic and its reticle were designed for "everything from your AR to your bolt action rifle."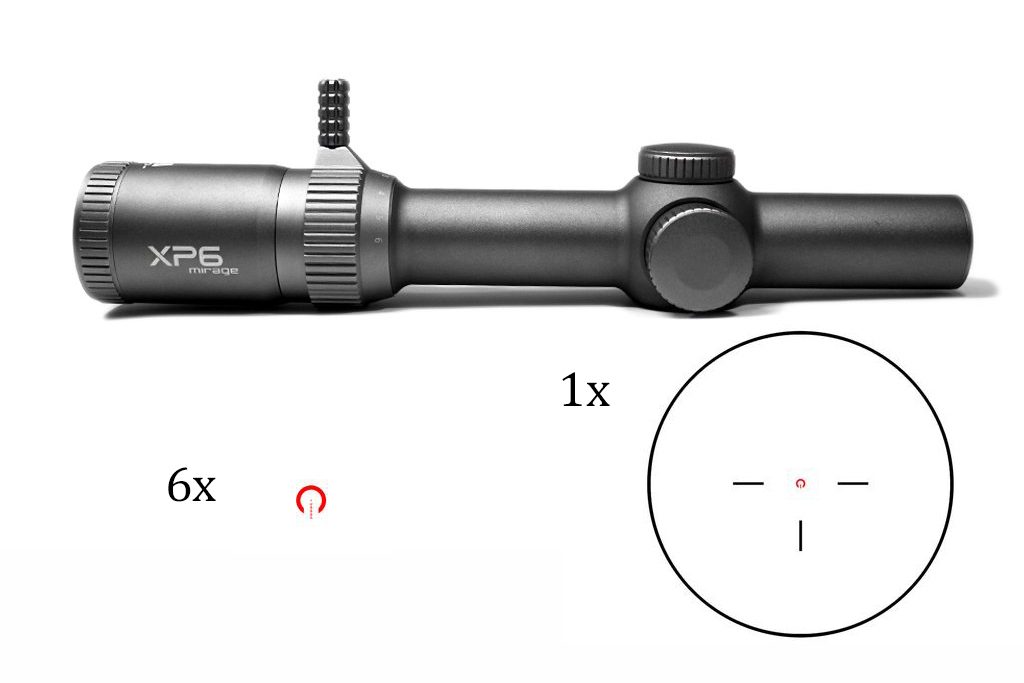 That reticle itself is a new feature, designed, Atibal says, for a variety of uses. As they describe it, "…we sought out the expertise of numerous 3-gun competition shooters and serious hunters to ensure the reticle fit the needs of both worlds."
Specs are:
•Magnification: 1-6x
•Objective Lens Diameter: 24mm
•Eye Relief: 4 inches
•Field of View: 116.5-19.3 ft
•Tube Size: 30 mm
•Turret Style: low profile capped
•Adjustment Per Click: 1/2 MOA
•Max Elevation Adjustment: 60 MOA
•Max Windage Adjustment: 60 MOA
•Weight: 18 ounces with no mount
•Length: 10.5 inches
•Made of 6061-T6 aircraft grade aluminum
Additional Features:
• Lifetime Warranty
• Front Focal Plane (FFP)
• Extra battery compartment in windage cap
• 1MOA center dot with BDC with 2MOA drop
• Eleven Brightness Settings
• Fully multi-coated lens providing no less than 85% light transmission
• Low profile turrets for windage and elevation adjustment
• Waterproof
• Shockproof
• Fogproof
You can learn more here on the Mirage page of the Atibal website. They're on Instagram, @atibalsights, and on Facebook: /AtibalSights/. FYSA, some of their other products are also available on Amazon.
Not sure about the First Focal Plane or Second Focal Plane decision, or why it's significant? NRA's American Hunter offered an opinion earlier this summer. You can read that here:
First Focal Plane or Second Focal Plane?
There is another one (always look for multiple perspectives on a subject) on Outdoor Hub here:
If you're unsure about BDCs, try this article on Lucky Gunner:
The Straight Dope on BDC Scopes
Or, take a look at this one on Outdoor Life.
Magnification Power Matters- Bullet Drop Compensating Scopes
Good hunting!
FO
1We say if because we haven't put this optic to use or tested ourselves. This isn't a recommendation, this is us just letting you know the new Atibal is available – this new Mirage could be superb…or it might not. After all, someone once thought the Dardick Model 1500 was a great idea. As with any piece of equipment your life might depend on, do your research.
Support Made in Trexico (@madeintrexico) — they are a part of JTF Awesome.

Providing Rare, Odd, and Unique items to free thinking, red-blooded Americans.
---
Sign up for the newsletter, ya jackwagons. Lots of discounts for our readers in it — and never any dick pics.
---
If you wish to share or repost, please so kind as to follow our terms and conditions.
Mad Duo, Breach-Bang& CLEAR!
Comms Plan
Primary: Subscribe to the Breach-Bang-Clear newsletter here; you can also support us on Patreon and find us on Pinterest.
Alternate: Join us on Facebook here or check us out on Instagram here.
Contingency: Exercise your inner perv with us on Tumblr here, follow us on Twitter here or connect on Google + here.
Emergency: Activate firefly, deploy green (or brown) star cluster, get your wank sock out of your ruck and stand by 'til we come get you.
T&C: All original material published by Breach-Bang-Clear is the copywritten property of Breach-Bang-Clear, Inc. If you wish to repost, republish, or otherwise share our content, feel free to reproduce an extract of up to 225 words and one complete, unaltered image, preceded by attribution crediting the source and author's name, to include a link to the Breach-Bang-Clear home page, with a link back to the full article on our website, BreachBangClear.com. You do not require our permission to do this. Please do not reproduce our content in its entirety without contacting us first. We do allow full syndication on a case by case basis (credited, and posted with a canonical link, as is common practice and in good form) but only when mutually agreed upon beforehand. If you wish to reproduce a complete article, please contact us for permission to publish first.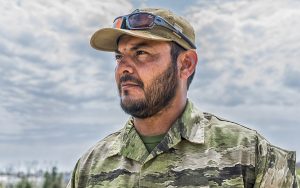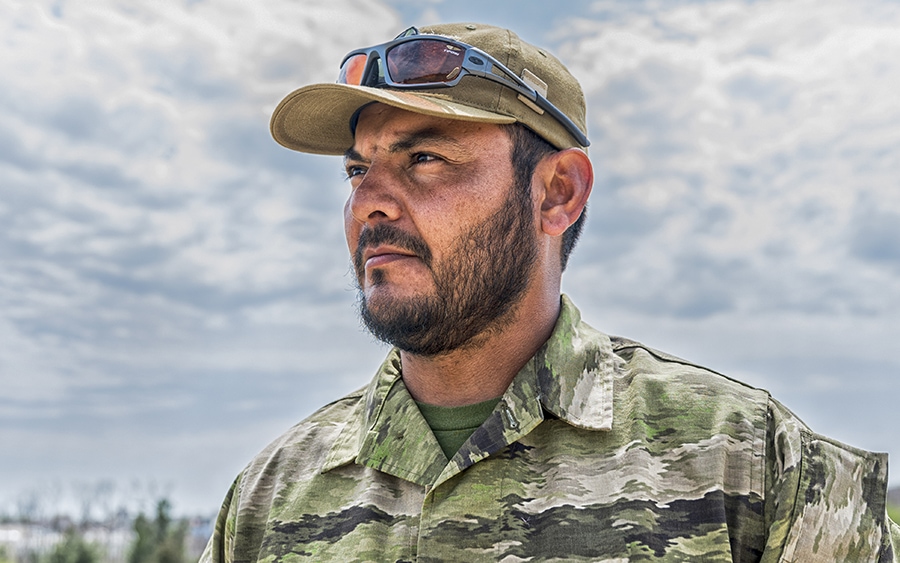 About the author: Freddy Osuna is a warrior philosopher who has been involved in tracking nearly his entire life. A member of the Pascua Yaqui tribe of the desert Southwest and a former Marine Scout Sniper, he's the author of Index Tracking: Essential Guide to Trailing Man and Beast, and the guy who developed the green laser tracking concept now called GLINT (Green Laser Index Night Tracking) and the Battlefield Tactical Acuity Course/BTAC. His knowledge is based on a foundation of real-world deployments and formal Combat Tracking instructor experience with U.S. and allied militaries, federal, state, and municipal law enforcement entities. He's using a different approach to reaching sensory awareness and visual tracking, harnessing his Native American and Marine Corps culture to fuse field craft and technology and deliver holistic, scientific based lessons steeped in the North American tracker lineage — and believe us, there is a helluva lineage.
Freddy has worked as a Footwear & Tire Impression Collection & Examination Expert for the U.S. Army Weapons Intelligence Course 2015, a lead instructor for the U.S. Army Combat Tracker Course at Ft. Huachuca, AZ 2008-2010, and as the 2nd MARDIV School of Infantry East/Combat Hunter Course, Combat Tracking SME 2013-2014. Formerly an infantry squad leader, his last military billet was as Staff NCOIC, 1st Marine MTU (where he was awarded a Gold Star for his Navy Achievement Medal in lieu of second device for innovative training techniques. His unique course offerings include "Weaponize the Senses", Green Laser Index Night Tracking (GLINT), Index Tracking, Grayside Hunter, and the Battlefield Tactical Acuity Course (BTAC).
If you're interested you should check them out on the web or Facebook.
Sometimes Freddy smiles.