A while back we wrote about reported issues with Arsenal Democracy. We've received dozens of emails from unsatisfied customers and others waiting for any updates.  Just the other day we came across this on an internet forum. NOTE: SEE NEW EDIT AT THE END OF THE ARTICLE.
After speaking with the customer service rep at Arsenal Democracy last march I was told that they dramatically expanded their capacity and that all orders were shipping in 12 weeks. Wanting to support a veteran owned business I ordered a rifle and paid. In June all communications stopped. Nothing. I ended up getting my money refunded via the bank/credit card company. Last week, David, one of the original founders, contacted me. He informed that the CEO disappeared and that the company was left in a shambles. He assured me that the board got together and all orders would be filled and communication would resume at normal levels. This has since been posted on their facebook page. It appears that the CEO will be prosecuted.

So if any of you are waiting for rifles… It looks like things will come together and you will be able to get your money back or your rifle.

…

Public information: The CEO was James Pechi.
On their Facebook Page, Arsenal Democracy says the following: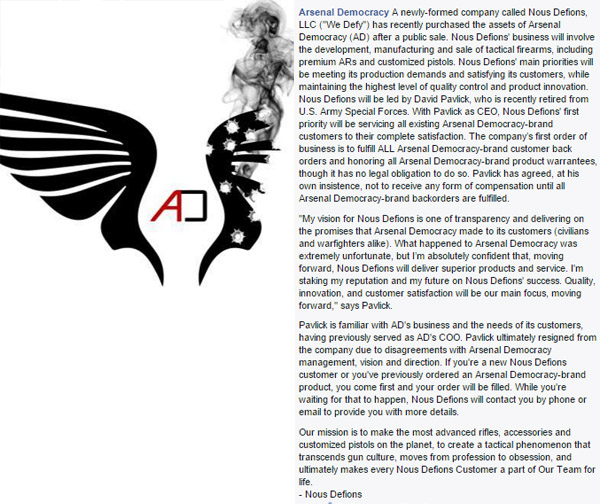 If your vision is bad:
"A newly-formed company called Nous Defions, LLC ("We Defy") has recently purchased the assets of Arsenal Democracy (AD) after a public sale. Nous Defions' business will involve the development, manufacturing and sale of tactical firearms, including premium ARs and customized pistols. Nous Defions' main priorities will be meeting its production demands and satisfying its customers, while maintaining the highest level of quality control and product innovation. Nous Defions will be led by David Pavlick, who is recently retired from U.S. Army Special Forces. With Pavlick as CEO, Nous Defions' first priority will be servicing all existing Arsenal Democracy-brand customers to their complete satisfaction. The company's first order of business is to fulfill ALL Arsenal Democracy-brand customer back orders and honoring all Arsenal Democracy-brand product warrantees, though it has no legal obligation to do so. Pavlick has agreed, at his own insistence, not to receive any form of compensation until all Arsenal Democracy-brand backorders are fulfilled.

"My vision for Nous Defions is one of transparency and delivering on the promises that Arsenal Democracy made to its customers (civilians and warfighters alike). What happened to Arsenal Democracy was extremely unfortunate, but I'm absolutely confident that, moving forward, Nous Defions will deliver superior products and service. I'm staking my reputation and my future on Nous Defions' success. Quality, innovation, and customer satisfaction will be our main focus, moving forward," says Pavlick.

Pavlick is familiar with AD's business and the needs of its customers, having previously served as AD's COO. Pavlick ultimately resigned from the company due to disagreements with Arsenal Democracy management, vision and direction. If you're a new Nous Defions customer or you've previously ordered an Arsenal Democracy-brand product, you come first and your order will be filled. While you're waiting for that to happen, Nous Defions will contact you by phone or email to provide you with more details.

Our mission is to make the most advanced rifles, accessories and customized pistols on the planet, to create a tactical phenomenon that transcends gun culture, moves from profession to obsession, and ultimately makes every Nous Defions Customer a part of Our Team for life.

– Nous Defions"
While we have no confirmation of any CEO running off (it should be treated as hearsay at this point) it does appear that the new Arsenal Democracy (which is now Nous Defions) is doing their best to address any issues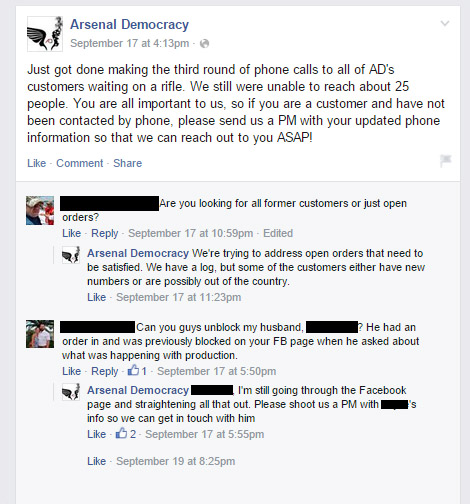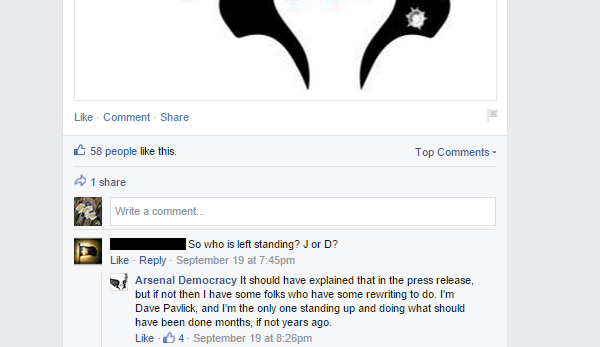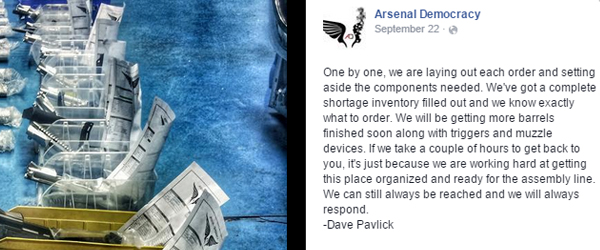 EDIT: In answer to a completely justified complaint on our Facebook page regarding this, we posted the following answer. We make no excuses, just want you to know what's going on with the response we've been intending to write for months.

We'll be staying tuned.
Mad Duo, Breach-Bang& CLEAR!
Comms Plan
Primary: Subscribe to our newsletter here, get the RSS feed and support us on Patreon right here.
Alternate: Join us on Facebook here or check us out on Instagram here.
Contingency: Exercise your inner perv with us on Tumblr here, follow us on Twitter here or connect on Google + here.
Emergency: Activate firefly, deploy green (or brown) star cluster, get your wank sock out of your ruck and stand by 'til we come get you.