Looking to get your swag on? Ares Gear, named for co-founders Jake Sebens and Ares the God of War, has some pretty sweet Zippos (and only hippies and people who think Hillary would look hot in a camisole don't like Zippos). Ares Gear Zippos start at $25.99, so the average pyro will find them well within budget. Made of high-quality materials and Zippo's windproof design, this beast of a lighter should survive just about any abuse most of you would put it through.
You can get 'em engraved with your choice of a quote on the backside, either:
"Always do right. This will gratify some people and astonish the rest." -Mark Twain
or
"Be thankful we're not getting all the government we paid for." -Will Rogers.
Both have the Ares Gear logo (a stylized version of a Sebens skull ex-ray) engraved on the front.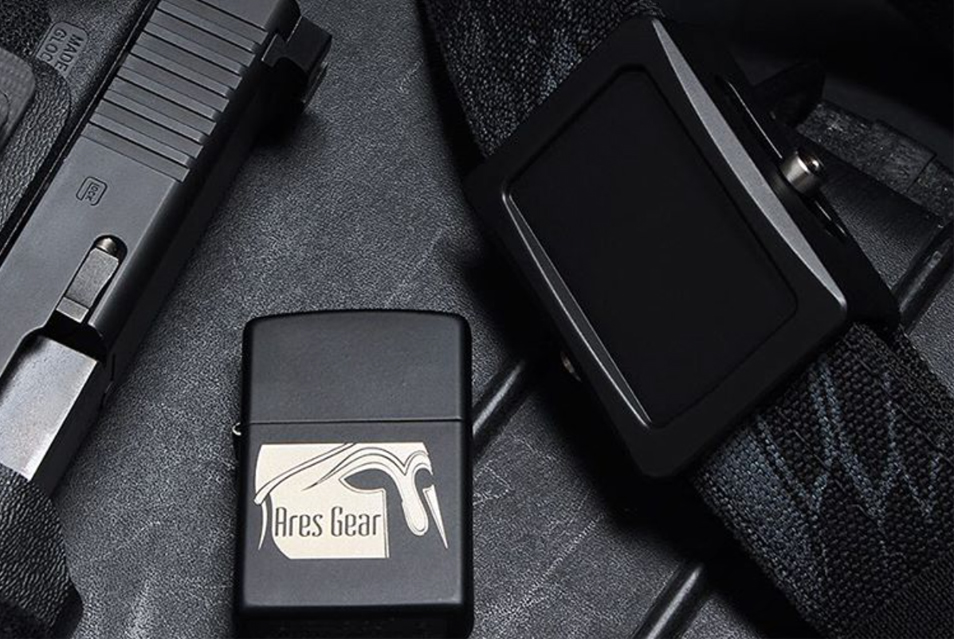 These Zippos come with your choice of three Thunderbird inserts. The "G" model produces a soft yellow flame, the "P" model is a pipe lighter, and the "2T" is for those who feel one flame simply is not enough. Let it be known, these Thunderbird inserts are in addition to the standard Zippo insert they stuff in these bad boys.
You heard us right, two inserts one lighter.
Here's what Ares Gear tells yours truly about 'em.
This Black Matte lighter from Zippo is a uniquely American solution to the problem of a durable, classy everyday lighter. Made from high-quality materials, it's built to last a lifetime. When you run out, simply refill the fuel. The time-tested windproof design means you can light up in nearly any weather conditions, and flints are easily replaceable. Because this is not an Ares Gear product, and because the manufacturer has such a great warranty policy for consumers, there are no returns to Ares Gear on this item.
The front of the lighter case bears the Ares Gear logo, and the back bears whichever engraving option you select from the dropdown box below.

Also available are butane inserts; the "G" model is for a regular soft yellow flame, the "P" model is for a pipe lighter, and the "2T" model is for a double jet flame. If you choose one of these inserts, you will receive it IN ADDITION TO the standard Zippo insert.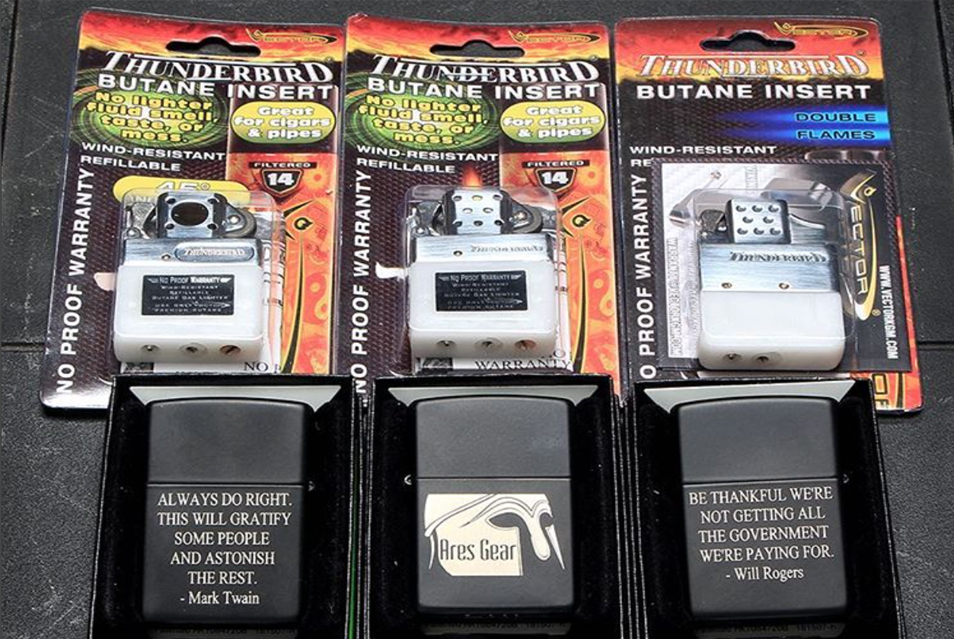 All lighters and inserts are shipped without fuel due to postal regulations.
Says whatever homeless guy Jake talked into doing their Instagram, "These @originalzippo lighters are FLYING off the shelves; we may sell out before our next shipment arrives. Have you checked them out yet? Look on our website under 'Morale/Swag."