ALCON – Support Opn Chamberlain Beard: do good, win loot
Immigration is a trending topic, from undocumented immigrants illegal aliens to immigration reform. As our opinion on that is varied and complex, we'll just take a moment here to offer you the chance to do something good for someone who is trying to do it right (and possibly win some serious loot at the same time).
Scott Chamberlain is part of the crew at SAR Global Tools and a member of the Tactical Beard Owners Club. They are currently in the process of running a huge fundraiser for Chamberlain (and his prodigious beard). Monies brought in will be used to hire an immigration attorney and pay necessary fees to help him stay here in the US (as opposed to having to return to Australia).
Initial estimates of prizes donated for the fundraiser were over $10,000, but that seems like it's a pretty conservative estimate if you look at everything that's been donated by the community.  It would be hard to pick which prize is the greatest, so we'll just list a few of them here (with no disrespect intended to anyone else who donated anything).
SAR Global Tools Hornet XL knife in bowie profile with lightning strike carbon fiber handles similar to the one below.
Cashion (Blood Trail Bow) handmade custom recurve bow with arrows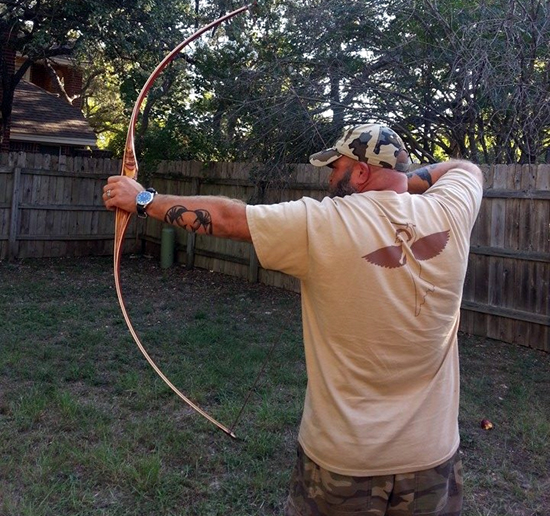 SEAMOK "skullduster" walking stick (cedar with maple and rosewood ball with blackgum twine wrap, 39in. tall, similar to one of these:)
Other prizes include a Heritage Manufacturing nickel plated .357 Magnum, mint in the box, Artificum Solis "Dirty Girl" knife, Muzzle Shot glasses, a brick of .22 Gemtech ammunition from Acme Armament, $400 worth of custom custom gun work from Valkyrie Combat and several others. The list is growing daily. If you want to donate, send funds to Paypal address sarglobaltool(at)gmail.com – $50 donations or more will get your name into a WWII helmet for prize drawings. Names will be drawn on Thanksgiving Day by Spencer Reiter's daughter (and it will be videoed).
For further information on other prizes and the individuals and companies providing them, check out this Facebook event.