Aguila Ammunition Brings Bulk 5.56 Rifle Ammo To The Market

In their continuing effort to meet the needs of shooters, Aguila Ammunition now offers bulk packaging for their 5.56 caliber ammo.
"If there is a way to meet the needs of our customers, we try to do exactly that," says John Domolky, Director of Sales for TxAT. "For the shooting sports enthusiast, it's important to stock up on ammunition. Buying in bulk tends to be more convenient."
The 5.56×45 Full Metal Jacket Boat Tail is a 3.56 gram, 55-grain round. The new 300-round bulk package has an MSRP of $119.99. In addition, Aguila will continue to offer its 50-round box configuration of the 5.56×45 62-grain product that is currently on the market.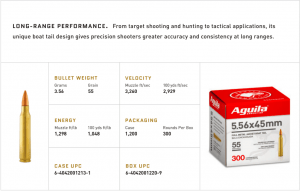 "Right now, you can expect to find our bulk packaging at Academy, Brownell's, Sportsman's Warehouse, Turner's Outdoorsman, Atwood's Farm & Ranch, Midway USA and many other retailers that carry the Aguila Ammunition product line," continues Domolky. "We plan to expand the bulk packaging to other products in the near future."
The 5.56 round is the perfect ammunition for long-range performance with a velocity of 3260 FPS and is designed for 24" length barrels. From target shooting and hunting to tactical applications, its unique boat tail design gives precision shooters greater accuracy and consistency.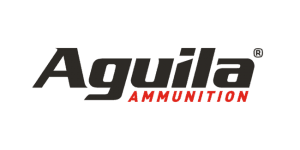 Brownells (@brownellsinc) is online, obviously, but they also have their own Prime Tactical section; if you're impatient, as those of us here at Breach-Bang-Clear HQ so often are, then check out the Amazon Outfitters Brownells Aisle. 

Is reading Breach-Bang-Clear worth at least $1 month to you? That's not even a lapdance! Consider backing us!
What is Patreon? It's a crowdfunding platform. Breach-Bang-Clear readers pledge from $1 to $50 a month to "House Morningwood" (our Game of Thrones house, complete with sigil!), to help us with expenses. We, in turn, give our supporters unique content, membership to a closed discussion group, and access to the "Morningwood Bazaar", which is basically helluva lot of unique discount codes (up to 60%) to numerous manufacturers and retailers. "Bend the knee" to House Morningwood and help us cover costs. Rise Before Dawn! 
If you wish to cite, syndicate, or curate our material, or if you're wondering about our please be so kind as to read our Terms, Conditions, and Disclosures.
Take heed! We have advertisers, sponsors, and affiliate relationships with some of the companies you will be reading about (particularly, but not limited to, archival posts). If you purchase one of those items, we will get a small commission from the sale at no additional cost to you. A lot of work goes into Breach-Bang-Clear; by making your purchase through one of our portals you'll be supporting our work. This will help us buy beer, bullets, and barbecue, and we won't have to put pop-up ads and other such stupid shit into our articles to pay our expenses.