Afghanistan's "DELTA": APU
Less well known than ANSF "special forces commandos" are the soldiers of the APU. Apparently the APU is or has been operating with JSOC Special Mission Units in Afghanistan.
This is an interesting video from Kuchi Films Afghanistan (great name eh?). We'll let you guys watch and see what you think, but these guys do not look like buffoons or the typical fucktarded Afghan soldier to us. This isn't a huge surprise, since one of our friends actually worked with them (the APU) last year and says they're "hard as woodpecker lips." The APU (Afghanistan Partner Unit) are not the same thing as the Afghan Special Forces, who are analagous to our Green Berets (grunts: analagous). Admiral McRaven described them as the "…Afghan commandos, which are trained by U.S. Army Special Forces personnel, and they are clearly some of the elite Afghan forces. They are magnificent soldiers." The next step up, according to McRaven, are the APU. He says,
These were the Afghans that went on target with the JSOC forces forward to ensure that we had an Afghan that was, if you will, going through the door first…
ALCON: Let no butt tears flow. We are not comparing these guys man for man to Delta operators; we're talking about their position in the ANSF SOF hierarchy. Calm yourself.
They do appear to be serious about the job (and damn those Ghostex uniforms are sexy.) It's nice to see some Afghans who don't appear to need herding like cats (which isn't meant to impugn all Afghan soldiers – some of those boys are dedicated and skilled, and many of them have been killed).
Watch the Kuchi Films video here: http://www.youtube.com/watch?v=-btyZT9VV94 (and hat tip to Soldier Systems Daily for turning us on to it.)
The video below is about two years old. It would be interesting to know if any of the Afghans in the Kuchi video (snicker) are the same as the ones from last year's. More on them here.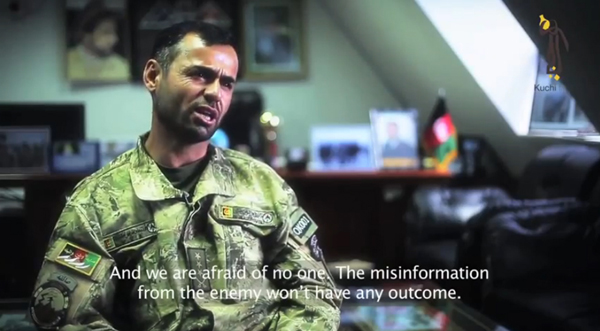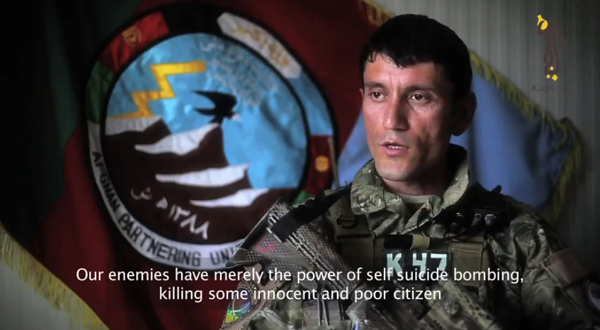 Mad Duo, Breach Bang & CLEAR!