Two Key Phrases to Keep in Mind During Active Killer Situations
Two Key Phrases to Keep in Mind During Active Killer Situations
Mobile Threats and Active Shooters Generate A Special Kind of Chaos
Trevor Thrasher, Senior Instructor & COO 88 Tactical
Dealing with an active threat or active killer is one of the most dangerous things an armed citizen or off-duty officer can do. By nature, these situations involve imminent threats mixed with a large number of innocents in a vary chaotic environment. Misidentification of a good guy is highly likely. These are not typical tactical situations, and in order to be successful you'll need to avoid both being misidentified and misidentifying others.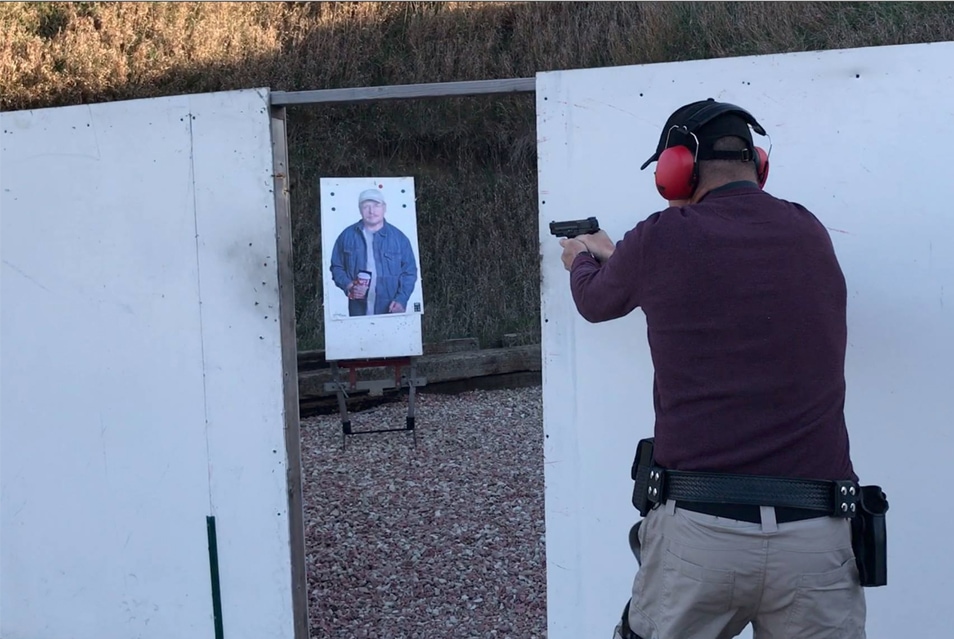 In our civilian or off-duty/plain clothes courses, we heavily emphasize two key phrases that students are required to repeat.
Phrase 1: "No one knows you're the good guy."
Police officers are sometimes the worst offenders, especially if they don't work undercover or in plain clothes. Every day they put on a uniform and a badge and—BLM exempted—expect that other people and other officers will nearly automatically identify them as the good guy. The truth is that no one will know who you are. If shots are fired, people will be panicked or at least very amped up, and the police will be looking to rapidly engage a gunman. That is a terrible time to be seen in plain clothes with a gun in your hand.
To mitigate this, we teach several carry and ready positions that range from the standard overt low and high ready positions to covert ready and carry positions. Our standard response is to avoid the overt positions unless you have an identified threat or stimulus of a threat right in front of you. For general movement, we either have students keep their hand on their gun in the holster (partially obscured by their clothing), or keep their gun tucked next to their bodies in a covert ready, which obscures the gun with their free hand over the top. Some call this the "Sentry" or overwrap position, although Gabe Suarez calls it the "Protected sul." From this position, you can draw and shoot fairly quickly without being seen as an obvious potential threat.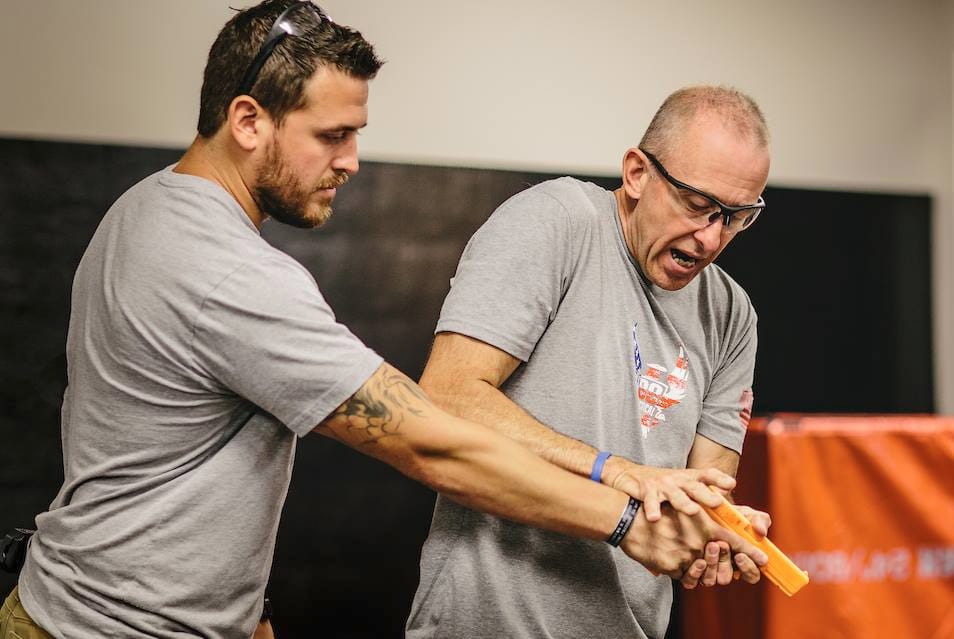 When clearing doorways, corners, etc., we do our absolute best to avoid leading with the gun and eye. This is the exact opposite of most CQB training, unless you are nearly 100% certain you need to shoot someone right then and there. In our force on force and interactive classes, nothing will get you shot quicker than coming around a corner gun first after shots have already been fired. It doesn't really matter if you're in uniform, have a badge, or even have a tactical vest with "police" emblazoned clearly on the front. People in "fight or flight" mode will target lock on the gun. Cornering therefore looks more like a series of quick peeks with the gun coming up or out of the grip-in-holster position once a threat is identified.
At any time, especially after shooting a bad guy in a crowd of probably stunned onlookers, or when moving towards harm's way, it's good idea to de-conflict with others and let them know to the best of your ability that you are, in fact, the good guy.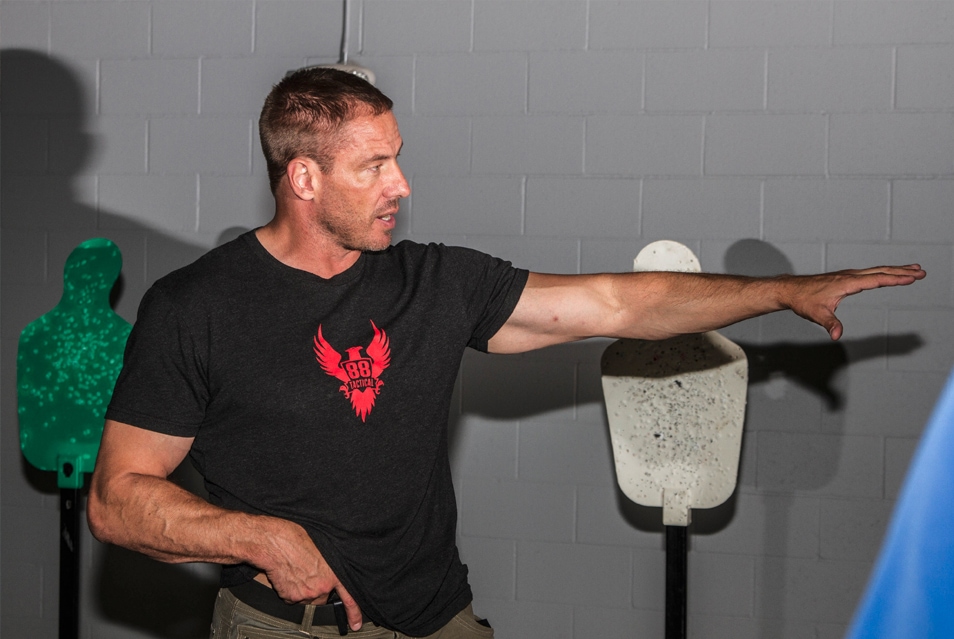 We use the key words: show, tell, give, do.
SHOW them you are not a threat through your posture and actions. Basically, get your gun down and keep your hands open and up in the universal gesture of "I am not a threat." This position alone will build a bit of hesitation into the actions of arriving police or other armed citizens. Gun down; hand up.
Next, TELL them you're the good guy. What exactly you say is up to you based on your situation. You can say, "It's okay, I'm the good guy," or "I'm security," or "I'm legally armed," or whatever makes it clear you mean no harm. This should at least calm the situation for a moment. Then look for the calmest person and ask them to call 911 for you.
Otherwise, GIVE them something productive to do. Reinforce the barricade, secure the bad guy, etc. While they're doing so, you make sure the threat is down, look for the next threat, and find a position of advantage. Part of the de-confliction will be relaying your exact location, exact description, and fact that you are armed to arriving police. This may or may not occur before they get to you.
Anticipate the arrival of law enforcement and carefully DO exactly what they tell you to do. Ideally, you'll see them coming so you can avoid any surprise. If you do see them coming, you should put the gun away to the degree that your situation allows (primarily we suggest holstering it with it concealed), and stand in a non-aggressive posture with your hands up, open and empty.
Phrase 2: "Not everyone with a gun is a threat."
This is working the first phrase in reverse. In a country rich with armed citizens who carry concealed and federal law allowing off-duty and retired officers to carry, there could be any number of people present with a gun who are trying to do good. In our courses, we try to force encounters between armed concealed carriers who are unknown to each other, because it nearly always creates confusion and leads to some interesting conclusions. How do you really know who you're dealing with?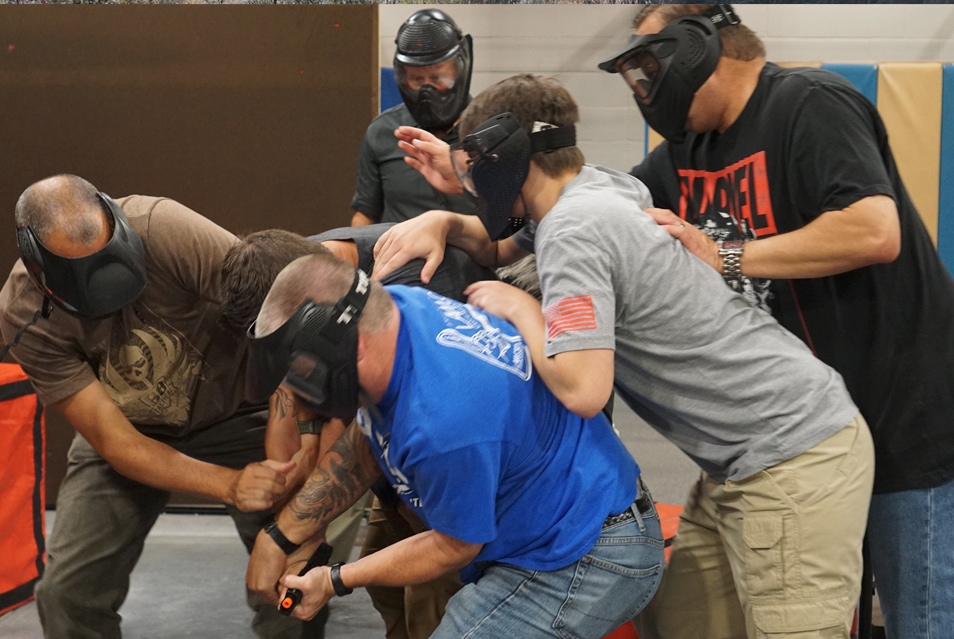 In the St. Cloud Minnesota Mall attack in 2016, the attacker wore a security uniform and went on a stabbing spree, wounding ten before being dropped by off-duty officer in plain clothes. We keep it simple and use the ABC's with the idea of identifying a threat by taking in the whole situation as best as you can and putting yourself in a superior position to give you more time to decide. Paul Howe was one of the first trainers to really begin putting threat detection in context, and he taught students to systematically evaluate targets in a shoot house setting. I usually add to it by incorporating human behavior before, during, and after the actual attack.
Our A, B, C, D, and E stand for: Appearance, Behavior, Communication, Display of Weapon, and Expectation.
Compare how the person looks and acts to other people. Are they stalking around unafraid of being killed because they're the predator? Are they showing signs of fear? Are they perhaps moving tactically and communicating like a police officer would? Threat detection is all about baselines versus anomalies and judging reactions in a split second. The more you know about what to look for, the quicker you'll be able to decide.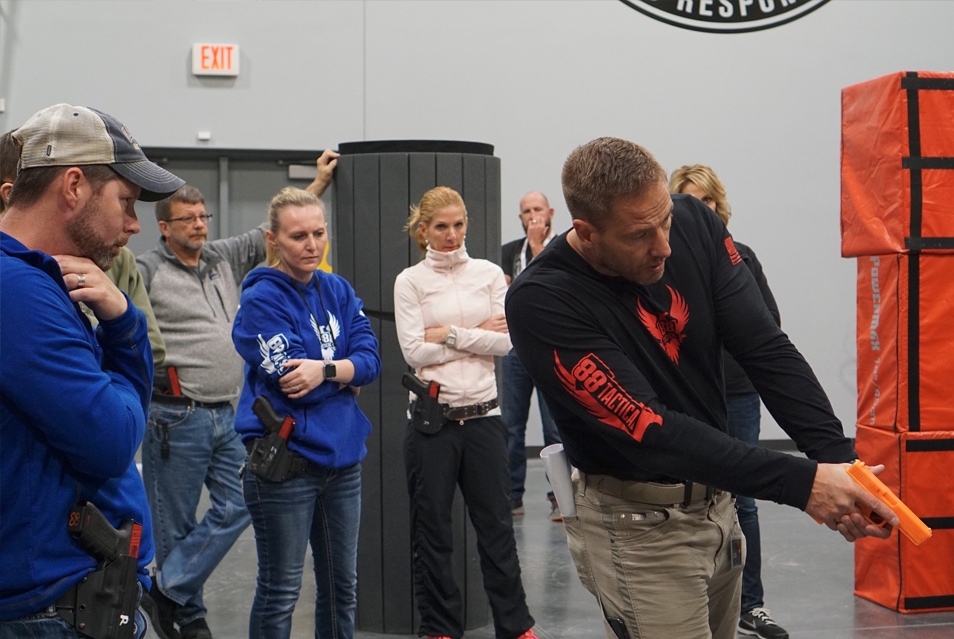 I suggest watching active threat events on YouTube and noting the difference between how murderers stalk their victims without worry, compared to how police respond. As far as the "E" is concerned, if police hear shots fired and expect an active gunman, they are going to expect to see a person with a gun and shoot that person. Your goal is to build as much calmness into the situation as possible to get the police, or possibly a well-intentioned concealed carry permit holder, to hesitate long enough to realize you are not a threat.
I once taught an active threat interdiction course to one of the largest departments in the country, and very easily set up a situation where two arriving teams of plain clothes officers shot the hell out of each other. Afterwards some officers were nearly in tears and visibly shaken because they realized the potential consequences of rushing in without de-conflicting.
Regardless of your specific choices in tactics, techniques and procedures, or whether you're in uniform or not, keeping our two key phrases in mind when responding to active killer situations will help you keep the good guys from killing the good guys.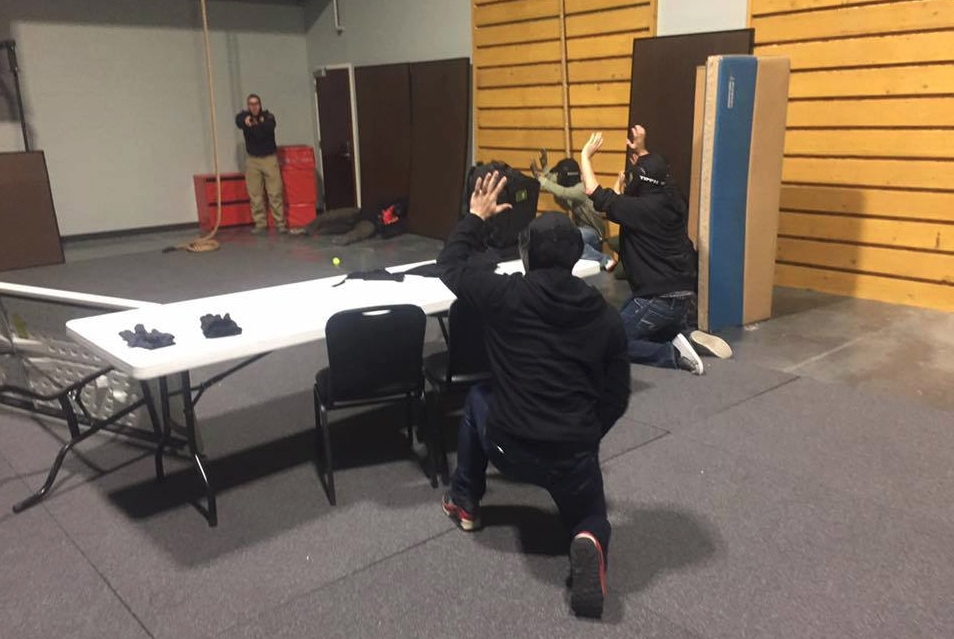 Stay safe.
————————————-
Find 88 Tactical on the Book of Face right here, or on Instagram @88tactical. You can subscribe to 'em on Vimeo too. 
Dark Angel Medical is a part of JTF Awesome.

They're on Instagram, @darkangelmedical, and on Facebook at /DarkAngelMedical /.
---
---
Breach Bang Clear
From the News Desk: tactical news, gun news, new developments in the firearm industry, updates from the tactical community, and of course tactical gear reviews.
Breach-Bang-Clear is the online publication of choice for Warrior Scholars, Renaissance Persons, Responsible Armed Citizens, Vetrepreneurs, Adventurers, and people who want to think and be dangerous. 
If you wish to share or repost, please so kind as to follow our terms and conditions.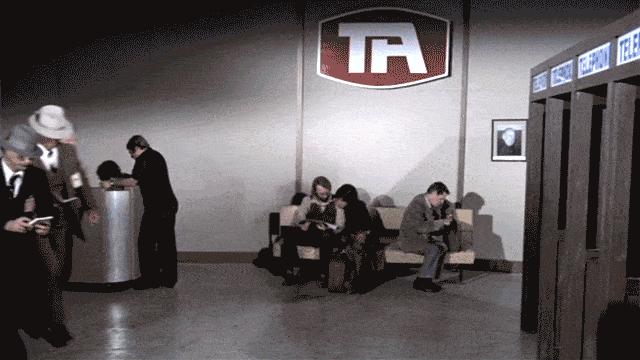 Comms: Our PACE Plan
Primary: You should immediately subscribe to the Breach-Bang-Clear newsletter here; you should also be reading all our pontifications and every single Op-ED we publish.
Alternate: We present superb gun pr0n, knife pr0n, and tactical industry news on on the Breach-Bang-Clear Facebook page; there will be more of that, and some military humor as well, on our Instagram account (@breachbangclear), so be sure to check in there frequently.
Contingency: There will be an additional chance to read tactical news, gun reviews, outdoor gear reviews, adventure equipment reviews, and blade pr0n on our Google + account;
Emergency: Activate firefly, deploy green (or brown) star cluster, get your wank sock out of your ruck and stand by 'til we come get you.
T&C: All original material published by Breach-Bang-Clear is the copywritten property of Breach-Bang-Clear, Inc. If you wish to repost, republish, or otherwise share our content, feel free to reproduce an extract of up to 225 words and one complete, unaltered image, preceded by attribution crediting the source and author's name, to include a link to the Breach-Bang-Clear home page, with a link back to the full article on our website, BreachBangClear.com. You do not require our permission to do this. Please do not reproduce our content in its entirety without contacting us first. We do allow full syndication on a case by case basis (credited, and posted with a canonical link, as is common practice and in good form) but only when mutually agreed upon beforehand. If you wish to reproduce a complete article, please contact us for permission to publish first.