A new online gun magazine: "FRAG OUT"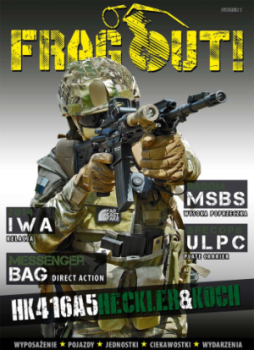 So apparently there is a new online magazine recently released – it's called "FRAG OUT!" This magazine is completely free to read, and can be viewed on all your various devices. While it was originally only available in Polish (which was okay, we liked the pretty pictures!) it is now also available in English. The publisher promises that FRAG OUT will cover the full spectrum of military, defense, "tactical" and (as they put it) TACTICOOL related subjects.
The magazine has apparently gathered various reputable authors and SMEs to write and review, and we are curious to see how it works out for them. The real question will be how well the international edition is received by us Americans, for that will certainly affect how well the online gun magazine does. If it's all "is most glorious rifle of assaulting superior Kalashnikov" then it probably will dead pan here in the states. But, as always time will tell. For all we know, it might be a smash hit. In the meanwhile, you can check it out here, and if it's something that you like or are into please let us know. We like to keep our fingers on the pulse of the gun world, even if its overseas in Europe.
Check out their facebook here.