A beheading in Oklahoma: realism, not idealism (nor sensationalism)
Man beheads woman after murdering her in Oklahoma (Vaughn Foods distribution plant in Moore, outside Oklahoma City). There is a possibility of an Islamic/religious aspect to it. In online discussions people want to either jump to conclusions or act as apologists. Both are counterproductive. We cannot stick our head in the sand, but overreaction and uninformed judgement can be just as egregious. Examples:
1) One person says, "Just because he tried to convert coworkers to Islam doesn't mean he was a Muslim.  Wait…what? Of course he wasn't. He was a Zoroastrian, he just happened to be proselytizing a religion whose members have recently beheaded a number of people because he didn't want all the Zoroastrians to be blamed.
2) Another says "It was workplace violence not a religious murder". Wait, what? You know that how exactly? He was allegedly a Muslim, who tried to convert others to Islam. He cut off a woman's head in the same fashion as has recently been done to journalists and innocent people who wouldn't convert. This absolutely could have been a religious murder.
3) Yet a third says, "It was Islamic terror! This guy was just doing what ISIS told him to do." Wait, what? You know that how exactly? He was allegedly a Muslim, and even if he was, this could be nothing more than some sick fuck killing people. Maybe it's because he got fired, or didn't get laid, or because his mom never hugged him and he's a sociopath. He was formerly convicted of escape from detention, A&B on a police officer and multiple felonies – not exactly a sweetheart to begin with, no matter what deity he favored.
Our editor believes we should be ruthlessly realistic and pragmatic when determining motive and truth. Tolerance and realistic-pragmatism are not mutually exclusive. Here was his initial response to a Facebook conversation.

Your thoughts?
"Initial reports are ALWAYS wrong. This is true at the S.O., at your house when your daughter comes home late, at the TOC overseas. They are are ALWAYS wrong, if for no more or other reason than they're incomplete. For instance, the man who shot the suspect has been variously described as an off duty reserve deputy working security and as the COO of the entire company. Pretty big variance there. The "Islamic angle" could mean a lot or nothing. I was part of the response to the bombing of the Murrah Building in Oklahoma City – we all thought (understandably) that was the work of Muslims too. The religious angle should be considered, but in context and not to the exclusion of other possibilities. All pertinent information should be considered, regardless of how distasteful or politically inexpedient. This is equally true for sensationalism and hyperbole. Both should be eschewed as an unnecessary distraction and counterproductive waste of effort.

If the murderer was trying to convert coworkers to Islam, then he was a Muslim. If he was a Muslim, or if his religious beliefs factored into what happened in any way, we'd be foolishly and willfully obtuse to ignore it. We must acknowledge religion could have played a role without assuming it did so. Here's a hint – lots of Muslims trying to kill Americans lately, and many beheadings resulted. That said, the fact that he was a Muslim (if indeed he really was) should have no bearing on the final outcome. This could have been a workplace violence issue, a mental health issue or something other than religious in nature. Hell he may have beheaded that poor woman just because he saw a beheading on the news and it tickled his sociopathic, sickening fancy.

Ideally we ignore religion, background, ethnicity, income and many other factors. Realistically we'd be stupid to do so. Idealists write great poetry and awesome fiction. Realists and pragmatists are better suited for criminal investigations, trials and winning wars. This is unfortunate, but a fact. Idealism and wishful thinking have no place in criminal investigations or threat analyses. Let's look at the facts and possibilities without preconception or bias – but let's don't discard any either."
Here's one takeaway we can presumably all agree on – it's a good thing there was a man there with a gun. In this case he was a reserve LEO (Oklahoma County Sheriff's Office reserve deputy). It might just as easily have been a concealed carry permit holder OR someone who carried a gun against the rules. Remember the doctor in Philadelphia?
Do you go heeled or do you just hope for the best?
Here's another question – how many business allow CCW on the part of their employees? If this 4-year reserve LEO (who may run the plant and is apparently part of family that owns the eponymous business) hadn't been there, would it have gone differently?
What if it had been a concealed carrier who never went to the range – this Reserve Deputy (Mark Vaughan) had a 10-month reserve academy and multiple continuing education courses under his belt. He'd also attended training iterations with the OCSO tactical unit. Are you prepared? Do you spend as much time perfecting your drawstroke and sight alignment as you do your putting?
Keep your comments academic please.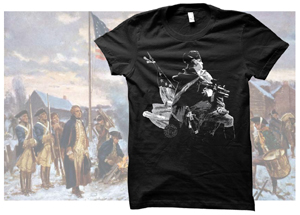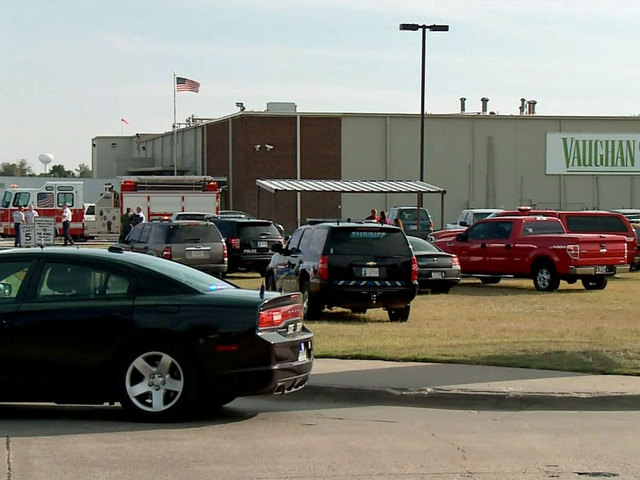 Story on NewsOK. Story on Oklahoma City local News 25. Story on Oklahoma News Channel 4.